I knew it would happen eventually, the talk about skin color. For us it was early, when our daughter was just two and a half. She noticed her friend's skin was brown, so that's what we called it. We didn't feel the need to label her black and us white. We didn't talk about different ethnicities or cultures too much because in our eyes, we are all simply just human beings.
But this year it is different, our eldest is in Kindergarten and learned about Dr. Martin Luther King Jr. last week. And she came home after school one day and told me this:
"Dr. King was a black man with brown skin, and he wanted to change the world. But someone didn't like his skin so they killed him. Why did they call him black when his skin is brown?"
"Well in our country there are names for different skin colors. Some people call us white, and people with darker skin black. But we are all the same no matter what color we are, we don't label skin color."
"But we're not white, our skin is peach. And we shouldn't label the color of our shirts either!", she said as she skipped away.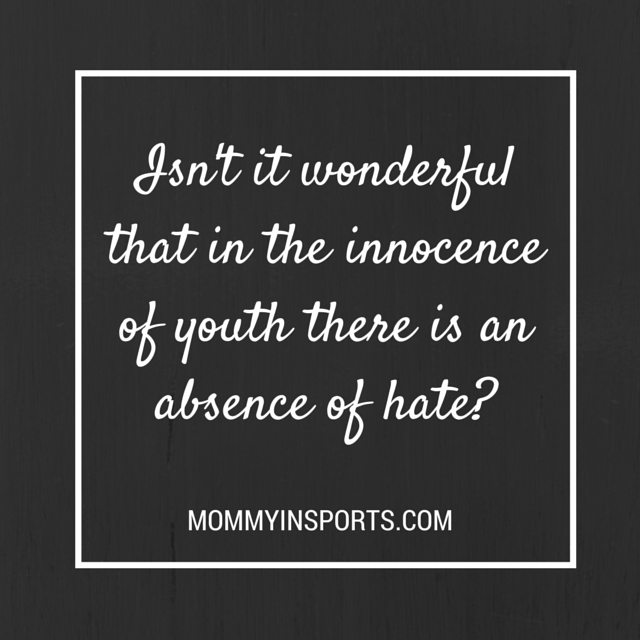 Obviously she doesn't understand the seriousness of the subject, or what really happened during the Civil Rights movement. She doesn't know about the Trayvon Martin case, or about the race controversy in Ferguson, MO. She's been taught that all of her friends have different colored skin, because they are from different regions of the world. I know it's simplistic, but for this age it works.
As I spoke with my husband about this – and how we should be introducing the subject of race to our children, I asked, "Does it have to be this complicated?" This generation of parents and children is completely unlike any other. Where our parents were born in the 40's and 50's, before Rosa Parks bravely sat in the front of the bus, we are living in a new world. Our country is filled with people of all ages, races, religions, cultures and ethnic backgrounds. It's hard to tell these days where a person hails from, especially here in South Florida. So why does it continue to matter?
We are in a place in our parenting journey where we all have to make a choice about how we are going to teach the subject of race. It's important to share our history, and that in the past (and present) people are judged and persecuted for the color of their skin. But it's even more important to spread the message of love, and that underneath our skin, we are all equals.
This is how we choose to parent, and how I choose to live. Others may not agree, and think that we are shielding our children from bigger discussions and issues, but they will learn it eventually. They will learn it on the playgrounds, they will learn it when they start watching the news, and they will learn it just by living.
Hate is learned, hate is taught…but not in our home.