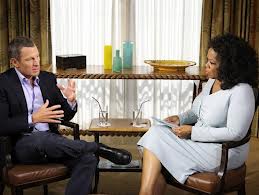 Part 1 of Oprah's Sit-Down with Lance Armstrong (1-17-13).
I admit it. I used to wear a yellow Livestrong bracelet. The story was amazing. Lance Armstrong coming back from cancer, winning 7 Tour De Frances. But last night, he came off looking terrible.
Armstrong was evasive, arrogant, shifting in his seat often, and showing zero remorse. I feel duped…worse than the media outlets that covered the Manti Te'o story. Yes he admitted to doping; testosterone, blood transfusions, and erythropoietin (EPO) were his "cocktail" of choice. He said he could justify it because of his illness.
But what I'd really like to ask his publicist and PR person, if you aren't going to be truly apologetic and tell the whole truth, why do the interview? Why didn't they prepare him and have more succinct answers planned?
I liked how Oprah Winfrey was direct in the beginning of the interview. But when she asked open ended questions, like "define the doping culture, how did it work", he didn't answer. She didn't press him on it. Should she have? I don't know, but I would have liked him to be more honest, open, and sincere.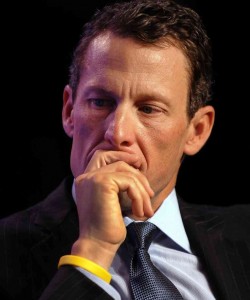 What's really made me sad this morning is the fall of yet another sports icon. Imagine all the people that admired him, wanting to be just like him. Are there any pure athletes anymore? Self-respecting adults teaching our children good morals and values. What is the lesson kids learned from Lance Armstrong? Let's see…be a bully, call women prostitutes and whores that tell the truth about you, oh and use drugs to win.
I know that in professional sports the ultimate goal is to win. But how about doing it with integrity?