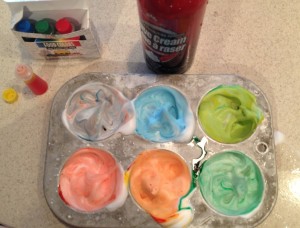 Shaving cream + food coloring = fun!
No, this was not my idea. I am a neat freak, and the thought of giving my kids a reason to make a mess had me raising my brows and wondering, "is she really going to let them touch this?!" But this was a brilliant, inexpensive, and easy summer Saturday morning project, that allowed the kids to get messy and play. And the mommy's to watch, and occasionally rinse shaving cream out of their eyes!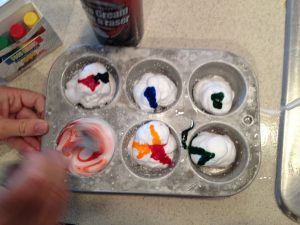 Amy's expert shaving cream colors!
To make shaving cream paint, all it takes are 3 items from the dollar store:
1. shaving cream
2. food coloring
3. muffin tins
My friend Amy made one for each of the kids so they each had their own "paint". And they all got a quick lesson in color mixing. Except the red + blue = a really ugly purple.
Then it's time to let the creativity flow! Amy let them paint with and without paint brushes; on sliding glass doors or the plastic little tikes picnic table. For the toddlers it was all about texture and just getting messy!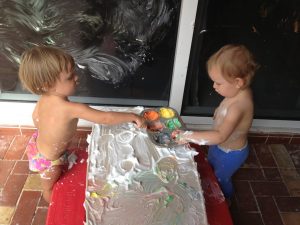 Ella and Emylia paint the picnic table.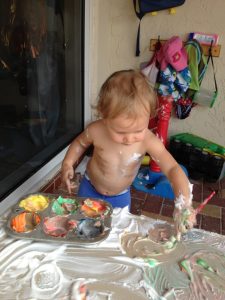 Emy embraces the paint brush.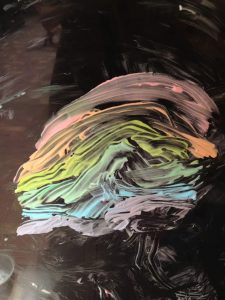 Lila's finger paint rainbow.
And for my little budding artist it was time to make a rainbow. Rocking the ROYGBIV at 4…love it!
Clean up couldn't be easier…a hose for the windows, table, and pavers. And for the kiddos just a quick rinse of the hands in the water table and a dip in the pool. Thanks to Amy for hosting us last weekend and helping me with my fear of getting dirty. This is a must-do summer activity for all kids. It's fun, easy, messy and cheap. Thank God for good friends with great ideas!