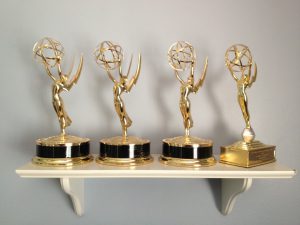 Only 1 is mine! The rest were awarded to my talented husband.
I had planned to blog today about my accomplishments. Last week two major things happened; I received my first emmy award and my HEAT championship ring on the same day. Pretty cool huh?!
But none of that matters really. Today we had the biggest scare of our lives. I'm hoping everyone that reads this will become CPR certified. Get a flu shot. And appreciate and love their families this Christmas.
Our baby Emylia has been ill on and off for a month. Most recently another cold and fever that started yesterday. The fever over 102 made me second guess working the Miami HEAT-Utah Jazz telecast last night. But I went anyways — as I didn't want to call in sick again. As a female working in sports, I always feel it's a fine line missing work because of our kids. This has always been a hangup for me since I missed several games the season prior due to a tough pregnancy, and I didn't want to seem "high-maintenance". Which I probably am anyways. (As a tiny footnote, our executive producer encouraged me to go home and take care of her, he is completely understanding and puts family first.)
This morning the ear thermometer told me she had a 102.2 fever, so we immediately gave her motrin. About 40 minutes later she had a febrile seizure, but we didn't know it at the time. Her eyes rolled into the back of her head, she went completely limp, jaws clenched, and was unresponsive. Neither my husband nor I know CPR, and we couldn't hear her breathing steadily, so I called 911 and ran and got my neighbor who is an RN. Bob (the calm one) stayed with the baby and Lila.
The amazing Plantation Police and Fire Rescue Paramedics were there within 3 minutes. Suzette, our neighbor, rolled Emy on her side to make sure her tongue wasn't blocking her airway and eventually the baby came out of it. After 3-4 minutes she was finally able to focus her eyes. And after around 10 minutes she was able to sit up and respond to us. She was dazed, confused, and frightened. So were we.
The paramedics gave us a lift to the hospital so we could get right in with a doctor without waiting. They did several tests and found she just simply had a virus, the fever spiked, and her brain couldn't handle the high temperature. They got her fever down and we were discharged (thankfully) relatively quickly. We were relieved. We were lucky. We won't let this happen again.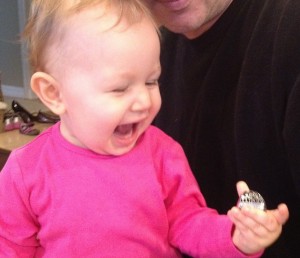 Emy digging Daddy's 2006 Championship ring after her fever broke today.
I urge everyone I know to get CPR certified, even if you don't have kids. If her breathing stopped completely we wouldn't know how to save her. I also learned today that ear thermometers are not accurate, unfortunately we should use rectal ones. Not pleasant for either party involved, I assure you. But Emy's fever was probably much higher than 102, and had I known that we might have taken her in to the hospital MUCH sooner.

Last, lets address the flu shot debate. I have been eating clean. More whole foods, and trying to use food and supplements to heal our bodies. But it's not working. We have all been sick for over a month and its miserable. So I have decided every year to take my family to get the flu shot to prevent this illness from spreading.
So we just want to say Merry Christmas. Enjoy the next few days with your family. Be grateful that you have someone that loves you, and cherish every moment. Even if your grandma is telling you the same story for the 100th time!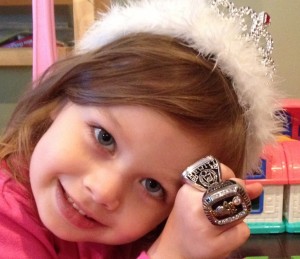 Lila modeling both of our 2012 Championship rings.