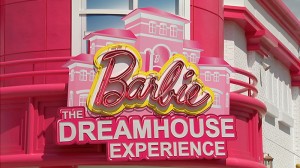 The Barbie Dreamhouse Experience is now open at Sawgrass Mills Mall in Sunrise, FL, so I decided to take my two princesses on my day off this week. The 10,000 square foot life size interactive installation is loaded with a pink grand piano, enormous pink kitchen, lots of bling, and of course Barbie! You become the Barbie in this attraction, and when we walked into the first of the seven rooms, Barbie's kitchen and freezer, my 4-year-old stopped in her tracks and said "whoa!". That's exactly what I said when I paid for the tickets.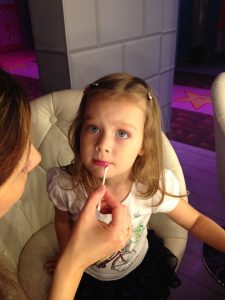 Getting dolled up for Barbie.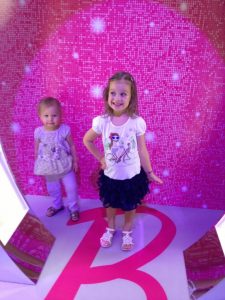 Walking the catwalk!
From Lila's perspective, Barbie's Dreamhouse is a must-see. We arrived at 10:45am and the tour didn't start until 11am, so we were able to do some coloring and even get her makeup done. Then the tour began with a brief video message from Barbie in an elevator, and then the first stop into the kitchen and freezer. There were many things to touch and play with; the popcorn popper in microwave turns on, you can make a cupcake on the touch screen counters, and play with the stoves. They did a great job making different height counters for the big kids and little ones.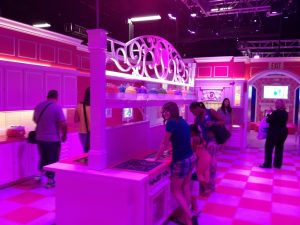 Pink, pink, and more pink in Barbie's kitchen.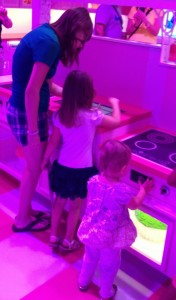 My niece and 2 daughters.
Adjacent to the kitchen is a walk in freezer with a little sleigh ride simulator. This was awesome for the bigger kids, but scary for my little diva. She's definitely not ready for roller coasters!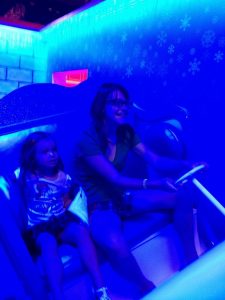 After a little cupcake making, the tour guide led us into Barbie's living room complete with a killer pink grand piano, super-sized soft sofas, more digital games and a guest book. Then onto Barbie's tropical balcony. Again, as in every room, there were many interactive activities for the kids. Big red buttons adorn the walls for kids to push; they made a dog come out of his doghouse, flowers grow, and can even play videos on flat screens.
The tour guide then took us to another elevator and told us some cute Barbie trivia. Like…do you know Barbie's real name? Yeah me either. Barbara Millicent Roberts. You're welcome.
Then it was time to spy Barbie's bedroom. This was super cute…you literally walk into an enormous music box filled with seriously ginormous bling. Every girls dream! And her giant bed was fun for the kids to crawl all over, (and walk on), complete with a dreamy night sky canopy. Kids can even go into Barbie's closet and put on her gargantuan pearls!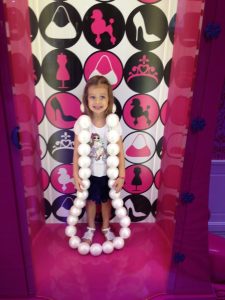 Lila loves to pose in pearls!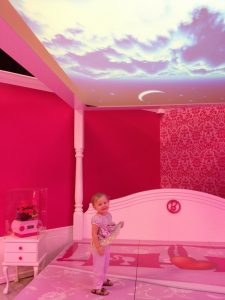 Emy digging the nighttime ceiling.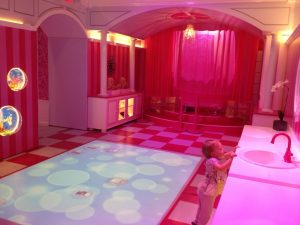 Barbie's bathroom
We were also taken into Barbie's bathroom, which has a bubble game on the floor. And then into Barbie's closet. This was a Barbie museum and showcase all in one. If you are a Barbie collector (or shoe lover)…you would love this! This room was stocked with baubles and shoes and clothes oh my! When the kids saw the closet with all the beautiful shoes, dresses, and costumes, they wanted to play and dress up the dolls. But unfortunately at Barbie's Dreamhouse Experience, you can't actually play with Barbie's.
I want Barbie's closet!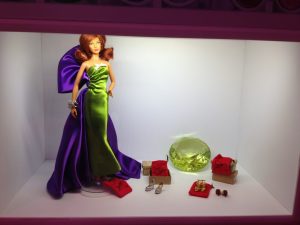 Christian Louboutin Barbie in her "closet".
All in all, Barbie's Dreamhouse was indeed dreamy, but in my opinion a little pricey. If your kids love Barbie, they would love this experience. My only disappointment came from the length of the activity and the price. Adults are charged $17.97 and kids (3-13) $15.85. So for a senior, an adult, and 2 kids we paid around $65. This to me feels like a lot of money for only a 30-40 minute tour. As a mom, I would expect a couple hours of playtime for an outing like this. However, afterwards your child can get her makeup done, color, or style a Barbie mannequins hair. The lack of actually playing with the Barbie dolls was frustrating for my daughter. There is a Barbie store of course, but we didn't purchase any dolls or accessories.
If it's a rainy day, your daughter (or son) digs Barbie, or loves pink, then head to Sunrise and check it out! The staff is super friendly, and and your kids will have a blast. Definitely a must try at least once, just check Groupon before your hit the road! Here's the link of their official website: The Barbie Dreamhouse Experience