I was scrolling through Twitter recently and saw a Tweet that had me literally LOL! A local sports radio guy and soon to be dad (and blogger) was complaining about the fours hours it took to fill out a baby registry.
@kristenhewitt I'll love it a lot more when this registry is filled out. I began sweating looking at all the sippy cup options.

— adam smoot 181 (@adamsmoot) April 24, 2016
It got me thinking to all those ridiculous things we registered for. Bumpers, and wipe warmers, and pacifier wipes oh my! I bought it all, like a schmuck and lived to regret it. Seriously, we didn't use half of that crap! I mean who needs 42 baby washcloths? Or a spout cover for your tub with a newborn? I literally returned so many of the things we registered for to purchase diapers. You know what you REALLY need for your first baby? Here's what I wished I would have registered for!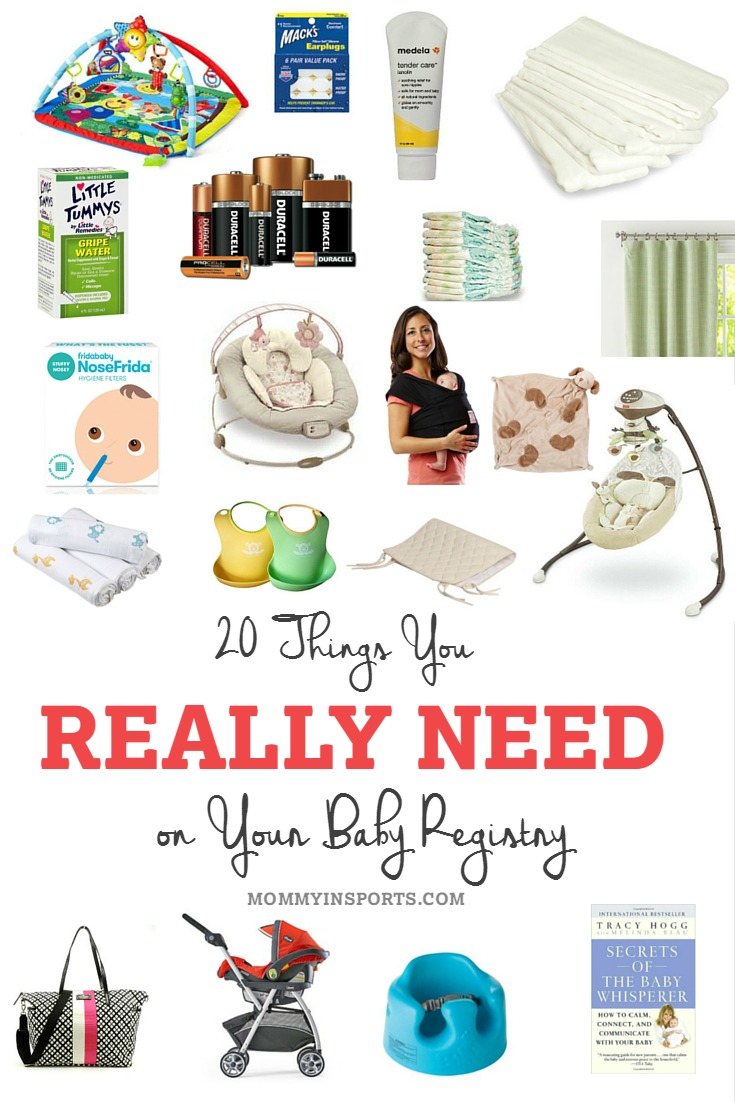 20 things you really need on your baby registry
The Baby Whisperer – If you're expecting, after you read "What to Expect When You're Expecting", BUY "The Baby Whisperer"! We all worry about the pretty nursery stuff, and baby clothes, and forget to think about what kind of parents we're going to be. This book saved me with baby number two and sleep. Baby number one? That's a novel for another day.
Swaddle Blankets – You need these every time the newborn sleeps. I don't care if it's 99 in Miami, swaddle your baby. Pay attention to this part in the newborn class at the hospital too, it's not easy. I love the muslin cotton ones from Aden + Anais, I buy them for new baby gifts all the time! Our girls are 4 & 7 and we still fold these up super small in my purse when we travel or at the movies. Oh and if you're baby is a Houdini, these are good too!
White Noise Machine – I have two of these bad boys, it stimulates mama's heartbeat, and helps your baby sleep. (Noticing a sleep theme here?) Also, if you're having baby number two, this will drown out the baby cries for your older child. So in that case buy two!
Black Out Shades or Curtains – Do not pass go without buying some. Pottery Barn Kids blackout curtains were awesome, as were the blackout blinds we purchased from Select Blinds.
Baby K'tan – I loved this baby carrier, it was awesome for the witching hour. I started with a Maya wrap but it hurt my shoulder. Highly recommend this one because it has two straps and distributes the baby's weight equally on your shoulders. Just print out the PDF online to figure out how to use it!
Boob Necessities if Breastfeeding – If you're breastfeeding, you need so so many things I could write a post on it. But I highly recommend the Medela Cream, extra milk storage bags, and if you pump, extra pump parts. Also go the the breastfeeding support group at the hospital where you gave birth. You will need the support, and the cell phone number of the lactation consultant. Trust me, be her BFF in the hospital!
Ear Plugs – If the baby sleeps in your room, buy some. They sound like little billy goats when they sleep, it's wretched.
Batteries – Buy these in bulk at Costco. Everything you get will need batteries. Swings, tummy time mats, toys. Buy stock in Duracell while you're at it.
Diapers and Wipes – After you buy stock in batteries, invest in Pampers. You are going to need a ton of these bad boys. And the babies grow fast, so don't get too many premie or newborn sizes.
Essential Meds – I wish someone had told me about baby gas before I had my baby. Mylicon drops or Gripe Water worked well for colic-y times. Have a good stash of baby Tylenol or Advil and teething cream. And of course saline spray or a Nose Frieda for that first cold…yes I'm a snot sucker, and if you want to sleep when your baby is sick, you will be too.
Cloth Diapers – No, not to use as diapers (unless you want to!), these are excellent burp cloths. And make great rags when toddlers pour their own drinks and spill! I still have stacks under my kitchen sink, re-use, re-purpose, re-cycle! 20 burp cloths is not too many, you've been warned.
Crib Pad and Waterproof Mattress Protector – Diapers leak, protect yourself with crib pads. You tie these to the crib under the baby. Also a waterproof mattress cover is key for all stages of your baby and kid's life!
Lovey – What's a lovey you ask? Just you wait! The lovey is a transitional comfort object. Huh? It's a blankie with an animal head that you give to your four to five month old when they start sleeping through the night. Mine is seven and still sleeps with it, and these from Angel Dear are the softest around!
Car Seat & Stroller – Well of course you need a car seat and stroller – but honestly I didn't use the pricey car seat stroller combos. I just put our babies in baby carriers like the K'tan or Ergo, those car seats are heavy! Do what's best for you, but we just borrowed a Chicco infant car seat. I mean, they grow out of them pretty quick!
Bouncy Seat – This thing saves your life! You can brush your teeth, do the dishes, all while keeping the baby with you. Get one with the vibrate option.
Swing – Try to find one that you can plug in, the swing eats batteries like the cookie monster eats cookies.
Baby Einstein Play Mat – I love this one from Baby Einstein, and the music wasn't annoying. Great for tummy time and keeping the baby entertained.
Diaper Bag – I used a purse/diaper bag from Kate Spade, but others moms like Mama in the Now recommend a backpack!
Bibs with Snaps – Katelyn from What's Up Fagans reminded me that velcro bibs are easy for babies to tear off, so pick the ones with snaps instead. These with pockets are washable, don't stain, and catch the food that falls in! I threw away dozens of stained cloth bibs.
Bumbo – I didn't get an expensive high chair at first, we used a Bumbo in the beginning with solids. The tray is cool too, didn't have that when we had babies!
Along with mounds of diapers what you really need for a new baby is a little patience, a lot of love, and mountains of humility. Having a baby isn't about a cute new room or awesome hair bows, it's raising a person. It's being the best person you can be to inspire and set the example. The registry is the easy part, keeping little humans alive with love and laughter, while trying to keep your sanity, that's the challenge!
Looking for more baby registry advice? Check out this post from What's Up Fagans? on the best baby registry sites! Or the best baby registry items for baby #2 from Mama in the Now and another helpful post from The Good Mama.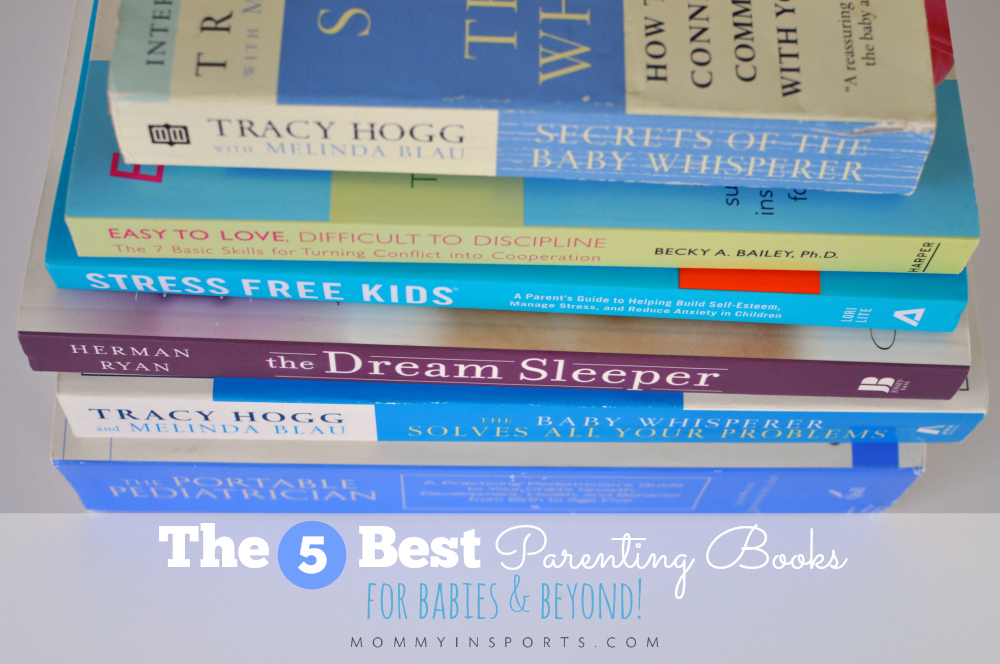 And here are my top 5 parenting books for babies and beyond, and my favorite baby gifts to give! Good luck!
For more parenting advice and stories, please follow along on Facebook!
what's your favorite essential baby registry item?