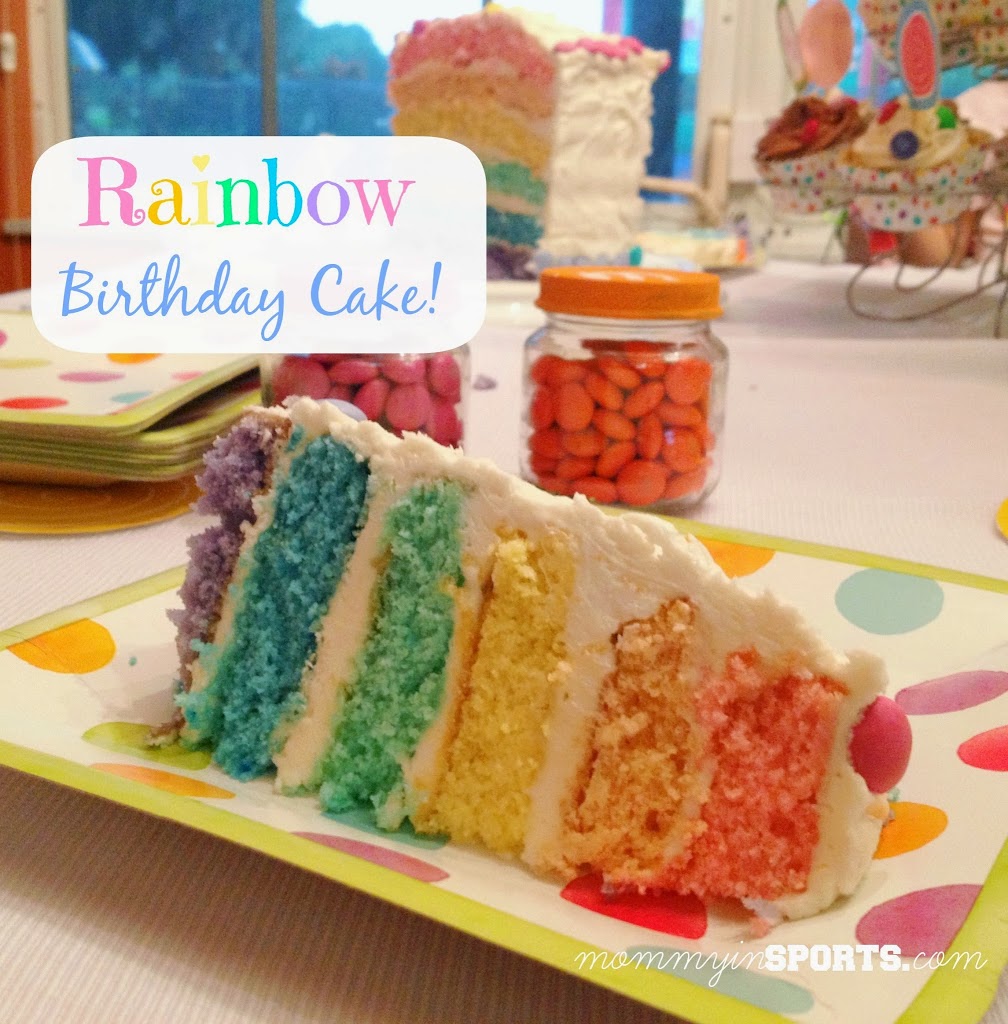 It is no secret that I like to bake. No check that, I love to bake. Decorating…not so much. There's something so scientific about measuring and mixing, creating with love for the ones you love most. It's soothing, somewhat fun, and highly therapeutic for this overbooked & overwhelmed mommy.
So when my not-so-little baby turned two, I thought, what can I make that I've never tried before? Since it was a rainbow colored M&M themed party, and I had pinned a rainbow cake at least 3 times on pinterest, I figured why not? A 6 layer cake can't be that hard…can it?
Surprisingly it wasn't as tough as I thought it would be, thanks to the help of a friend. Granted it did take nearly 5 hours from start to cleanup…but as my 4 year old said, "it looked yummy and tasted delightful". God I love her, and her vocabulary.
Here's my simplistic version of how to make a six-layer rainbow cake. Seriously, if I can do this…so can you! But it helps to have a little helper…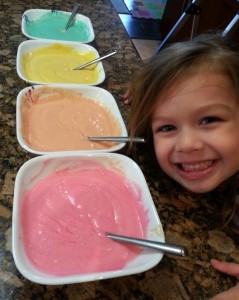 The Process
First things first, mix your batter and put in six different bowls to color. I followed this recipe for yellow cake from Taste of Home and doubled it. I ended up getting 24 mini cupcakes in addition to the cake, so you probably can just do 1 1/2 recipes. Or you can used boxed cake. I just love the taste of real, homemade yummy goodness!
Measure out 1 1/3 cups batter per each bowl and add food coloring. That way you get nice, thin, and even layers!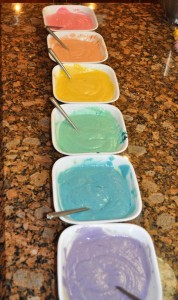 Next, time to start baking! I only had two 8 inch cake pans, so I made them two at a time. And I actually baked in ROYGBIV order, starting with the two bottom layers so I could frost as they cooled. Wrap them in wax paper or cling wrap and put in the freezer so you don't get those little crumbs in your frosting. Plus they cool faster.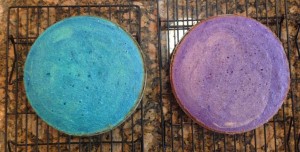 Once your layers are baked it's time to assemble.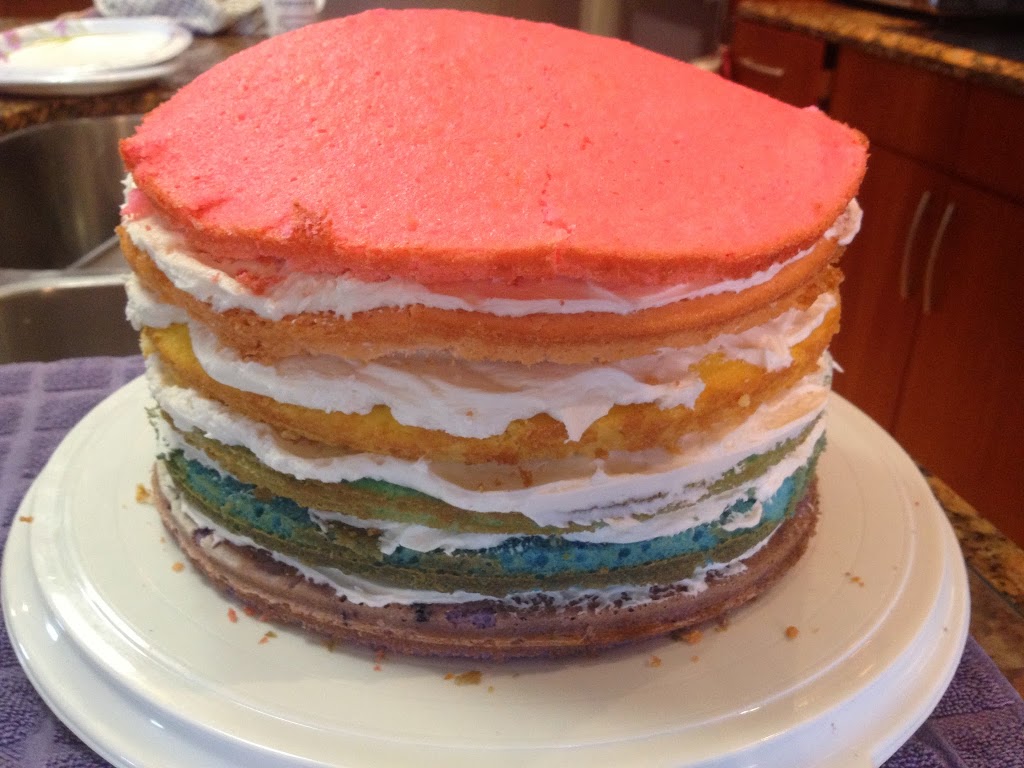 Though my layers were even and pretty flat, the cake was still a bit rounded at the top. Still looks so cool huh? Then add your frosting and decorate to your heart's content! As I mentioned it was an M&M themed party…so I of course used M&M's. Oh and here's my go-to frosting recipe:
Kristen's Kick Butt – Buttercream Frosting
1 Stick Salted Butter
1 Stick Unsalted Butter
1 16 oz. Bag Powdered Sugar
1 Tsp Vanilla
A drop or 2 of Almond Extract
Eyeball milk or cream to thin it out to your desired consistency. Usually 1-2 TBSP.
And if you are feeling fancy, a twist of fresh lemon juice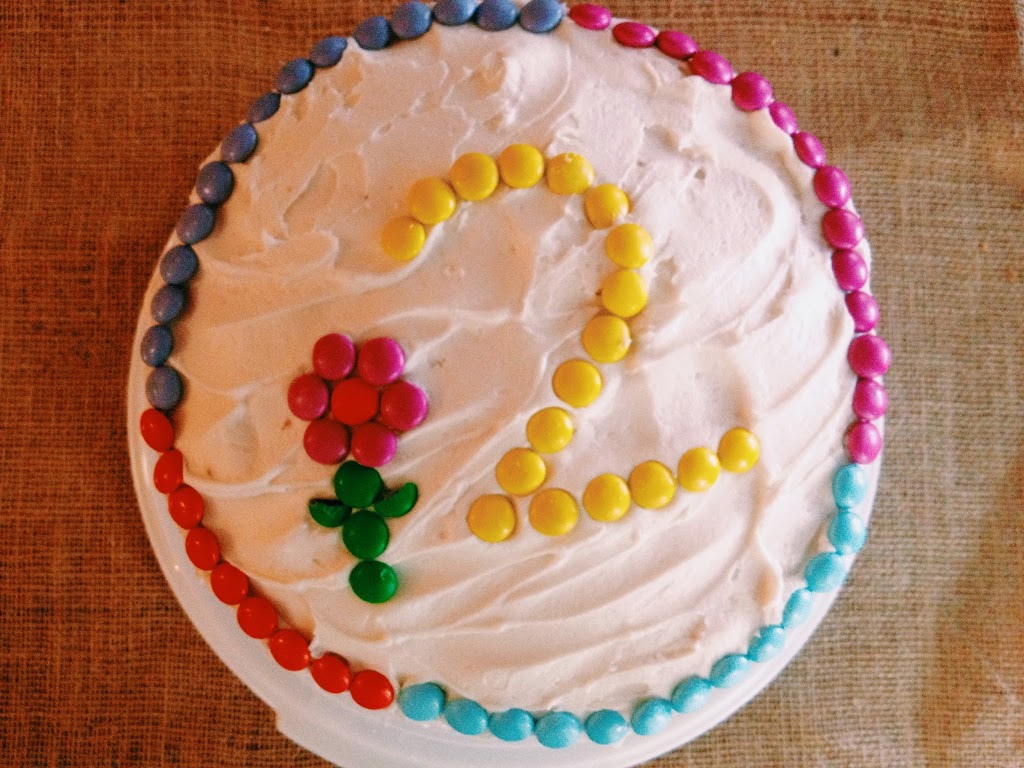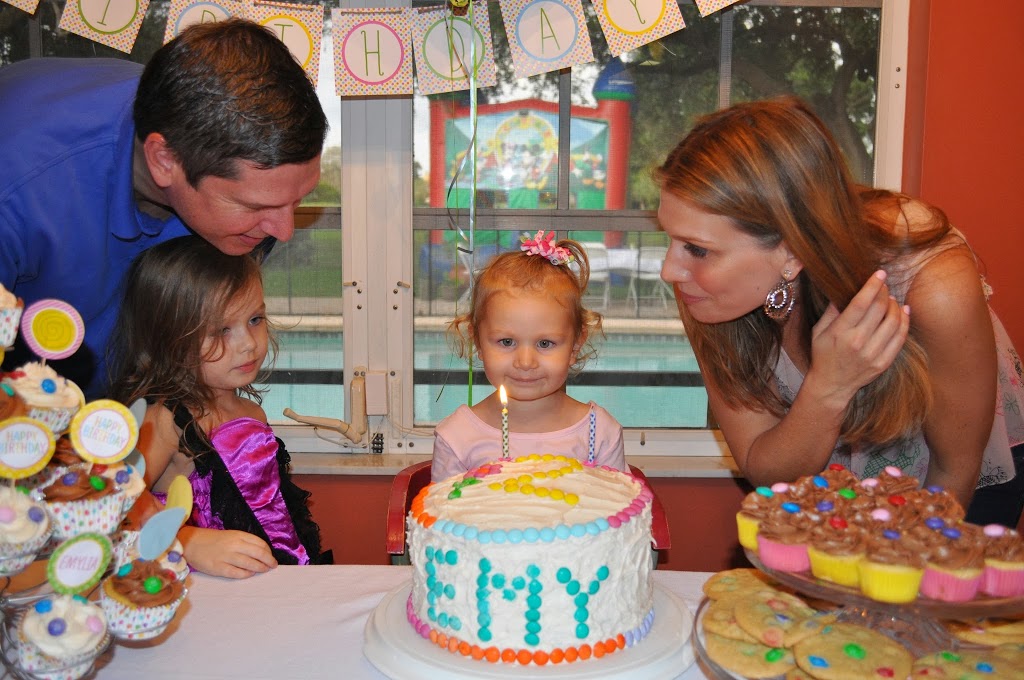 She looks so happy doesn't she? And who wouldn't be with this decadent rainbow cake filled with love…and sugar. Happy Birthday to my sweet, determined, and sometimes terrible two year old Emy! Totally digging her look too…she rocked the leg warmers and hand made leotard from Camryn's Collection! Check out Erin's shop, she makes amazing skirts, custom shirts, and hand made bows.