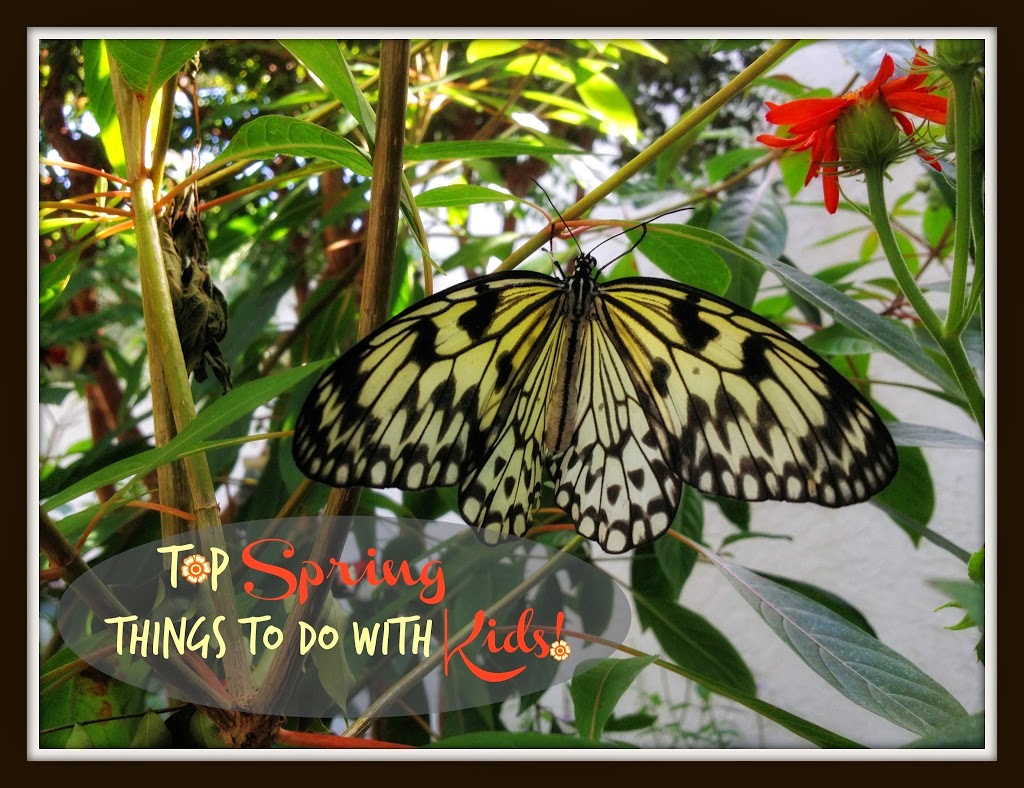 So as Spring Break comes to a close, (yes it is this week for private schools), I thought I'd share some of our favorite things to do with the kids in sunny South Florida. I'll start with the freebies…in case you need a reminder. We jam packed a TON of activities over Easter weekend and beyond. Having fun doesn't have to break the budget…save the cold cash for shopping!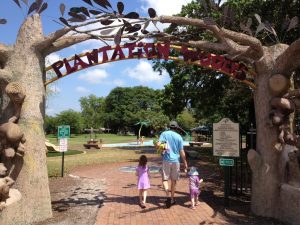 My "manny" aka hubby with kids!
Plantation Woods Park
If you haven't checked it out yet, put this park at the top of your "to do" list. The kids will not be disappointed. Hidden in a neighborhood of Broward Blvd, this park has almost everything. Awesome (and clean) playgrounds with a forest theme, and of course…a splash pad. A dream for any child. How else to beat the heat?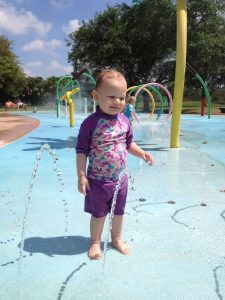 Emylia (the daredevil) dives right in….
The only drawback is very little shade…but if you are stopping by for picnic lunch and to have a splash, this is the place to be! Our other top parks to visit are; Vista View Park in Weston (best shade), and Tree Tops Park for it's natural charm in Davie. Here's the link if you want more info on Plantation Woods: http://www.plantation.org/Parks-Recreation/City-Parks/plantation-woods.html Sunscreen and sun hats are a must here.

Beach Time
Of course, it's free, it's a sandbox, it's an ocean, and for us…it's a rarity. But when we do convince the diva it's ok to get her hands dirty, we like Ft. Lauderdale beach. Park in the meters and hang at the playground. Of course, pre-kids you just brought your towel, and a bottle of water. Now, it's diapers, sand toys, sunblock, snacks, sippy cups…you catch my drift. But always a crowd pleaser….unless you're with Lila!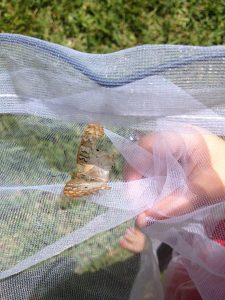 Who doesn't love butterflies?!
Nature Walks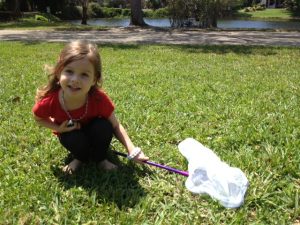 Look out Bindi Irwin…here comes Lila!
We are totally taking advantage of the weather…still not too hot yet! We try to either do backyard swing set time, or a walk every afternoon before dinner. The kids are enthralled with nature, anything from dandelions to ducks to iguanas (yuck!)…so we always bring a bucket and a butterfly net. Didn't have to go far yesterday, our front yard was swarming with butterflies and dragonflies…even caught one! Lila said tinkerbell hadn't finished painting her yet. Bonus you can keep the flowers (aka weeds) they pick and do pressed flower art. Doesn't cost a dime, wears them out, and you get some good old fashioned vitamin D! Pinterest has tons of ideas btw…http://pinterest.com/masterquilt/dried-flower-crafts/ and so does this crafty mom http://mominmadison.blogspot.com/2007/07/pressed-flower-kids-craft.html.
Libraries and Bookstores
When looking for an indoor activity, don't forget your local libraries and bookstores. Though the libraries hours have been cut (don't get me started), they usually still have a storytime. And some even have free classes for parents and kids that last around 30 minutes. Summer programs are starting soon, so check out http://www.broward.org/LIBRARY/Pages/Default.aspx to find out what's going on. One of our favs is the Alvin Sherman Library at Nova Southeastern University…AWESOME kids activities. And Barnes and Noble usually has a storytime once a week…just don't spend a fortune on books there! You've been forewarned…
Now for the activities you have to pay for. Not a huge fan of playplaces and bounce house centers (aka germ cesspools), but when the need arises…this is where I turn. You know…when you really need to just let them let off steam and get out of the house?!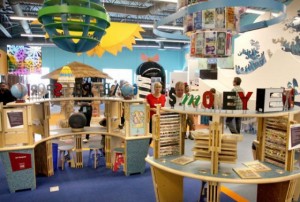 Inside one of the many exhibits
Young at Art Museum
If you want the best bang for your buck, that will entertain a babies and beyond…my top pick is Young at Art Museum in Davie, otherwise known as YAA. http://www.youngatartmuseum.org/ Yes, I am a member, and no they are not paying me to write about them. I just really really REALLY love this place. It's $13 to enter for adults, and $11 for kids…but trust me if you invest in a family membership you will use it…alot. Everytime we go there we find something new to do. And I love that they have art workshops during the day for the kids in the Wonderscapes area. I could write a whole blog post just about YAA…but I'm getting tired!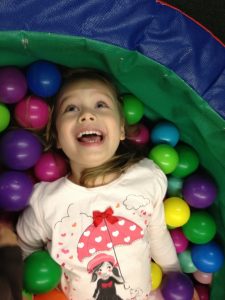 What is it with ball pits?!
Little Java's
So if you are going to go to a indoor playspace, one of the cleanest and best (in my opinion) is Little Java's in Weston. It's a little out there…like in the Everglades, but worth it. Here's their link http://www.littlejavas.com/ . The only downside is you aren't permitted to bring in food or drinks, so can get pricey if you buy lunch there. Seriously, $1.50 for a mini-cupcake? I snuck in baby food and snacks though. Shhhh!
Miami Zoo
Don't forget about the zoo! It's a hike if you live in Broward…but we love it. The chimps, gorillas and orangutans are always a hit in our family, and feeding the giraffes is pretty cool. They also don't allow you to bring food though, kind of a bummer. If you're against the zoo and enclosure of animals, keep in mind they are in natural habitats, not cages. They also have a children's zoo with a petting and feeding area and animal shows. Funny though, the show we went to only showcased a ferret. Woop do doo! My husband asked the exhibitor if the next show included a house cat or a puppy. http://www.miamimetrozoo.com/index.asp.
If you can't find something to do in South Florida with kids…you are obviously boring! The possibilities to explore are endless. Enjoy the last few weeks of spring…90-something degrees and 100% humidity are right around the corner.