It's that time again, the Summer Olympic Games are here! And with it comes the the ecstasy of victory and the agony of defeat. I have always been obsessed with the Olympic games, watching them round the clock. There's something so pure about the games, the sports, you never know how each event will unfold. And now that our girls are old enough, I can't wait to share this Olympic fun with them.
But not all kids are interested in sports, or will want to watch all the events. So to help open their eyes to the summer games, I've gathered some Olympic crafts, recipes, activities, and even a some history tidbits to get help get them pumped. If you too want your kids to be involved, here are some ways to create Olympic fun for families in your home!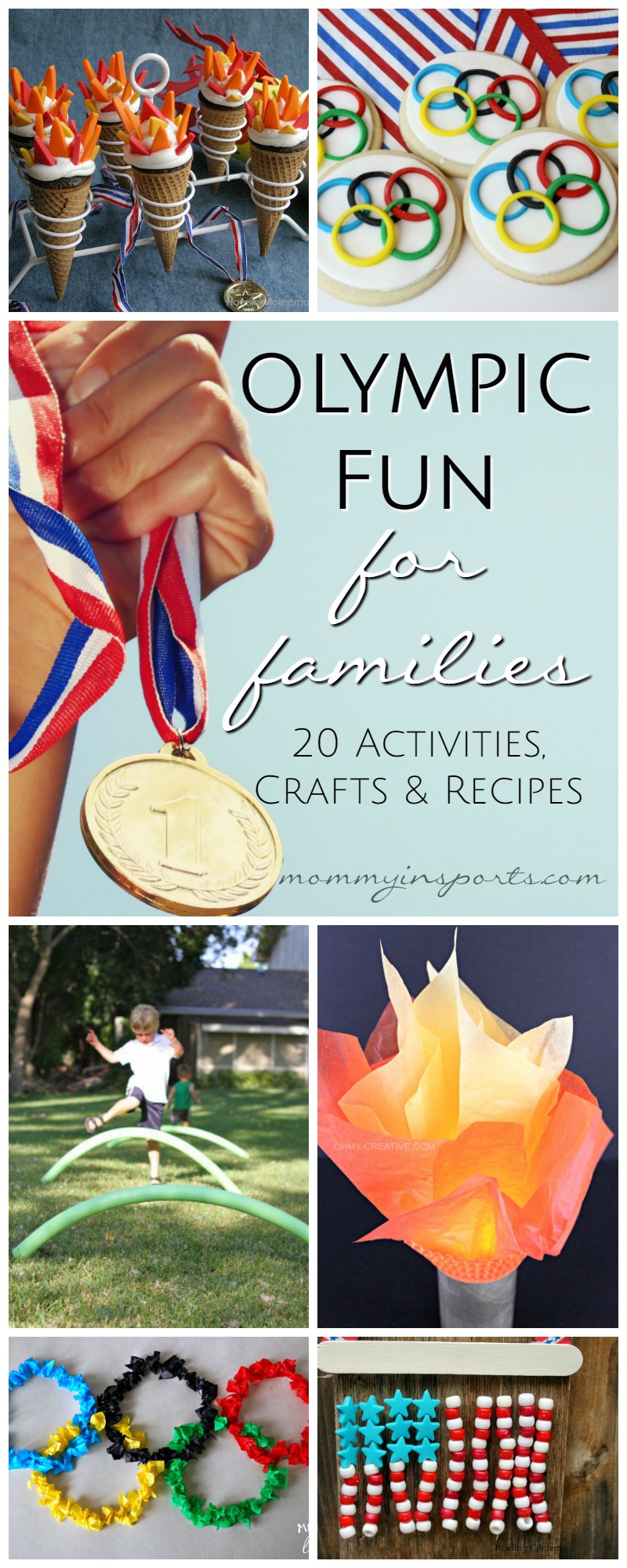 olympic fun for families!
Olympic Fun Activities
Olympic Track & Field STEM Activities
Make your own track and field activities indoors with the help of a few materials that you probably already have on hand.
Race to Build: an Olympic Inspired STEAM Activity
This is a great teamwork activity…. and some of the supplies are recyclables!
Outdoor Games: DIY Bean Bag Toss
Spray paint clay pot saucers to make targets for your bean bags.
Continents and Countries: Olympic Sort
Make a game to help your kids learn about the different continents and countries.
Turn Olympic rings into your very own ball toss!
Great idea for an indoor activity.
I know, I know…. Squirt guns are not officially part of the Olympic games, but they sure do make a great Olympic activity for the kids.
Use pool noodles as hurdles. What a great idea for little legs.
Olympic Fun Crafts
Glowing Tea Light Olympic Torch
Use a small battery operated tea light to light up your very own handmade Olympic Torch.
Kid's Olympic Ring Art Project
All you need are a couple of red plastic cups to make a one-of-a-kind piece of art to hang in your home.
Build up excitement with your kids with this Olympic paper chain countdown.
Olympic Medals: Made Easy with Baking Soda Modeling Clay
Make your very own gold medals!
Kids DIY Olympic Medal Podiums
With a little spray paint and napkin rings you can make your own podiums for the award ceremonies.
This is a great activity for kids to learn about all of the different flags from around the world. It also doubles as an Olympic decoration!
Use pony beads to make a USA flag decoration. Great activity for preschoolers.
Tissue Paper Olympic Ring Craft
Make a colorful set of Olympic rings with squares of tissue paper.
Olympic Fun Recipes
Looking to support the U.S.A? Make one of these simple yet delish patriotic desserts!
At first sight, these cookies look like a challenge, but with the help of a few different treats it is a snap to put together.
Simple, healthy, colorful, and sweet. This is the perfect recipe for kids to put together.
You have to check these out. They. Are. Adorable.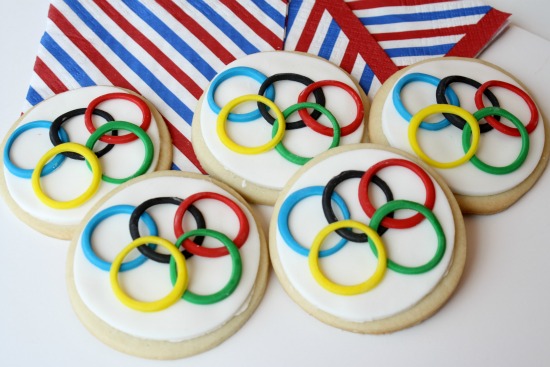 These adorable cookies are worth the effort!
Olympic History Tidbits
Gold medals were made of gold until 1912!
The very first Olympic games were held around 776 BC in Olympia, Greece.
There was only one game that took place during the first Olympics. It was a race and the runners completed this game in the nude!
A new torch is designed for every Olympics.
The flame from the Olympic torch is a symbol of positive values that stem from the games that took place in ancient Greece.
Each ring off the Olympic rings represents a continent.
The Olympic creed also reminds us that hard work, teamwork, and struggles build character. "The most important thing in the Olympic Games is not to win but to take part, just as the most important thing in life is not the triumph but the struggle. The essential thing is not to have conquered but to have fought well."
I hope you enjoy these Olympic fun for families activities!
how do you spark olympic fun for your family?
If you are looking for more fun crafts, check out my archives TEACHING TUESDAY where I share loads of crafts, activities and more! And don't forget to follow along on Facebook!