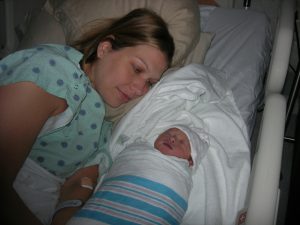 After my first daughter Lila was born I had spinal headaches.
Chicago Bulls Forward Luol Deng missed games 6 & 7 of the Brooklyn series with what the team reported as the flu. But his condition was far more serious. He actually was tested for viral meningitis, which came back negative. He then required further hospitalization for what sources say was a blood patch. There were reports that he was flying from Chicago to meet the Bulls in Miami yesterday, but in fact he did not. He will not play Game 1 tonight in Miami, and in my opinion, will not play for a few days…at least.

When I heard those 2 words, blood patch, I cringed. Basically when a needle enters your spine for a spinal tap in Deng's case, or an epidural, there is a chance that the needle can nick or puncture the dural membrane of the spine. This causes spinal fluid to leak and leads to what's known as a spinal headache. After an epidural during childbirth, this only happens 1-2% of the time. Lucky me, I was in that 2 % after the birth of my first baby.

When you have a spinal headache, it's not just a headache. It's the most excruciating pain you will ever feel if you try to lift your head off the pillow. If you are horizontal, then the fluid doesn't leak. But when you stand up, the angle of your spine causes the fluid to leave, and you immediately feel such extensive pressure and pain that you literally can't move. Can't walk, can't eat, you have to remain flat on your back.

I immediately felt this directly after my epidural procedure and during childbirth. After the baby was born they wanted to do a blood patch, but I said "no way, you are not sticking me again!". So at 11pm at night they started forcing me to drink Mountain Dew (ick!), as caffeine and bed rest for a few days seems to help some patients. So I did, and after 2 days I was better and was released from the hospital, leaving my premature baby in the NICU.

But when I got home the headaches came back, and worsened. It took me another few days of agony to realize I needed a blood patch…and fast. I had to go back through the emergency room, and after waiting 14 hours for the anesthesiologist, I finally received the patch at 3AM.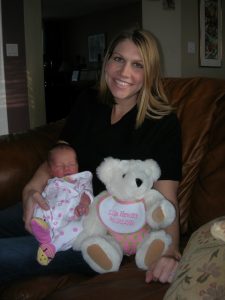 The day Lila came home, 9 days old.
The procedure is bizarre. They literally took blood out of my arm, and injected it back into a location near the site of my original puncture. The blood then clots and "patches" the leak…hence a blood patch. After the patch, you can immediately sit up to see if you have relief. Thankfully in my case it worked, and I was wheeled to the NICU to finally see my baby. Since I couldn't sit up, I hadn't seen her in days.

All I remember after the blood patch was the pain in my back at the site of the dural puncture. I couldn't bend over to pick up my barely 5 pound baby for over a week. I couldn't stretch. Playing an NBA game after this nightmare? I don't see how this would be possible. I would be terrified that physical exertion would jar the patch. But obviously I'm not Luol Deng.

It will be interesting to see how he recovers from this. It's a spinal injury, and requires care and rest to recover properly. How far will he push his body? It is the playoffs after all, but if it was me…I would put ME first. If he does play this series…it will speak volumes of his desire to compete and his character. And in my opinion send a very loud message to teammate Derrick Rose.