Disclaimer: We were given complimentary indoor skydiving, however all opinions are genuine. (And I've got lots of opinions!)
Looking for an adventure? A place to take the family on the weekend? Maybe a special date night or birthday present? Then you might want to stop by iFLY Indoor Skydiving in Ft. Lauderdale. iFLY is the world's largest indoor skydiving operation, and is now delivering the dream of flight to adventure seekers in South Florida.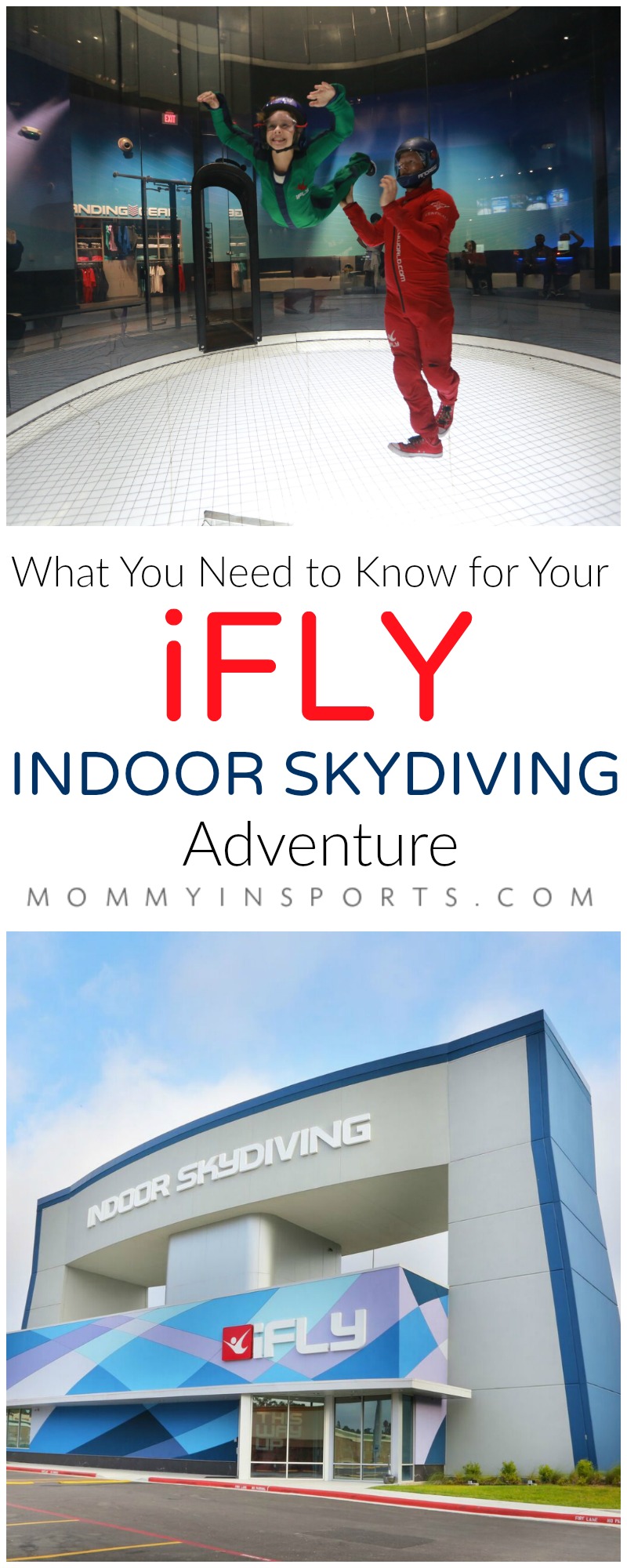 As the daughter of a pilot, I grew up in a Cessna. And every time I even mentioned the word skydiving, my father would say, "Why would anyone jump out of a perfectly good airplane?" Skydiving was never in the cards for me, but when iFLY contacted us about the opportunity for our family to try, we couldn't wait!
When we pulled up to the unique and colorful building, we had no idea how large and deep the vertical wind tunnel was inside the structure.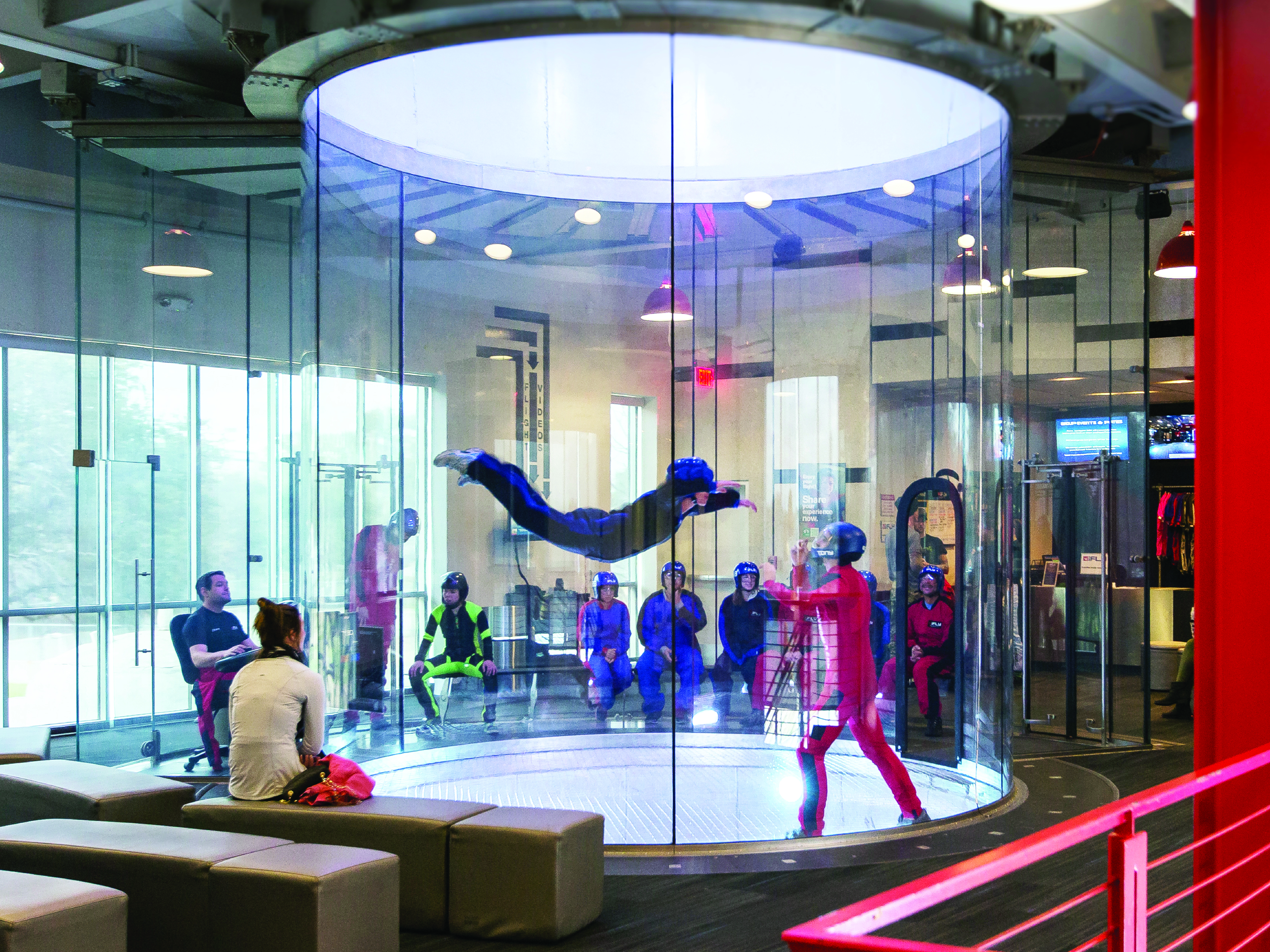 iFLY says that their flights are safe for anyone from ages three to 103, so we were excited to take our five and eight year old daughters after school. The indoor skydiving facility replicates the sensation of freefall, without having to actually jump out of a plane. But before you fly, you have to learn the basics. All flight packages include training, flight gear, and flight time with an International Bodyflight Association (IBA) certified instructor.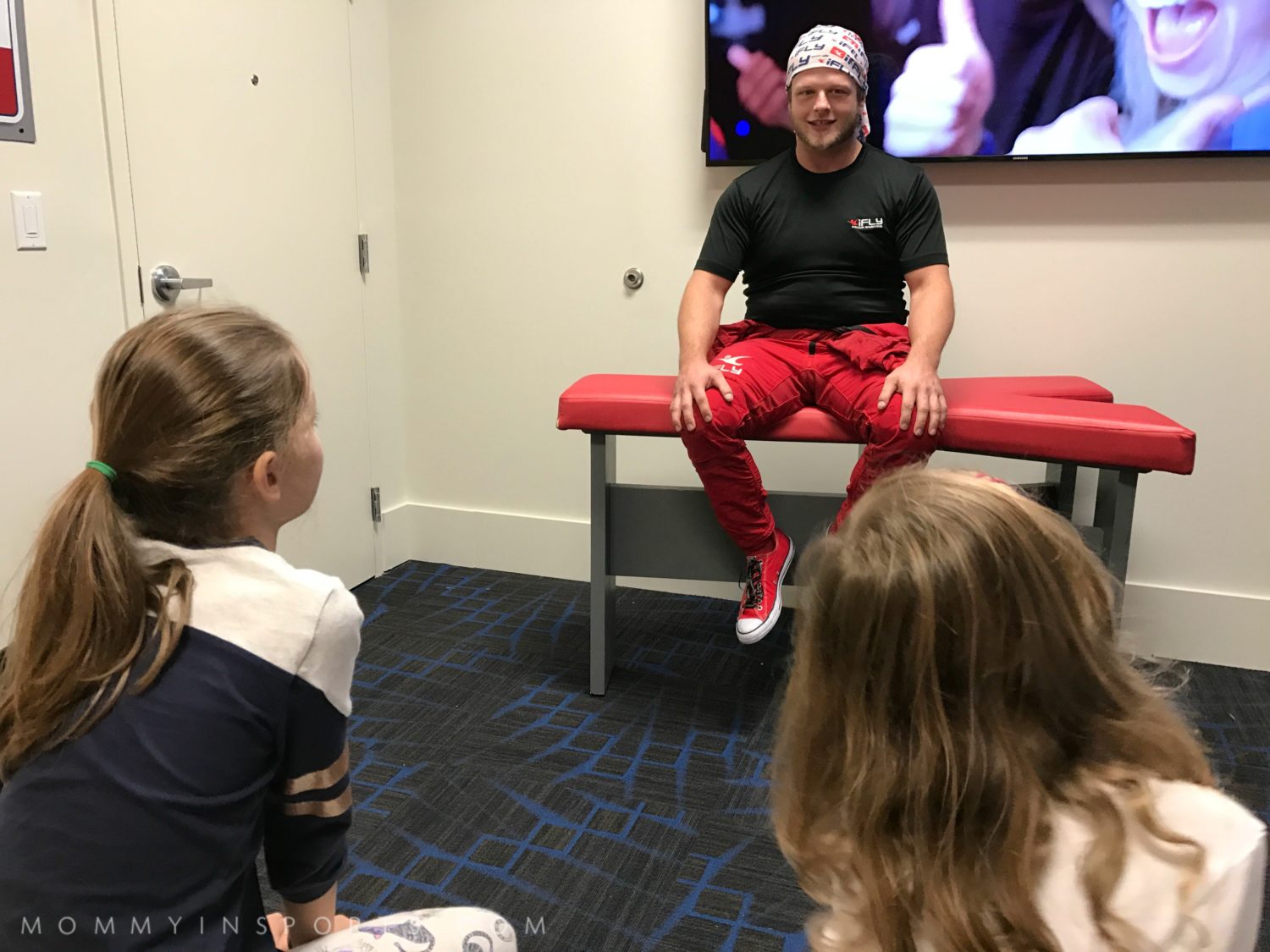 Our instructor Andrew was awesome with the girls, explained what form we needed to have during flight, and also made sure all of us understood the hand signals. He also played a short video that explained the flight procedures.
Next we had to get fitted in our flight suits, put on our goggles, ear plugs and helmets. It's pretty loud in the wind tunnel!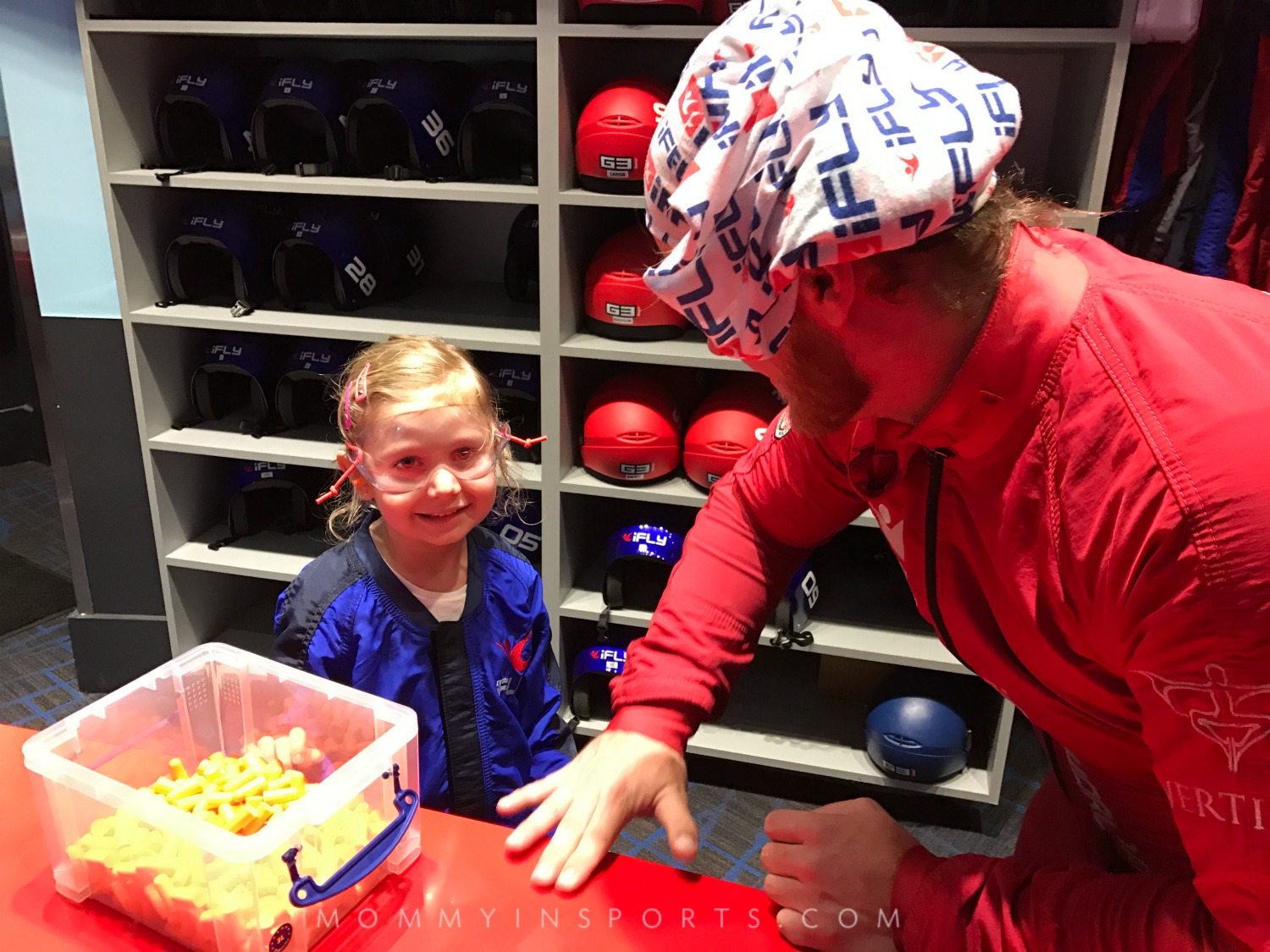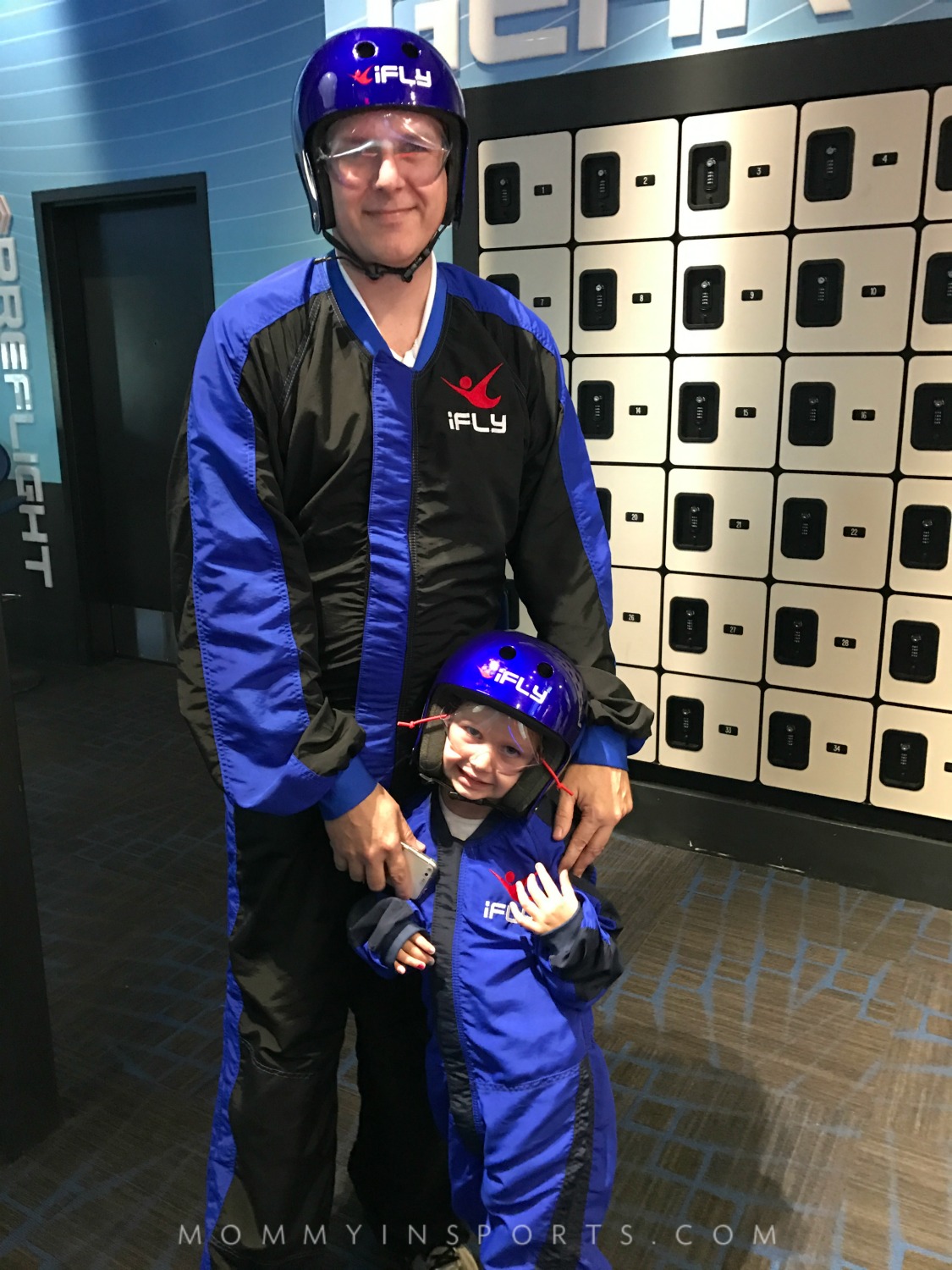 If you have long hair, it's important to wear your hair up and tuck it in your helmet, or it will take you hours to brush through it after your adventure!
After we finished getting prepped and dressed in our flight gear, it was time to fly. We entered the flight area, and took turns. Somehow I got conned into going first, and was a little timid to walk in. But once I did it was magic. I'll admit, the wind speeds of 85 mph took my breath away, literally at first. That's why there's a hand signal for relax. Most people tense up at the beginning because it's so surreal to be instantly flying. But it was pretty easy to get the hang of it!
You get two rounds of two minutes of flying with your admission. And it goes quickly! The instructor makes sure you get pictures while you're flying and they make you a video too!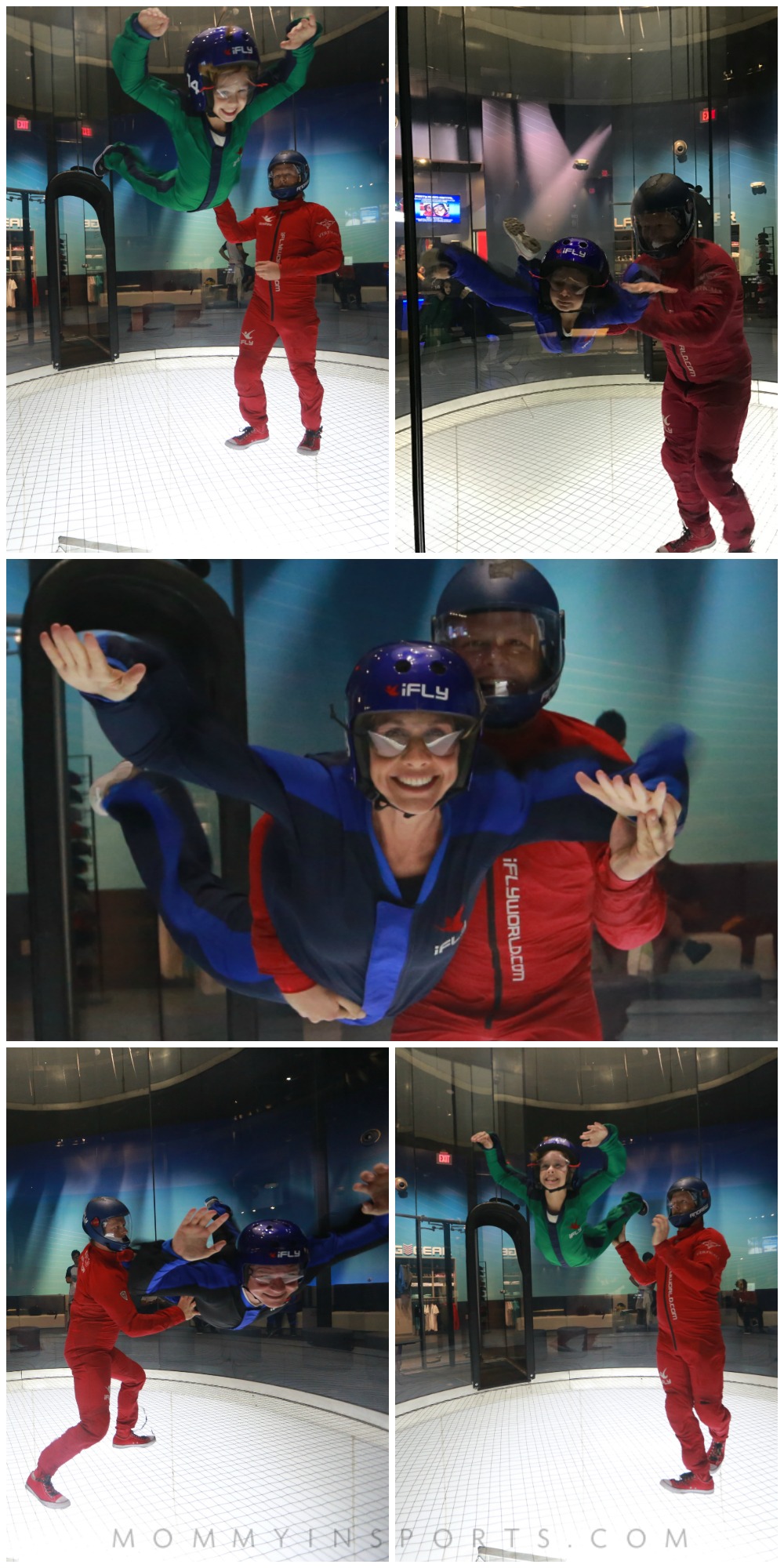 Our eight year old loved her flying experience, and took an extra turn. She even did a little high flight, which is an add-on for $20. If you're feeling daring, they take you higher and do a few turns and tricks with you. It felt like real skydiving and was really fun! (I did it too.) You can see a little montage I made to get a feel for what it's actually like inside iFLY. I made sure to include how my husband entered and exited the wind tunnel so you can see exactly what happens during flight.
Our little one at five years old was a little more timid. She did try the indoor flying experience, but had a hard time breathing. She tends to be a little clingy and wanted me with her, which isn't allowed. I would wait to try it again with her when she's a bit older, but some three and four year old kids love it! You really have to gauge your child's personality.
what you need to know for your ifly indoor skydiving adventure
Wear comfortable clothes, they're going to be covered by a flight suit.
Wear shoes that tie tightly on your feet. If they are loose, the staff does have sneakers you can borrow.
If you have long hair, tye it back and even bring a cover. I wore a pony tail and tucked my hair tightly into my helmet, and the pieces that flew out were really difficult to get the knots out.
The pictures and videos iFLY takes are worth it! Sure you can take pictures with your phone, but your cameras and phones are not allowed in the wind tunnel. You can also stick your GoPro on the wind tunnel exterior if you like, but the videos come with music and are really cool!
After you fly, if you want to come again, iFLY offers discounted packages for return flyers. I think the price is worth it! (Just my two cents.)
To learn more or book your iFLY flight package here. iFLY is located right off SR 84 and 595 at Hiatus Road. You can't miss the brightly colored building. Bottom line, this is something I would definitely do for a special occasion. And before you scoff at the price, please know that it really is a thrill and something you and your whole family will enjoy.
Make sure to tell the GM Jim Braun and his team I said hi! It really is something I can't wait to do again!