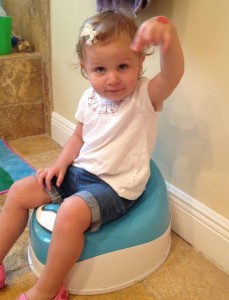 Emy proudly showing off her Elmo stamp after her first time using the potty!
Time to potty train! No, I don't pressure my kids to use the potty. But when they show interest, I know it's time. Why belabor this, and spend ridiculous money on diapers when they can easily learn over a long weekend? How do I know it's time for my 21 month old? Here are the signs….
For the last month or two, whenever she goes #2, she points to her diaper and says "poo-poo", after the fact of course. But this morning she told me prior. I checked and there was nothing, then she told me again and ran to the potty. We didn't make it, but this was sign number 1. Sign number 2 was right after she wet her next diaper, she ran to the potty, and wanted to get on. She went through the motions, and used the potty…Woo hoo! Even tried to wipe, flush and wash her hands. The Elmo potty video running incessantly in the car is working, whew. "Accidents happen, and thaaaaat's oooooo kkkkaaayyy!"
Since Labor Day weekend is upon us, and I know I'll have 3 guaranteed days at home with her, I'm going to prep now for potty training. Here's what I did with my oldest, and what I'll do now with Emylia.
First things first, I'm going to start keeping a log of when she goes. I'll write down each dirty diaper, and the time she went. This will help me know what time of day to put her on the potty.
Next, I'm going to stock up on the Huggies Slip-On diapers. These will teach her how to pull her pants off and on.
We also use these Kohler toilet training seats in the girls bathroom and our half-bath. I used the Prince Lion Heart POD little potty for Lila, but Emy is partial to the big girl seat. She wants to be like her sister…which is fine with me.
And lastly, I need rewards. For Lila I used little plush dolls, she was obsessed with little stuffed animals, Super Why was big at the time. And also Elmo stamps. For Emylia, it's food. She loves to eat, so I'm thinking little Mickey Mouse fruit snacks or M&M's. Hey whatever works, do it!
Then next weekend, I'm going to let her go naked, and basically put her on the potty around the times I charted she normally goes. I will also have tons of old towels around for accidents, and roll up my beautiful pottery barn rug for the weekend, because, yeah…we know what's going to happen!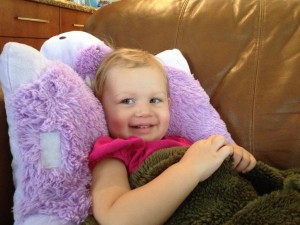 Growing up so fast, sniff sniff.
Who knows if she'll be as easy as Lila, but this is what I did with her big sister at 22 months and it worked like a charm. Oh the joys of parenthood. I never EVER thought I'd be writing about pp and poo poo. But…you know….**** happens!
What are your tricks?