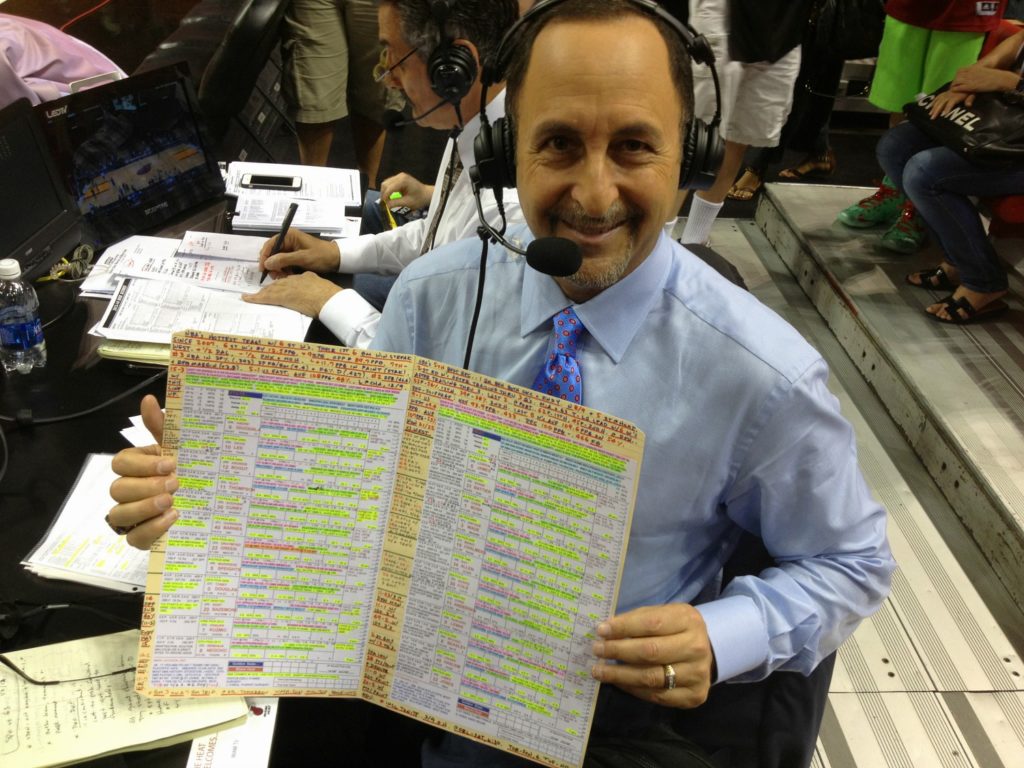 If you've lived in South Florida the past two decades, or are a Miami HEAT fan, chances are you know who this guy is. Eric Reid has been a member of the HEAT family since day one of the teams inception. He began his career in Miami as the color analyst for the first three years simulcasting on radio and television, serving alongside Sam Smith who was the original play-by-play announcer.
Now in his 29th season, Eric has worked over 2,000 HEAT games, and only missed three broadcasts in his tenure with Miami. Eric has cultivated a relationship with viewers in South Florida, and created many signature calls and popular phrases on Sun Sports' Emmy award-winning telecasts. He's the mayor of "kaboom"-town, and starts every telecast telling viewers "off we go on another NBA adventure, we hope you enjoy every bounce and basket." His voice is comfortable, soothing, and synonymous with Miami HEAT Championship-caliber basketball.
He is also one of the most prepared professionals I've ever had the privilege to work with. Prior to every game that I work for Sun Sports as a reporter, I always wander over to Eric and his partner Tony Fiorentino's table to talk trends of the opposing team. They both do an excellent job of preparing for each game, and create a folder to help them as a "cheat sheet" throughout the broadcast. Eric's though is a color coded, highlighted, handwritten, and typed folder that is really an amazing sight. I asked him recently if we could share with fans just what, and how he gets ready for each game. And if he could actually help me finally learn to decipher that folder…
So here it is in all of its highlighted glory. First the cover, which is handwritten with the entire NBA's schedule for that evening. Plus game information for this particular contest including the two teams last meeting, and the night's officials.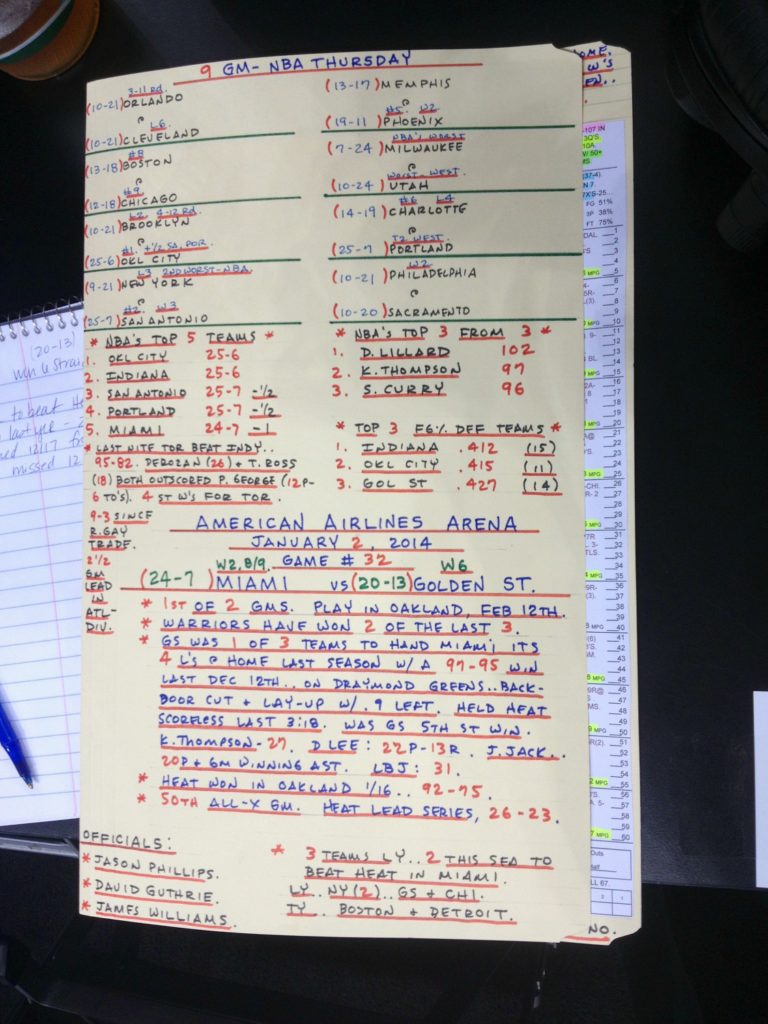 And here's a wide shot of the inside. The left is the opposing team, the right is the Miami HEAT. The handwritten notes at the top are trends and notes for each team, and the typed information is individual statistics on each player.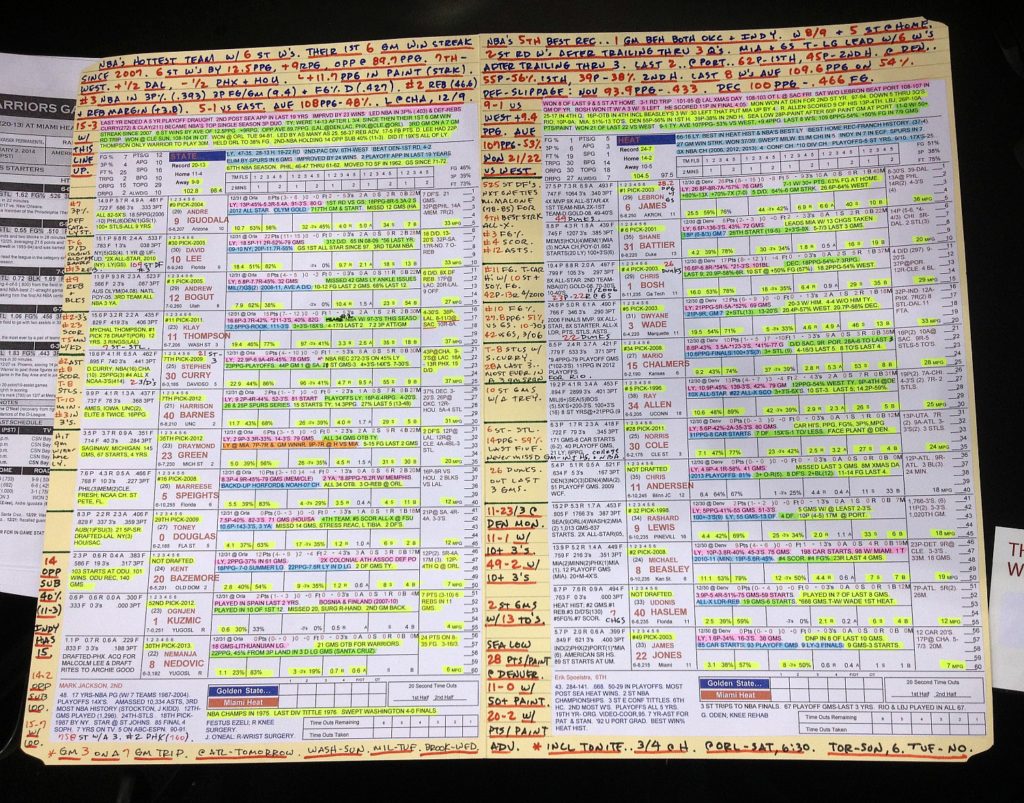 Eric told me, "Every broadcaster prepares for his game in unique ways. This is a product of my 37 years of working basketball, and this is how I prepare in 2014." (He still does it this way in 2017!)It takes him four to five hours to complete this chart before every game, but five years ago Eric enlisted the help of a company called Broadcasters Edge. "Before I used to have to enter the stats for each guy, and it took so much time. Broadcaster's Edge streamlined the minutia part of the preparing, and it enables me to focus on other areas. I try to layer our telecast with interesting information and good conversation."If you really look at this — you can start to understand the method in which Eric organizes the stats and other notes of the game. But I had to ask him about the color coded highlighting, what does each color mean?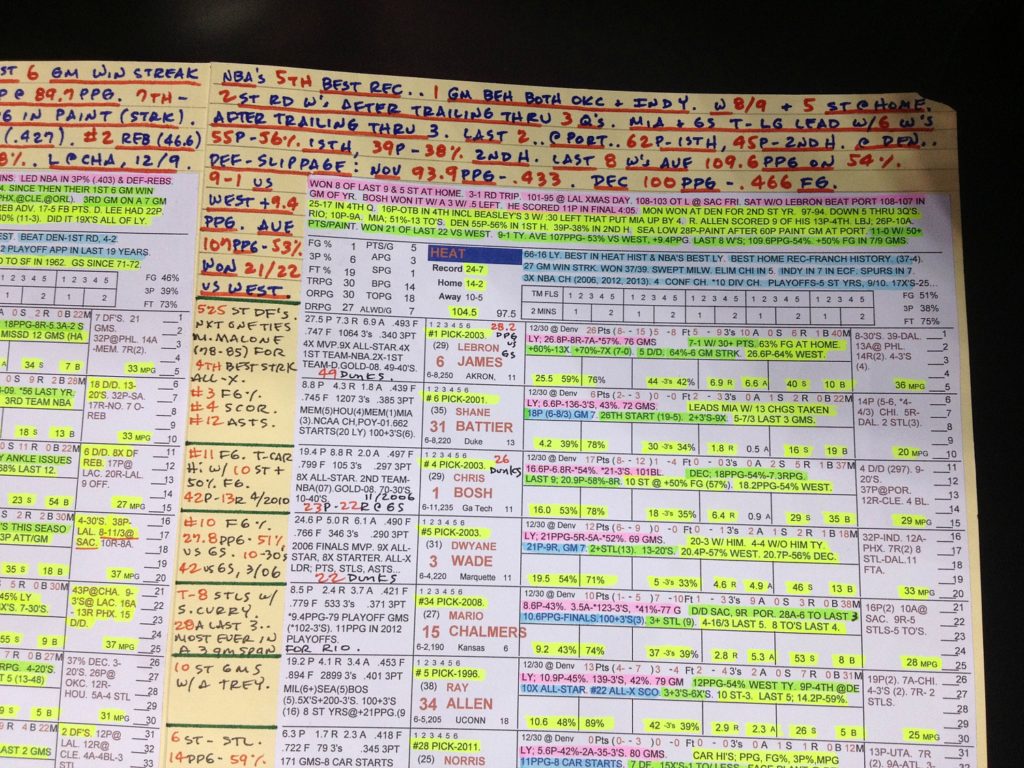 "The pink at the top, this separates thoughts and wraps up our win streak and road trip. Yellow is the last game. Green are numbers that are apropos for right now. Then within each player box; pink is what they did last year, green is their current numbers, and yellow is the most important thing I have for each guy."In addition to these folders, broadcasters also have statisticians sitting next to them helping stay up with current milestones and trends throughout the game. Plus a graphics operator and font coordinator inside the television truck typing up and tracking the same info. It really does take a team of people to put out correct and factual statistical information every game. But what we all really want to know is, what does Eric do with these folders after every game?
"They live in a closet, and when they get old then they get retired to the garage." Yes, he's kept every single folder. Will he ever donate them or put them in some sort of sports or broadcasting Hall of Fame someday?
"Uh no. They are going to go to Palm Beach Recycling Center someday." Maybe he'll autograph one and auction it off at the Reid and Fiorentino Call of the Game Dinner this year. I'd bid on it!