This is a sponsored post written for Seminole Pride™ Noble® Juice, however all opinions are 100% my own.
Like most kids, our girls love their juice. I was extremely happy to learn about a new brand being sold at our local Publix made right here in Florida, Seminole Pride Noble Juice. The Roe family has been in business making Florida's finest premium juices since 1927, and in 2014 they teamed up with Florida's first family, The Seminole Tribe of Florida to form a new era of Seminole Pride Noble Juice.
Today Seminole Pride Noble offers 10 natural pure and organic juices. They hand-pick each piece of citrus when it's ready so that we get the sweeteet juice possible. And there are no additives or added sugar, just pure juice. The bottles are 100% sustainable, and made right at the juicing facility to ensure a low carbon footprint. They are also BPA free. Oh and did I mention how delicious they are? I love that fresh squeezed flavor, and so did our daughters! Here are the ones I picked up at Publix this week.
And our toddler clearly was hoarding the pink juice for herself! In addition to drinking this at breakfast, we made smoothies with it, and used the Tangerine Clementine juice to make a simple dairy-free dinner, Mandarin Chicken. (recipe below)
You can enter to win free juice for a year here during the Seminole Pride Noble #PureFamilyMoment photo contest. (Hey can I enter?!) Or follow Seminole Pride Noble on their social!
They also have some amazing recipes on their site including Tangerine Skirt Steak, and a slew of smoothies and cocktails. It's nice to find a local company that takes such great care to make quality products for our families. Since we are mostly dairy free I made this delicious Mandarin Chicken with Jasmine Rice for our family. It's a lovely and super simple recipe that kids will love…featuring a sweet juice from Seminole Pride Noble.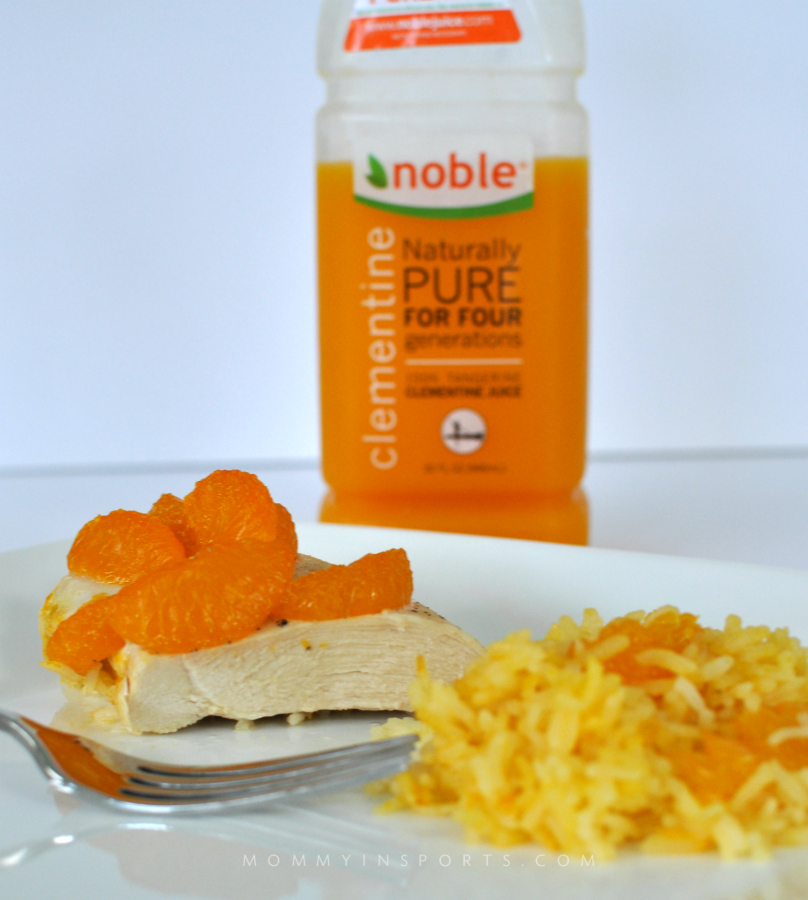 Mandarin Chicken
2014-09-04 18:47:59
A simple yet delicious dairy-free meal perfect for families on the go!
Nutrition Facts
Amount Per Serving
Calories 2083
Calories from Fat 167
Trans Fat 0g
Polyunsaturated Fat 4g
Monounsaturated Fat 6g
Total Carbohydrates 296g
99%
Sugars 50g
Protein 167g
* Percent Daily Values are based on a 2,000 calorie diet. Your Daily Values may be higher or lower depending on your calorie needs.
Ingredients
1 1/2 cups rice
1 lb. boneless, skinless chicken breasts
2 cups Seminole Pride Noble Orange Juice (we used Tangerine Clementine)
1 cup dairy-free chicken broth
1/2 tsp. salt
pepper to taste
1 small can mandarin oranges (drained)
Instructions
Preheat the oven to 375 degrees. Grease a shallow 3 quart baking dish.
Spread the uncooked rice in prepared dish. Top with chicken. Pour orange juice and broth over chicken and rice. Sprinkle with salt and pepper, then top with oranges.
Bake for 60 minutes, or until chicken juices run clear and rice is tender
Notes
Stir rice halfway through baking to keep from drying out.
Kristen Hewitt https://kristenhewitt.me/