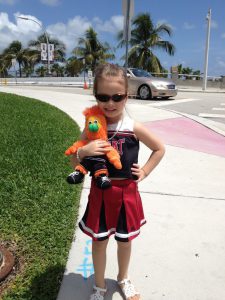 Hot shot on her way to HEAT-Bulls game.
Well not exactly her first…but the first time she actually was cognitively aware of her surroundings and able to enjoy it without covering her ears! The day started as it does for most 4 year old girls…what to wear. Of course the cheerleading outfit had to come out, and there were a few tears over a missing pom pom. But at least we found Burnie to bring with us. Whew!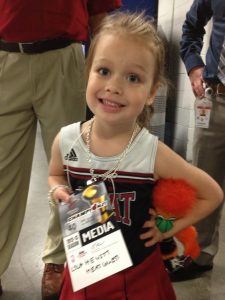 First press pass.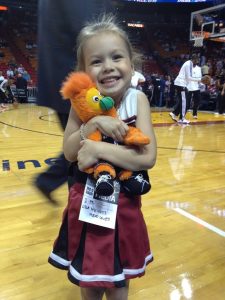 Then we took her by the tv truck compound and through the press entrance. Had to get her legit with a credential. "Mommy, they spelled my name wrong. There's no Y, it's L-I-L-A". Heard that over and over and over on the way to our seats.
Took a quick detour on the court so she could see the players a little closer. She was thrilled when she saw Birdman aka Chris Andersen. Kid love him! And then Lebron waved and smiled at her. She said "that's so cool, where's Burnie?" Sigh.
Next up actually watching the game. The first quarter she was actually into it. The fire in the player introductions, the anthem singer, and especially the ever important jumbotron. "Whoa look at that big hanging tv!". It is so much fun to see things we take for granted through her eyes.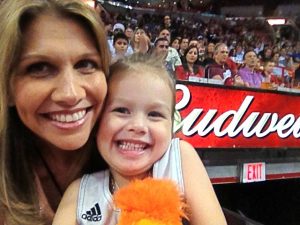 Great Budweiser ad with a 4 year old, huh?
Then to astonishing eyes who appeared? The orange Burnie…who magically fell into a giant washing machine and came out white hot. That was the highlight of her day, and here's Lila's expression watching Burnie dance on the court after the color change during a timeout. Priceless.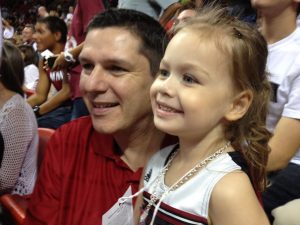 Lila with Daddy watching Burnie dance on the court.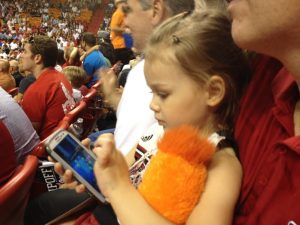 But seriously, no amount of talented NBA All-Stars can hold a 4 year old's attention after that amazing Burnie appearance. As he left the court, it left her wanting more…and not even a quick visit by Jason Jackson could appease her. So it was time to bring out the cell phone with 8 minutes remaining in the 2nd quarter. Thank goodness for daddy's bubble game. And the bam bam's the HEAT handed out. Or bangers, or whatever you call them.
Ahhhhh…halftime. Time for a potty break, load up on snacks, and stalk Burnie. I mean…we just HAD to meet Burnie. So we headed to the media room and got some popcorn and m&m's, and ran into some of our friends from ABC. Jeff Van Gundy said she was the cutest cheerleader, and reminded me that she'll never stop talking…ever. Unfortunately, I already knew that.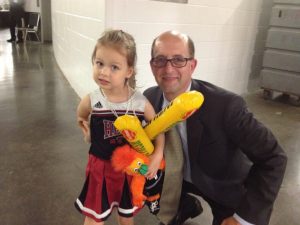 JVG is just as nice as his brother SVG!
Also chatted with Mike Breen, seriously one of the kindest people I've ever worked with. Love when he's in town calling a game…you know you'll always get his signature "bang! knocks it in" play call.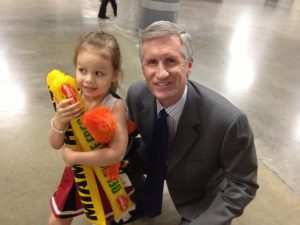 With Mike Breen, one of my favs in the business.
Then it happened. After asking everyone we work with where Burnie was…he suddenly appeared. It was like watching a love story in slow motion. Cue the cheesy music:
She sees him. She runs to him. She hugs him.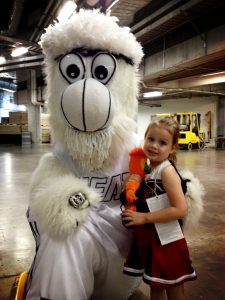 Oh man…life is good if you are Lila Hope Hewitt! And a good day to be a Miami HEAT fan. Playoffs start next weekend versus Milwaukee. Get ready….going to be a fun ride!