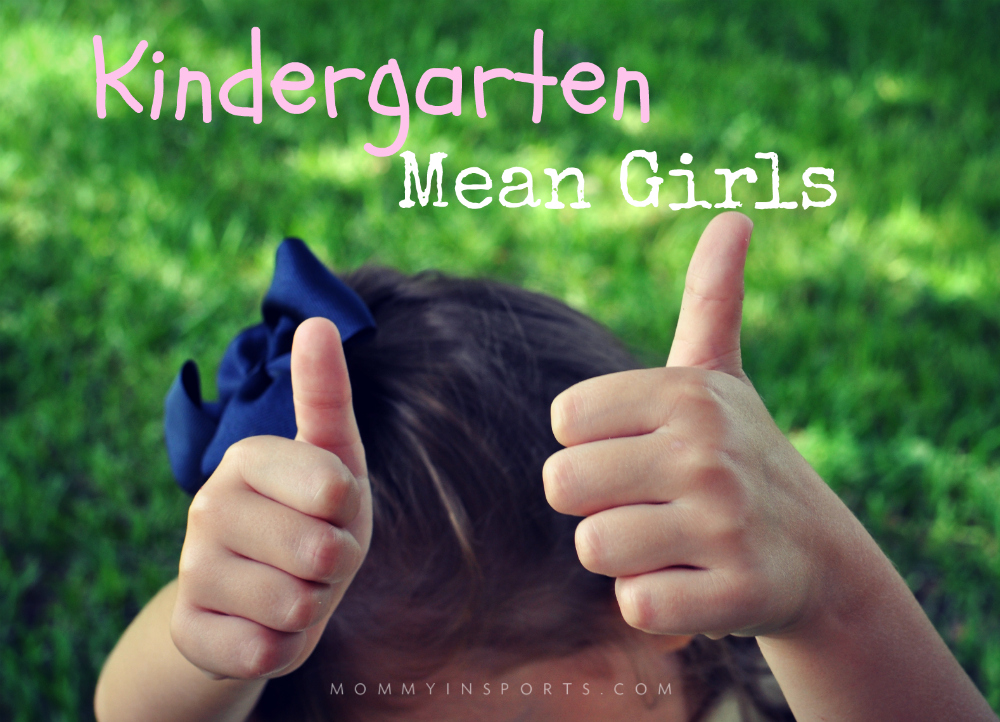 Our five year old came home after her first month of Kindergarten with some pretty spiffy new hand signals she learned at school. She was so excited to share them with me, she couldn't speak fast enough when she launched into this demonstration of what I like to call her Kindergarten gang signs:
Thumbs up means I like you.

Thumbs down means I don't like you.

Sideways thumbs means I'm thinking about being your friend again.

And a two-handed diamond means your my best friend. My BBF."
I think she meant BFF. Lila further went on to explain who liked her and who didn't, as she was buckling herself into her booster at pickup after school. All with a smile I might add. I turned back to look at her while in the car line and gaped open mouthed at what I'd just heard. Is this happening already? Did she turn 10 and I missed the past five years? I couldn't believe this…do mean girls really exist? I mean I know they exist…but in freaking Kindergarten?!
I asked her how it made her feel to learn that these two little girls didn't like her, and she said, "sad I guess." Then shrugged. I promptly turned into my mother,
Actually my mom used to say the standard, "If you don't have anything nice to say don't say anything at all," but this at least made Lila giggle. "You can't put a zipper on your lips!" Then we talked about being polite. I told her that if someone said something mean to her to just walk away. And even if there is someone you don't really like, it's best to just keep quiet. (Hear that twitter?!) I also very definitively preached that we don't make those hand signs…ever. And if she sees someone doing it to her, to say, "Please don't do that, it's not nice to tell someone you don't like them."
It's so funny to me how this school thing with my daughter evokes so many memories of my childhood. I was instantly transported to Brownies in second grade when I experienced my first mean girl. A little girl named Cara was making a 'Like/Hate' list of all the girls in our troop. I remember being on the 'Hate' list, and how rejected I felt.
I'm sure at age five, the hand signals weren't meant to be mean or vindictive. Young children change their minds all the time about who their friends are. And I honestly don't think Lila took it that way considering she was smiling when she showed me the new secret code. Maybe the girls that taught this to her have older siblings, or maybe they spend a lot of time away from her parents who both work. But I had to reinforce our rules that we don't say mean things to people…ever.
I eventually emailed her teacher after a few days of hearing reports of who un-friended her on a daily basis. She was receptive and agreed that she needed to reinforce not using the hand signals, and she even introduced a lesson in respect. Of course teachers can't control everything that happens in the cafeteria and on the playground though. And so it begins…real life.
I knew someday we'd deal with clique's and self-esteem, the cool kids and the outcasts, but I honestly didn't think it would happen in Kindergarten. It was only a few months ago when we were in a small private preschool, a loving and nurturing environment, where playing and learning was the focus, not who dislikes you. Though I'm disappointed that this has happened already, it is a good lesson.
I recently read this awesome article in Huffington Post that totally sums up how I feel about this situation – and what we as parents can do to model better behavior. Thumbs up or thumbs down? (See what I did there?)