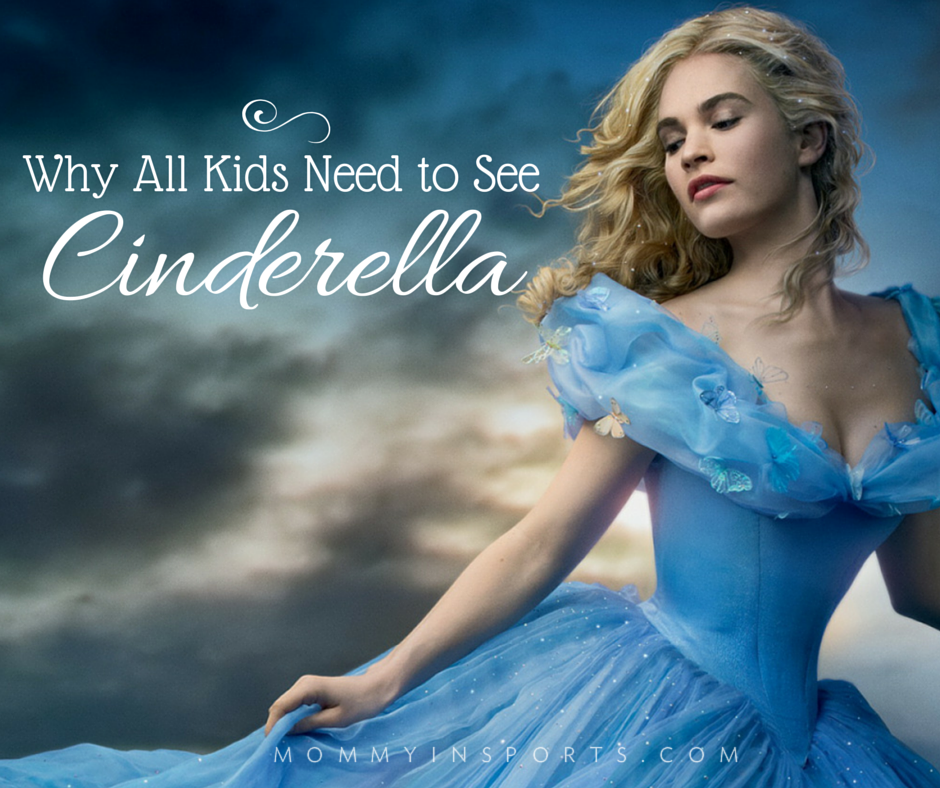 In the final scenes of Disney's newest version of the old classic tale Cinderella, the narrator Helena Bonham Carter reads as Cinderella is about to face the Prince,
One of the hardest things we can do is allow others to see us as we really are…"
But that's just what Lily James who portrays Cinderella does…she bravely shrugs her shoulders back and walks down the staircase with her face full of smoot and head held high.
"Will you take me as I am?" she asks the Prince, and he responds by asking the same thing.
And that to me was the most powerful moment in the entire movie, and one every boy or girl any age needs to see and hear. Ella profoundly shows her true self, and proves that looks don't matter, it's the character within. There's no negative self talk, there's no worry about body image or materialistic clothes, hair or makeup, it's just about being yourself. It will not only teach your children to look within, but is an influential reminder to us their parents; show yourself as you are, be true to you.
Yes it's another fairytale remade, and yes the lead is tiny and beautiful, but this Cinderella is refreshingly different. Director Kenneth Branagh sets the positive tone early in the story when Cinderella's mother tells her before she dies,
I want to tell you a secret that will see you through all the trials that life can offer. Have courage and be kind." She continues later, "Where there is kindness, there is goodness and where there is goodness, there is magic."
And the film brilliantly carries this theme throughout in all of Cinderella's actions and words. She truly proves that kindness provokes power.
Cinderella is poised with her nasty stepsisters, is gracious to her horrid stepmother, and even when she is frustrated or upset…she kindly seeks solace and comfort in her animal friends. But this feminine heroine is also strong and opinionated, especially in her first meeting with the Prince. While riding her horse in the forest she meets the man who she thinks is an apprentice and pleads with him to not kill a stag. Prince Charming says,
But we were hunting, you see. It's what's done." Ella replies poignantly, "Just because it's what's done, doesn't mean it's what should be done."
Isn't this how we want all of our children to think?
The film follows along the cartoon plot but has some different twists. In the newest version lizards become coachmen instead of horses, and the scenes at the ball are much more elaborate. It also sees some difference in the ending, which I personally loved. I don't want to give away the final scenes but I will tell you this; there is a confrontation with her stepmother Lady Tremaine played by Cate Blanchett at the end of the movie which resolves their relationship. And it is BRILLIANT.
Cinderella isn't just a love story for little girls, it's a beautiful reminder of several life lessons for all of us. It is endearing for men and women, boys and girls…and will leave you breathless. The cinematography and costumes are beautiful, and so are the new traditional songs like Lavender Blue Dilly Dilly. There are some that will write it's silly, and a horrible reminder that we all need to be skinny, but I choose to look past that negativity and focus on the positive messages the movie teaches. Just like Cinderella and her mother would do.
As the movie ended and the credits rolled with the lights rising in the theater, our six year old daughter looked at me dazzled and said, "Mommy, she says the same thing you do! Be kind! Kindness makes you powerful."
And that is precisely why all kids need to see Cinderella. It empowers, it uplifts, and it makes our children want to be kind. If only all television shows and movies had the same themes….
This post also appeared on Mamapedia.