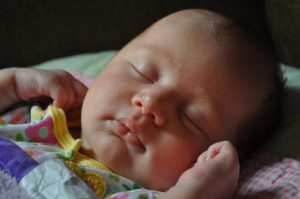 Sleeping like a baby, Emylia age 2 months. My how time flies…sigh.
As I sit here on my porch watching the sunlight fade, and listening to my poor, sweet 18-month old wail, I am reminded of the end result – a peaceful 12 hours of sleep. Yes, my kids go to bed at 7:00pm, and do not get out of their beds until 7:00am. When most parents hear this, they are astonished. I am just thankful.
It wasn't always like this. After my first daughter was born I was a WRECK caused from sleep deprivation. I nursed, and literally was up every hour or two for the first 3 months. But after the fourth month, I needed help fast. I was suffering from severe postpartum anxiety disorder, and rocking my baby to sleep all the time. My life revolved around getting my baby to sleep so I could have a moment to myself. That's when I heard about Dream Team Baby.
They are a company based out of New York, and are dedicated to helping you get your baby to sleep through the night. Dream Team actually goes into your home and helps you teach your baby this important skill. However, I had to do the phone consultation since we live in Florida. When I told my husband the $500 price tag (this was the cost in 2009) he scoffed. But once we actually finished…he said it was the best money we ever spent!
Basically Dream Team Baby is a modified "cry it out". But they teach the principles of positive sleep associations, and give you the tools and confidence to let your child put themselves to sleep. After speaking with our sleep consultant Traci (now a friend) I knew Lila would be ok. And she was. We put in her at 7:30pm, listened to some crying for a couple nights…and voila…we had our nights back to ourselves!
The other important thing I learned during the sleep training process was how important naps are, and a schedule. Babies thrive on routine, and so does this type-A planning mommy! They also asked an interesting question that made me a better parent: Do you want your child to tell you when you sleep and eat, or do YOU want to tell THEM when it's time to sleep and eat? This changed my perspective, and is how we live today.
Connor Herman and Kira Ryan, the founders of Dream Team Baby, also co-authored a book, The Dream Sleeper. This is a GREAT place to start if you are a bleary eyed, exhausted new mommy or daddy.
With our 2nd baby, obviously sleep was a breeze. I used the Baby Whisperer's techniques early on and put Emylia down awake from day 1. She was sleeping 12 straight hours by 11 weeks. Obviously these methods aren't for everyone, they contradict everything attachment parenting teaches. But this is what worked for us, and we've been sleeping great ever since!
And no…Dream Team Baby did not pay me to write this! I just honestly love their method, and am a better, more confident parent largely because of their teachings. And of course my schedule.