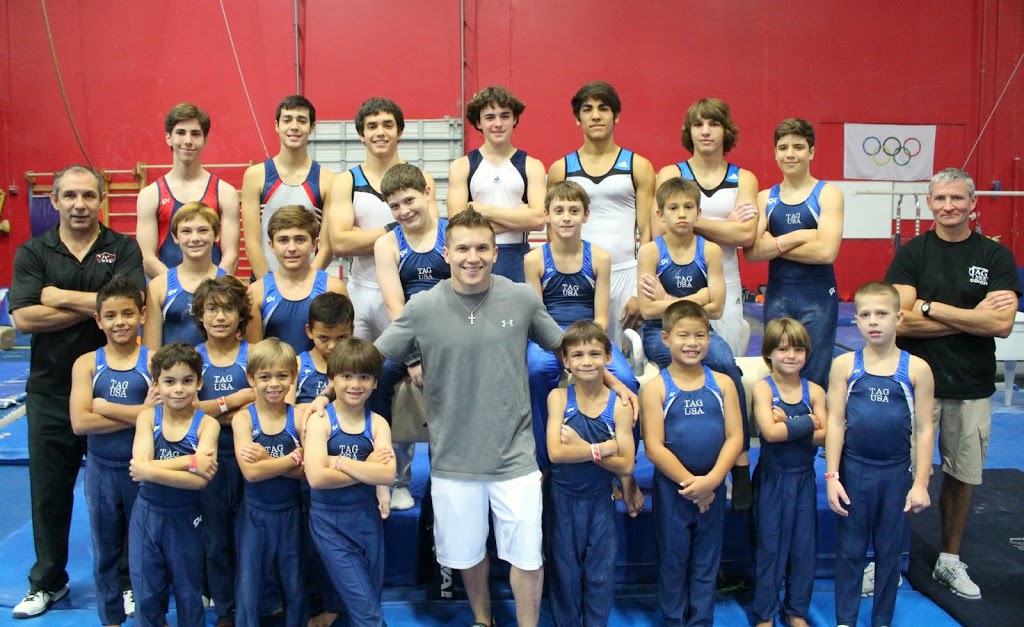 Olympian Jonathan Horton visits TAG Gymnastics in Weston, FL.
"Gymnastics didn't just teach me how to flip and twist, it taught me how to live my life."

You could call him the Derrick Rose of the gymnastics world.
Jonathan Horton admits placing 7th in high bar at the 2012 London Olympics was a bit of a letdown. Undergoing two foot surgeries after that didn't ease the sting of the past Olympics. Nor did having his right shoulder completely reconstructed after tearing his labrum, bicep and rotator cuff. Still determined though, Jonathan worked diligently for four months training to become nearly 95% rehabilitated when the unthinkable happened…he tore his pectoral muscle at the Olympic Training Center. But it appears nothing will stop this world class athlete who calls himself "the grandpa of the team."
"I'm the old man of gymnastics!" Horton joked at TAG USA Gymnastics in Weston, FL. "I've had a rough two year of injuries, but I'm hoping to make a comeback in August. Hopefully I'll make the world team this year and then be off to Rio in 2016." If he does indeed make the team, it will be Horton's third Olympic appearance, his first was in Beijing in 2008 where he captured the silver medal.
Jonathan Horton has been practicing gymnastics for 24 years, and is the oldest parent competitor in the sport by six years. His son is celebrating his first birthday tomorrow, but first Jonathan has some kids to train right here in South Florida. Horton is spending two days at TAG Gymnastics, giving kids one-on-one instruction. "My goal is getting back to the Olympic games and will probably retire after that, so as I reflect I remember what it was like when I was this age. Being in the gym with unlimited energy…it's so much fun. And it's a chance to teach them what I learned growing up, and what it took to get where I am now."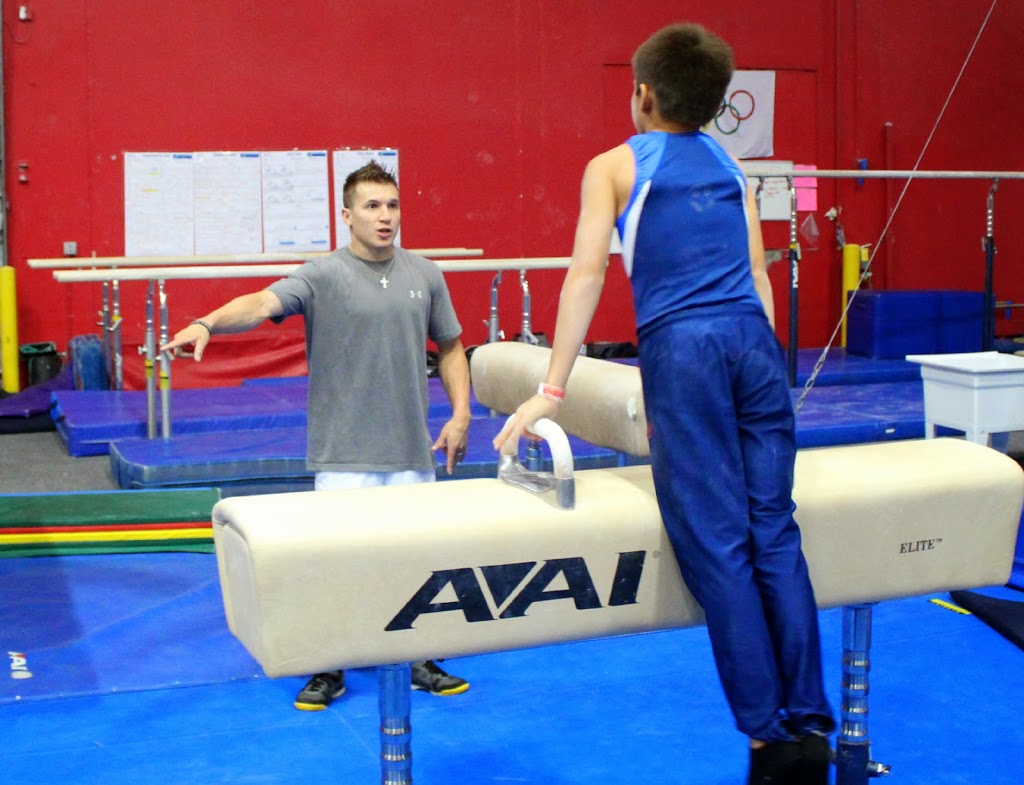 The now for Horton could be called his golden years as a gymnast. At 28 years old, this new father knows this is his last chance to compete. But Horton is training hard, and still focused on winning. "I've always had the internal desire to be good, I just want one more shot." And as focused as he is on a trip to Rio de Janeiro for the 2016 Summer Olympic games, Horton may be proudest of his newest job title.


"I've done some cool stuff in my life; been on multiple world teams, two Olympic teams, and I'm an NCAA National champion, but none of that is as important as being a dad. My son is a year old tomorrow and he's been the joy of my life. He's speaking another language I don't understand with his goo goo's and ga ga's – he cracks me up! And other than my wife, he's the greatest thing in my life."
Parenthood changes many, providing perspective on just how fragile life and health may be. Now Horton relishes the role of the dad, and he has some sage advice for parents of budding gymnasts.
"The best thing a parent can do is just be supportive of your kids regardless of how they do. I would win the meet and my parents would say "Hey great job." I would go to a competition and lose the meet and they would say "Don't worry about it, great job, you did your best". And my mom always reminded me "You're doing this because you love it, and as soon as you don't love it anymore we don't want you to do it." I never felt pressure. Just support your kids, and don't let them quit in the middle of something. You have to finish the season, finish what you start and just be supportive."

As for Horton's career, it appears he is taking his own advice and finishing what he started back in 1990. Gymnastics has been his life, and hopes his son follows in his path. "I will push him to do something physical for several reasons. Not only is it good for your body but it kept me out of trouble. It taught me how to be a disciplined student athlete. Gymnastics didn't just teach me how to flip and twist, it taught me how to live my life."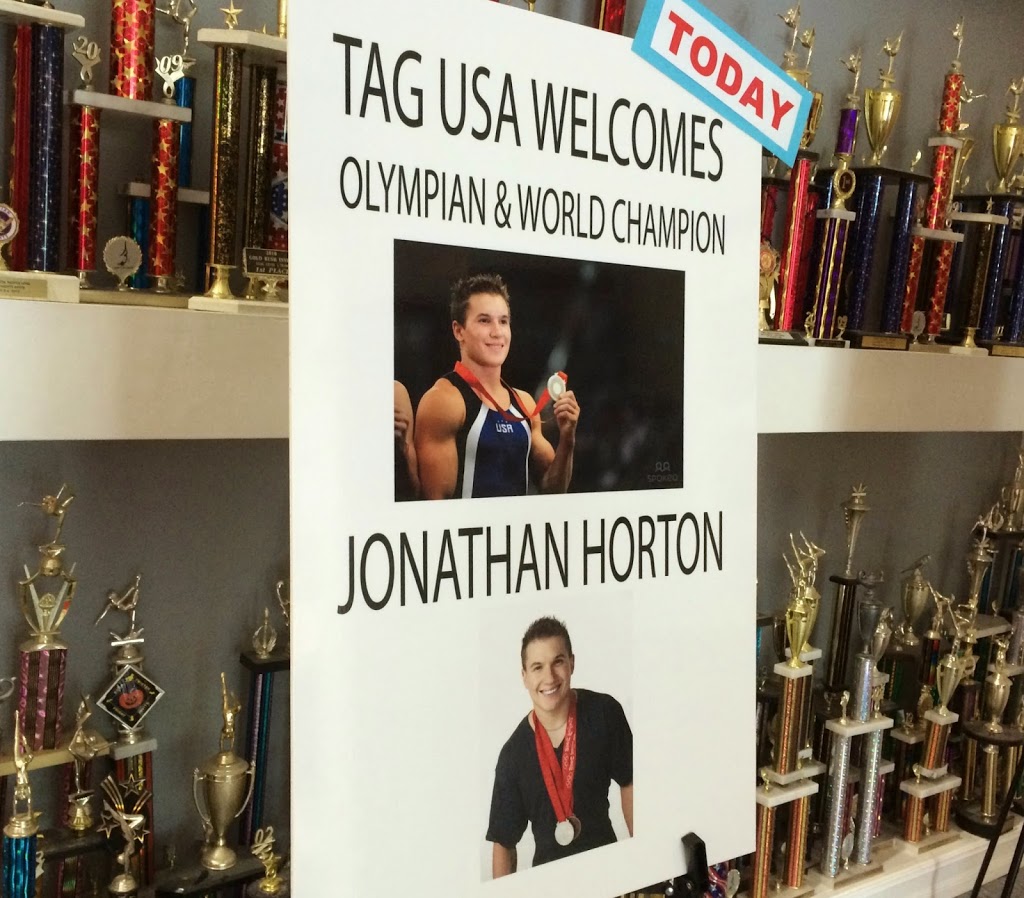 TAG USA has been a leader in Broward gymnastics for over 40 years. Owned my Marissa and Michael Zoldan, TAG has also been called a 'second home to gymnastic Olympians' because of their involvement and visits to the facility. Jonathan Horton will once again be appearing tomorrow, June 24th, as is Nastia Liukin next week. Learn more about TAG USA Gymnastics and their fantastic programs at TagGymnsatics.com.