There was loud music, dancing, and Jason Taylor, but it wasn't Dancing with the Stars…it was shopping with the stars. NFL style!
Over Labor Day weekend, former NFL superstar and Miami Dolphins fan favorite Jason Taylor held his 11th annual "Cool Gear for the School Year" program. It's goal, to help clothe 60 deserving children with a $300 back-to-school shopping spree at Old Navy. Taylor was joined by 59 of his famous friends, from current and past NFL players, to media personalities and local celebrities, each assigned to help one lucky child shop til' they drop!
The kids had just one hour to spend their dough, and most headed straight for the clothes, shoes, and jackets. One of the students, Amari McDuffy said, "I have to wear a uniform so most of the stuff I'm buying is to wear after practice." He also added he was most looking forward to getting some new kicks and meeting his idol Jason Taylor, who created this event because of his own less than stellar experience in high school.
Taylor said "I grew up with no money really, and was always wearing last year's clothes. I got made fun of…you know how kids can be cruel at school, and we want to find a way to help kids raise their self esteem. We want them to feel better about themselves, which will help them learn better, and be more attentive and happier going to school." The 6-time Pro Bowler was clearly out of his element in a store. He admitted that he doesn't like to shop, preferring the online route, so he finagled his daughter Zoe to help him out.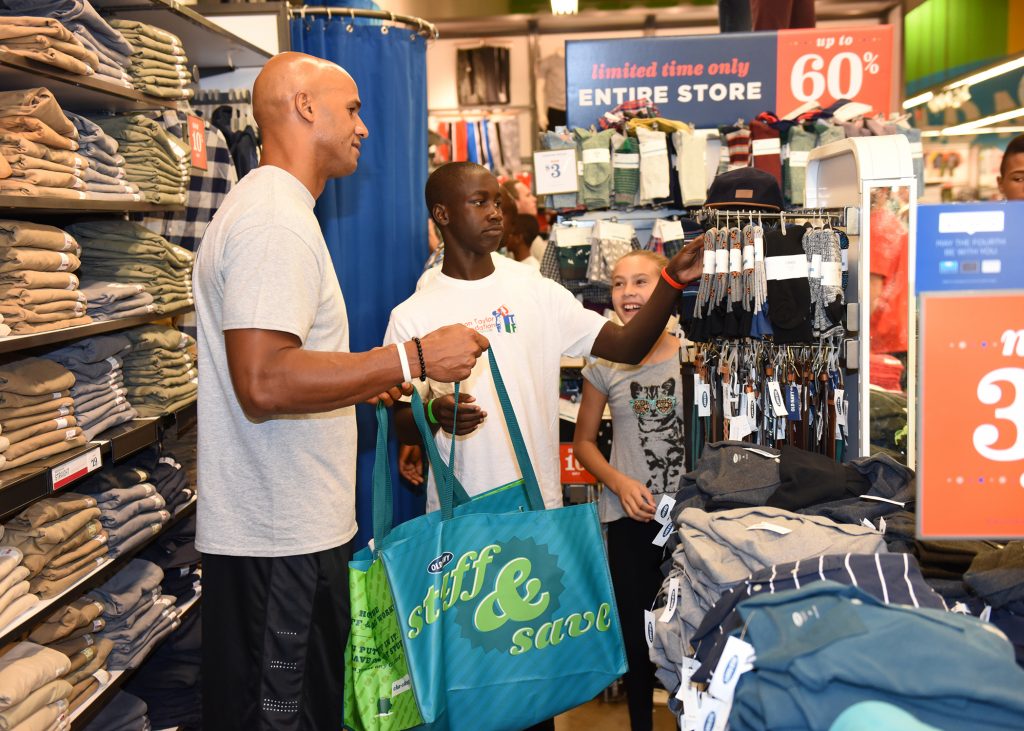 "It's a party in Old Navy," he said. "I mean you get to tear the place up, and I admittedly don't come here any other time of year. My daughter is trying to help me find sizes and run around, we have a good time with it though!"
Zoe seems to rule the roost when it comes to fashion, as her Dad normally let's her choose school outfits. "We normally don't do this so it's kind of fun."
Also in attendance were some current Fins players like Mikey Pouncey, Cameron Wake, Chris McCain, plus past Dolphins greats like Nat Moore and Oronde Gadsen to name a few. There were also national and local television and radio hosts, Dolphins and Marlins cheerleaders, and Dolphins mascot TD. Considering how spread out and ultra fashionable South Florida is, it was heartwarming to see so many people of all different backgrounds come together to help these teens. Life is hard enough these days for kids with the rigors of school and sports, peer pressure, and social media, and a boost like this from the Jason Taylor Foundation is sure to empower each and every one that was there.
Taylor started the Jason Taylor Foundation in July of 2004 and through it's philanthropic efforts has contributed nearly $5,000,000 in programs and services to benefit youth. Since starting the "Cool Gear for the School Year" program, more than $200,000 in new clothes has been rewarded to deserving young adults.
In a world where lavish and over the top seems to dominate the airwaves, magazines, Instagram, and Snapchat accounts, it's satisfying to see that many professional athletes are still so down to earth and remember their roots. They might be stars on the field, but under the helmet they're still a dad, a husband, a brother and a friend. And they're willing to help kids build a better future.