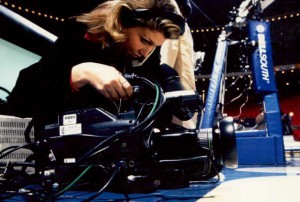 Intern days at RDV Sports in Orlando, FL. Scanned in from a print, because no digital cameras back then.
It's who you know. Or that's how the saying goes. But it is kind of what you know too!
I get asked frequently at Miami HEAT games how I got my start in this crazy business. So I thought I'd share my story, to help those who are trying to break into sports or television. I graduated from the University of Central Florida with a Bachelors in Communications, from the Radio/Television school. You see…I ALWAYS wanted to work in television somehow. I knew it from the time I was 13 and I watched Joan Lunden and Charlie Gibson on Good Morning America. I wanted to host GMA of course, but that will come later!
When I was 16, Mike Nanus (brother of my classmate Phil) came and spoke to our journalism class. I was the Sports Editor of the Greyhound Growl, very prestigious I know. I talked to him afterwards and he invited me to the NBC affiliate WESH 2 on a weekend to see a TV station. I went of course and was in AWE! A photographer took me out on a story that night to Hard Rock Cafe, and I held the mic and interviewed Bill Cosby. I was hooked. I bet Mike Nanus doesn't even know what an influence that experience had on me.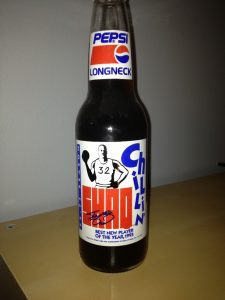 My keepsake from Shaq's rookie year.
Later in college, I worked at Howl At the Moon–remember those dueling piano bars? The local sports anchors used to come into the bar, and I obtained an internship at WFTV 9. Once again, my first weekend there I was interviewing Shaquille O'Neal. I know, I just dated myself. But I was so excited I kept the tape, and STILL have it. I had an awesome time covering the Orlando Magic back then. Remember the starting 5: Shaq, Penny, 3D, Nick Anderson, and Horace Grant? Those were the glory years for the Magic….until Nick missed 4 free throws. But I'm digressing…
From there, RDV Sports hired me as an intern…yes we were paid back then…$500 a month. I also worked as part of the game night crew running the jumbotron at the old Orlando Arena. I also worked the Orlando Solar Bears IHL hockey games as well. All while going to school full time, and working as a waitress.
After graduation in May…my funds were dwindling. I spent my first summer with a degree mooching off my parents and renting movies. I remember spending my last $5 bucks at Blockbuster, going home and watching the movie and just crying. Then the phone rang. It was Joe Hall, the head of the Communications Department at UCF. He told me he had just spoken to Cathy Weeden at Sunshine Network and they were hiring a production coordinator. I immediately faxed my resume and received a call that evening from the Executive Producer. I interviewed that week and was hired.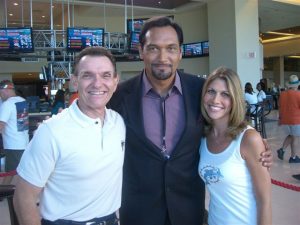 Game Day Live with Tony Segreto and Jimmy Smits!
The rest as they say is history. Sunshine Network is now Fox Sports Florida and Sun Sports, and I think I've literally done EVERY job at the network. Ok, not every job, but my resume is pretty diverse. And I've worked for all the pro sports teams here in Miami since I moved here a decade ago. In school and on the job, I learned to produce and edit, and worked my way up and out. I've tried lots of different aspects of broadcasting, but most recently have been focusing on reporting.
The most important lesson from my story, and what I tell everyone that asks me how to start in television….is learn how to do everything, intern intern intern, and meet as many people as you can. You never know who will give you your first break.