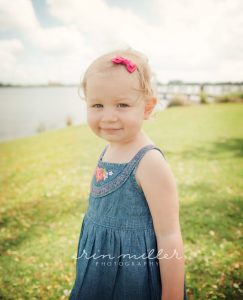 Emylia posing as an angel, all cleaned up.
Toddlers + Markers = DISASTER!
Hands down, life is better than fiction. After a nice weekend away for the 4th of July, we decided to gather my family in Orlando for some professional photos. When in my hometown, I always call on my high school friend, turned amazing natural light photographer Erin Miller of Erin Miller Photography.
But getting two girls glammed up for photos, hair coiffed, bows in (how they like them), AND keeping them clean is not easy. Not only did we need to get them in their matching dresses and pack up the car for our long drive home afterwards, but mommy needed a little hair and makeup love as well.
So I did what every parent does. Put on Disney Junior, and locked them in the master bedroom while I blew out my hair. Don't worry, I was there with them too! After a couple minutes of silence I thought….hmmmm…they're usually fighting. Do you think something is wrong? But those quiet moments are rare, so I took advantage and finished up my makeup when I heard. "Uh oh". Oh those dreaded words.
I walked around the mirror to see my 19 month old, aka the octopus who has 8 arms and can dismantle a desk and its drawers in seconds, like this: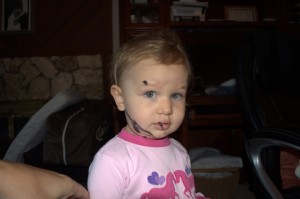 What? Am I in trouble?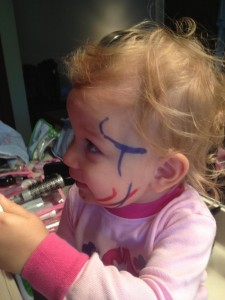 At least she kept in patriotic for the holiday!
Yep, she opened my mom's desk drawer and found lots of colorful yet PERMANENT Marks-A-Lot markers. Red, blue and black…all over her face. Why do toddlers do this? Why does everything go straight to their face and lips?
My heart started racing as I looked at the clock and realized we have to leave in 30 minutes. Then I thought, get the camera! After a couple photos and attempts with plain soap and water, I knew we needed the help of google. While my dad (the computer guru) looked up solutions, I ran a bath, while my mom (the hairdresser) tried hair tint remover. This stuff can remove hair color that's dried on your skin, but not permanent marker from a baby's face.
After more soap and water in the bath my dad said, "hey try eye makeup remover". So we did, and thankfully most of the marker came right off. Though Emy clearly wasn't pleased.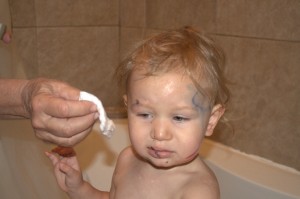 Even after a long bath there were still remnants of the red lines, but it was 90% gone and I knew Erin could work her magic in the editing process. Poor Emy was tired and not ready to perform for the cameras.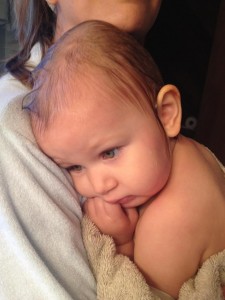 Marker baths make me sleepy….
Thank you Neutrogena for the killer eye makeup remover that saved our pictures! We will never forget this 4th of July, or the memories we made on the way to get our pictures taken. Can't wait to see the rest of the photos!