As soon as Oprah Winfrey took the stage at her Oprah's 2020 Vision Tour in Ft. Lauderdale, the tears began to fall. Truth be told they were already flowing minutes before, as I realized this was the moment I would see Oprah live and in person. And as I looked across the packed BB&T Center I understood that every single person there had a story.
Maybe of hardship, maybe redemption, but this woman somehow touched and helped every single in the room. And her presence connected us all.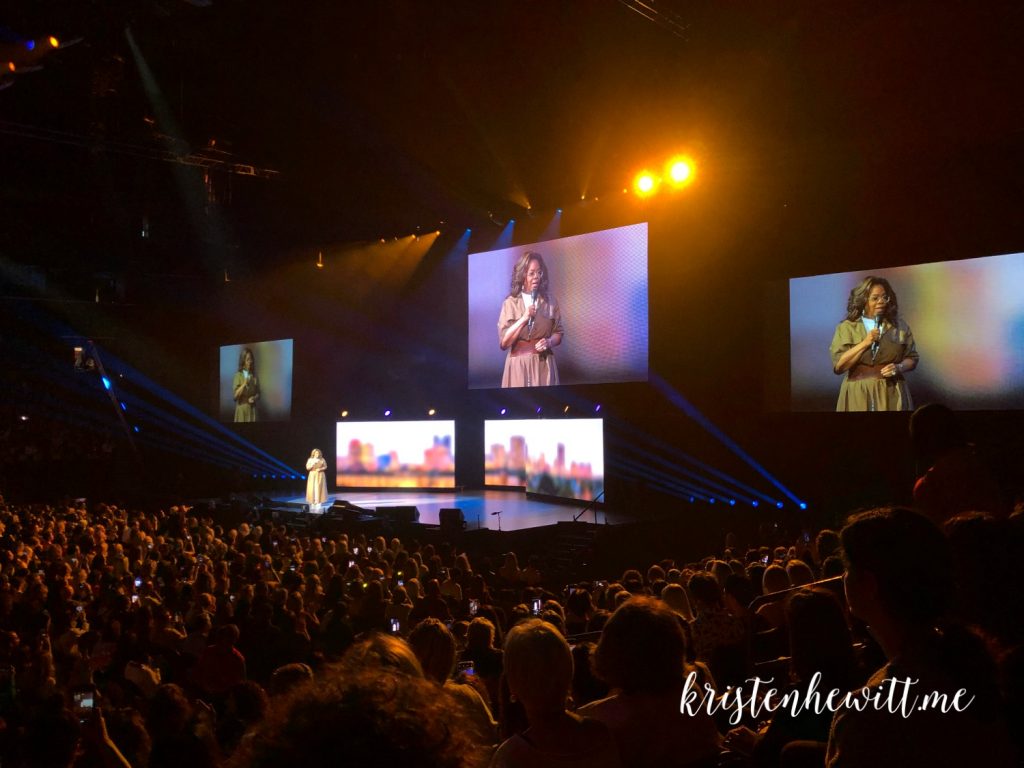 +++++++++++++++++++++++++++++++++++++++++++++++++++++++++++++++++++++++++++++++++++++++++++++++
For me Oprah Winfrey has always been someone I've admired as as a journalist, skilled interviewer, and life coach. I've often watched her interviews and written down the way she phrased questions to keep in my back pocket. Like thousands and thousands of others, I grew up with her.
I saw the rise of Oprah's popularity. I watched her very public battle with her weight and self-image. I saw her empower and help others like Dr. Phil, Rachel Ray, and Nate Berkus to name a few. And of course soaked in all of her teachings when she began interviewing spiritual leaders. Marianne Williamson, early Brene Brown, Abraham Hicks and The Secret, Louise Hay the Godmother of affirmations, and my personal favorite Echkhart Tolle.
I watched every show and even video taped them on VHS back in the day, and later on Tivo. I devoured Oprah's book club picks and slowly began my journey to self-discovery and spirituality. Without her life course with Eckhart Tolle I dutifully downloaded on my old school iPod, 15 years ago, and my gratitude journal she encouraged us all to start, I'm convinced I would never been able to conceive.
Oprah Winfrey got me pregnant.
"The New Earth" which she talked us through, taught me how to be present, release the past, and live as best as I could without ego. It showed me that acceptance of the now was key, and no matter what happened, if IVF worked our didn't, I was finally learned to be OK with the outcome. And my gratitude journal coupled with affirmations kept me positive during our decade-long journey through infertility.
I would write, "I am grateful for my one egg. My baby is growing healthy inside me. I deserve to be a mom, I am well." I wrote every single day for years what I was going though, how I felt, but most importantly how grateful I was. Grateful to have the opportunity to try to get pregnant, even though I was deathly afraid of the IVF process and needles.
Oprah Winfrey taught me how to manifest a baby, what I wanted most in my life, and it worked! My dream 15 years ago was to be a mom and it might have taken me a decade to get there, but Oprah was by my side every step of the way.
++++++++++++++++++++++++++++++++++++++++++++++++++++++++++++++++++++++++++++++++++++++++++++
A decade later of motherhood and there she was on the stage, and I was trembling. This was it, another chapter of my life was about to begin. This was my day one.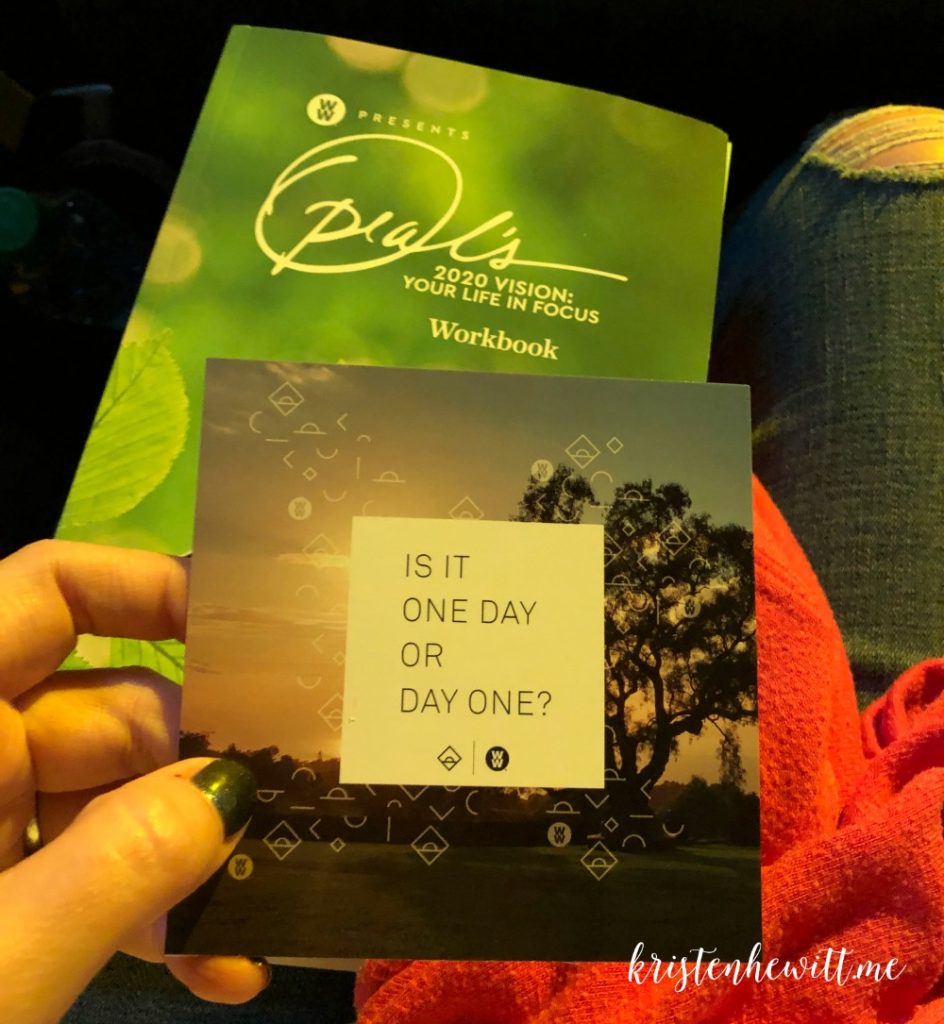 SUMMARY OF OPRAH'S 2020 VISION TOUR
Oprah's 2020 Vision Tour began with a dance party by Daybreak, and then Oprah took the stage. She told her story, not the one we all know about her career but her story about transformation. Her mindset, and how she lives her life with stillness and through intention.
Afterwards Oprah provided a workbook full of hard questions. You had to be honest and real with yourself and really look at your life, how you're living it, and what really makes you happy. She even admitted that was her favorite part of the Oprah show. Not the interviews but when the camera stopped rolling, asking audience members, "What makes YOU happy?"
This is life's biggest question isn't it?
There was also a beautiful guided meditation in the morning session by Jesse Israel and more work in our workbooks before lunch. I loved how comfortable the workshop was taught with Oprah's charismatic ease, and a surprise by her bestie Gayle King in the audience!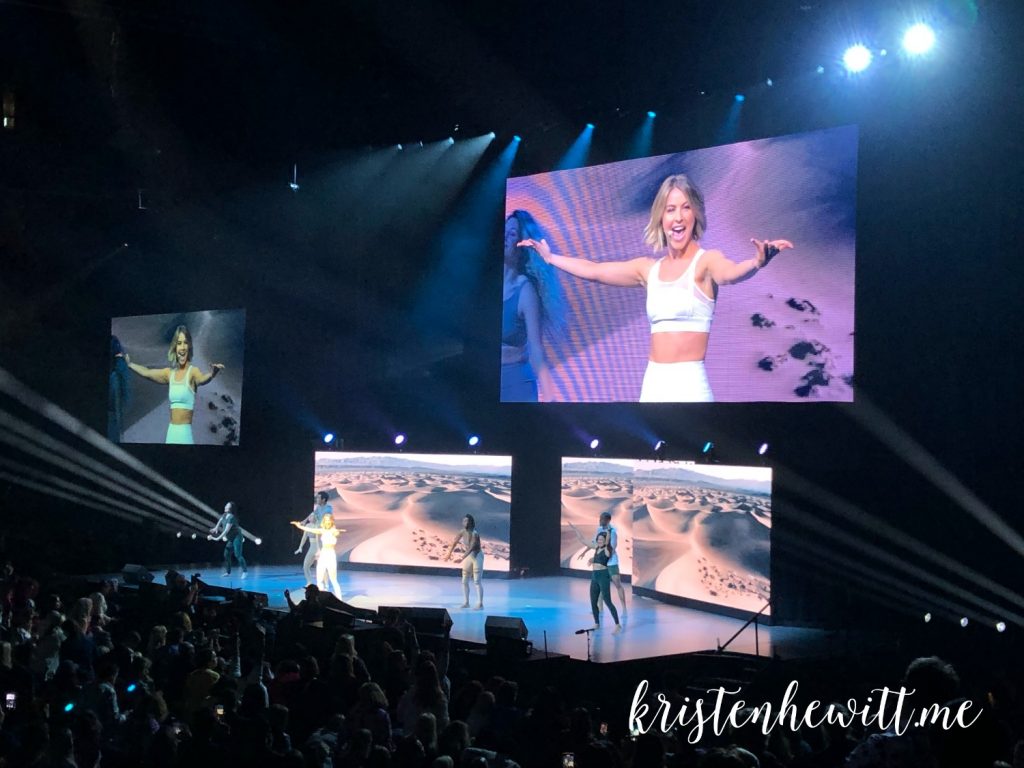 After lunch there was a motivational movement practice called Kinergy with Julianne Hough. She's so much more than just a dancer ya'll, I was blow away at her power and energy. And then came two more speakers, the dynamic Mindy Grossman from WW and gospel goddess Tamara Mann who shared her weight loss journey and then performed "Take Me to the King." It's was divine and moved everyone in that arena.
And then the main event, Lady Gaga took the stage. She deserves her own blog post, for what unfolded for that hour was pure vulnerability on the grandest scale I've never seen or felt. I learned so much from her journey with chronic pain and mental illness, and was moved by her words of what helps her cope,"Radical acceptance of pain."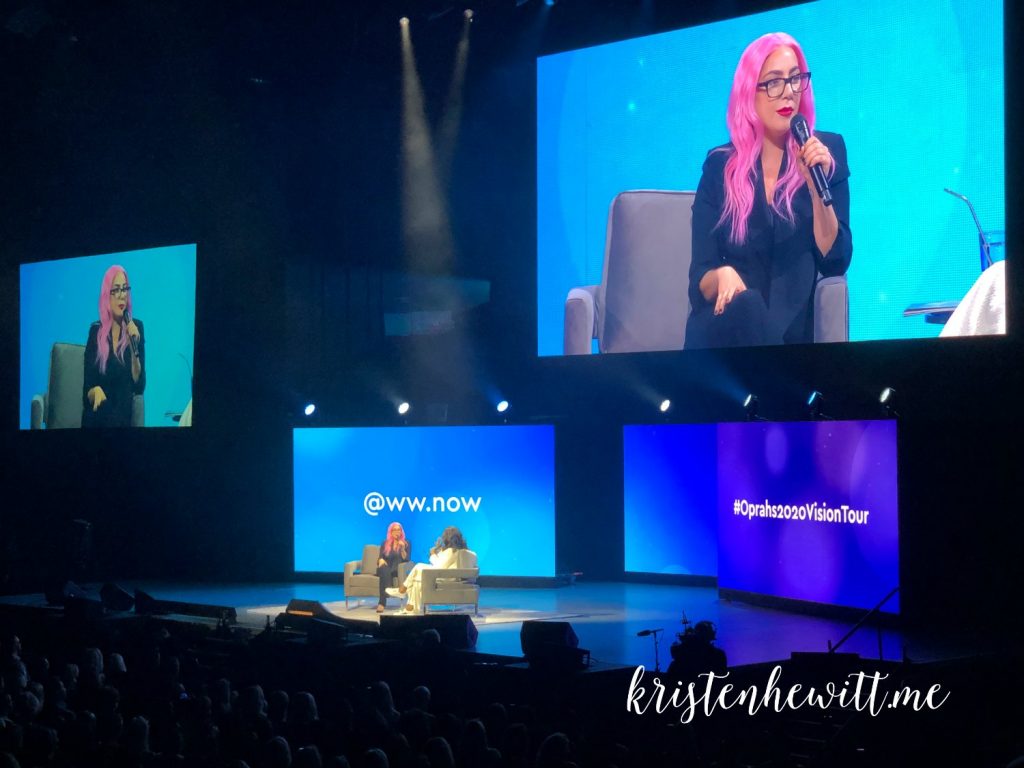 Acceptance, one of the themes of the day.
Oprah's 2020 vision Tour was exactly what I needed as I head into more hope and healing in this mid-life portion of my life. We all view life moments differently through our own unique lens, but here are the moments and things that Oprah said that stuck with me:
"What everyone is looking for is your presence. Everybody you encounter wants one thing, they just want to know if they are being heard. Every argument that you have, every confrontation that you have, every experience where someone is upset what they really want to know is do you hear me, do you hear me and did what I say mean anything?"

"When you don't listen to the whispers, the whispers get louder."

"Your job is to figure out the flow in YOUR life and leave everyone else's alone. Because you only have power over your stream."

"Everybody has inside of them the seed of becoming."

On Joan Rivers asking her about weight gain on the Tonight Show, shaming her: "Anyone that is trying to lose weight or knows that they are overweight, they don't need you to tell them about it, they know."

"We all have the capacity to heal and see all the limitations that are holding us back."

When something happens to us we need to say this, "Not why me? But show me what this is supposed to teach me."

"Find the flow for you and embrace it. Stop resisting and going against the grain of your life."

"You just don't have a life you ARE the life."

"Every single time you put energy out it comes right back at you, bam!"

"Nothing is just happening to you."

"If you have someone who isn't happy for your happiness…let them go!"

"Stress is wanting whatever is happening in the moment to be what it isn't."

"Everything that happens TO you happens FOR you."

"What is your MORE?"
I have had many revelations since seeing Oprah Winfrey just a day ago. When I got home, waking in the middle of the night, connecting the dots of the pieces of my life. Why I write? To be seen and heard.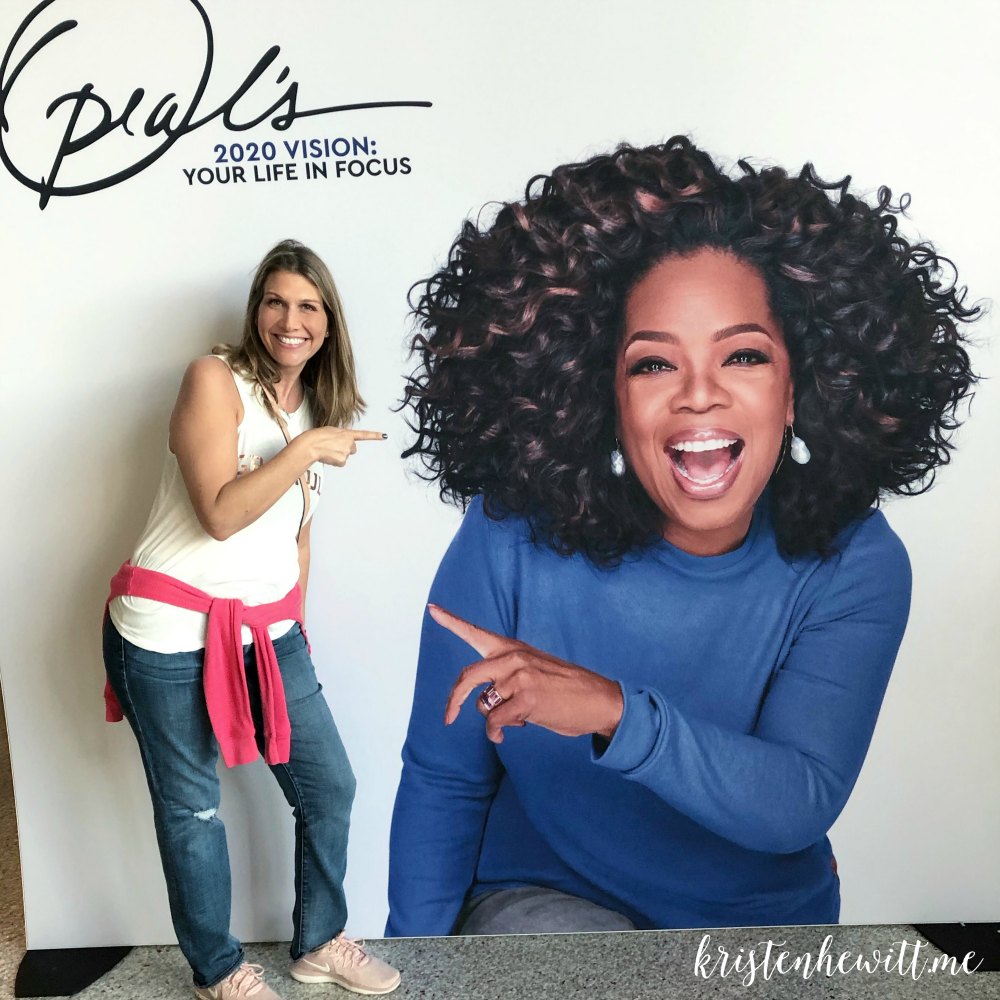 I also realized I have to make some big changes to heal my body and soul as my intention for this year is to be the healthiest version of ME.
I'm so grateful I was able to attend, and as motivated as I am to achieve my goals I have a little fear. How do you move forward into a more purposeful life without letting people down? You don't. But you do it anyways, for YOU.
As Lady Gaga so profoundly said, "You take small bites of bravery everyday." That works, as I'm hungry for change.
If you ever have the chance to attend an Oprah Winfrey event, DO IT. You deserve it, you are worth it, and you CAN and WILL feel the rumble of your essence just waiting to break free.
If you'd like to see more videos and pictures from the day, they are on my Instastories and Twitter feeds.