"You are such a good mommy, and soooo beauti-sool", she said to me as we were cuddling before bed. I looked down and felt so fulfilled in that moment, and I wondered why we didn't have more of these. Why I didn't de-stress more often, put my phone in the back, and just soak up their sweet little voices and hugs. This became my plan this summer, to just be with my kids. It's funny that it took losing one of my biggest jobs to help me see the importance of slowing down and being a mother.
The past few months have been an emotional whirlwind. My baseball show Billy's Bunch was cancelled after six seasons, and it felt like a part of me went with it to the television graveyard. It was just a kids show some say, but it was a place where I grew up. I gave myself IVF injections during baseball games in Billy the Marlins dressing room, and later pumped in the stalls of the ball park. A breastpump malfunction at Spring Training was the inspiration for this site, it is a place where I became a mom, and ultimately an adult. And sometimes our girls sometimes accompanied me to work…it really was a dream job.
So when March hit this year and I no longer had a show to plan, I went into coping mechanism overdrive. I did what every type A zealous overachiever does, I picked up every freelance job I could to compensate for the lost income, and took on more clients as a Marketing and Social Media consultant. I even finally incorporated and launched my new company misMEDIA, and started shooting two new web shows. My ego needed to feel important and I was trying to keep my "identity" up as a professional in the industry, and a working mother. I worried that another step out of the television world would lead to the demise of this illustrious career I'd built up in my head.
When in reality I'm a mom…who talks on TV sometimes. And that's exactly how I like it.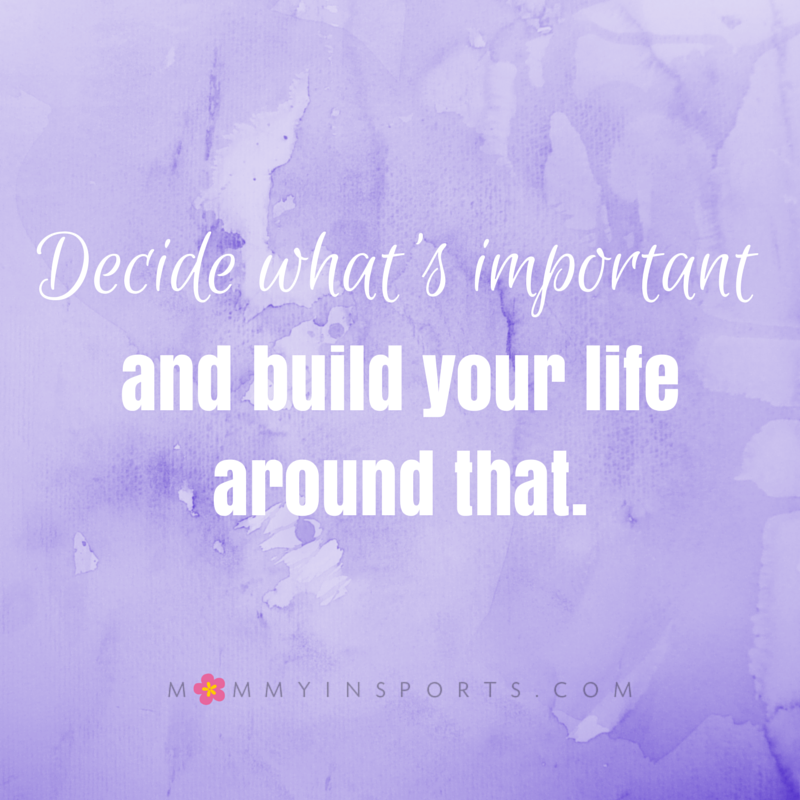 A long time ago I read a fantastic quote, "decide what's important, and build your life around that." And that's what I have unwittingly done, thanks to a little help from the universe. My body has needed the rest with some persistent health issues and it appears fate has brought me exactly where I need to be. At home working as a freelancer, and enjoying our first summer together since our oldest started school. It is the most peaceful I've felt in a long time and I'm so grateful my husband works so hard to afford me this opportunity.
Sure we all want to be millionaires and come up with the next big thing so we can buy a house in the mountains. And a boat. And have a dream kitchen. But in reality this is what matters…those little girls need me just as much as I need them.
This blog has been a wonderful outlet for processing all of life's changes. While it doesn't generate a ton of revenue, it's been a vehicle to lead to other great projects and jobs. It's re-ingnited a passion for writing which inspired me to finally write my book, and taken me down a new career path I never knew existed. Who knew I would love web hosting, creating social media campaigns, and integrating blogs and You Tube channels for clients? And who knew that I'd actually become a credentialed member of the media for mommy in SPORTS?
This life I've built around my children is really quite special, but I still crave a creative challenge. So I work, partly because we need the income and partly because it feeds my soul and makes me a happier and better person and mother.
I've contemplated applying for a full time job when things get tight. But those sports jobs mean more late nights, and more bedtimes when I can't be there. More moments like tonight, where they just needed a hug from mom. I seem to have finally come out of a fog after entering the ranks of motherhood six years ago and now understand the gift I have. The responsibility that comes with raising these two lovely little humans that has been bestowed to me and my husband. It's a pretty special and very big job, and to me – comes first.
Sure I will continue to work outside of the home because I have to, and quite frankly television is in my blood. But their hugs and silliness, and their pure joy… all of it means more now. Because those moments before bed won't always be there. Their need for mommy will be replaced with friends and growing independence.
And while I do miss baseball and the symbolism of summer that it brings, now with a little bit of distance I've realized I outgrew that job. This time to just be was exactly what I needed to learn that I'm more than my profession. I'm a woman who cherishes her family, and chooses them over all else.