Hope is defined as: (noun) grounds for believing that something good may happen. And even after everything we'd been through, we still believed. Hope was all we had.
Sure there were the laparoscopic surgeries, and the ovarian torsion which took away most of my left ovary. And then there were inseminations, acupuncture, strict diets, and years of trying to conceive on our own. But we still had hope as we embarked on our first IVF procedure.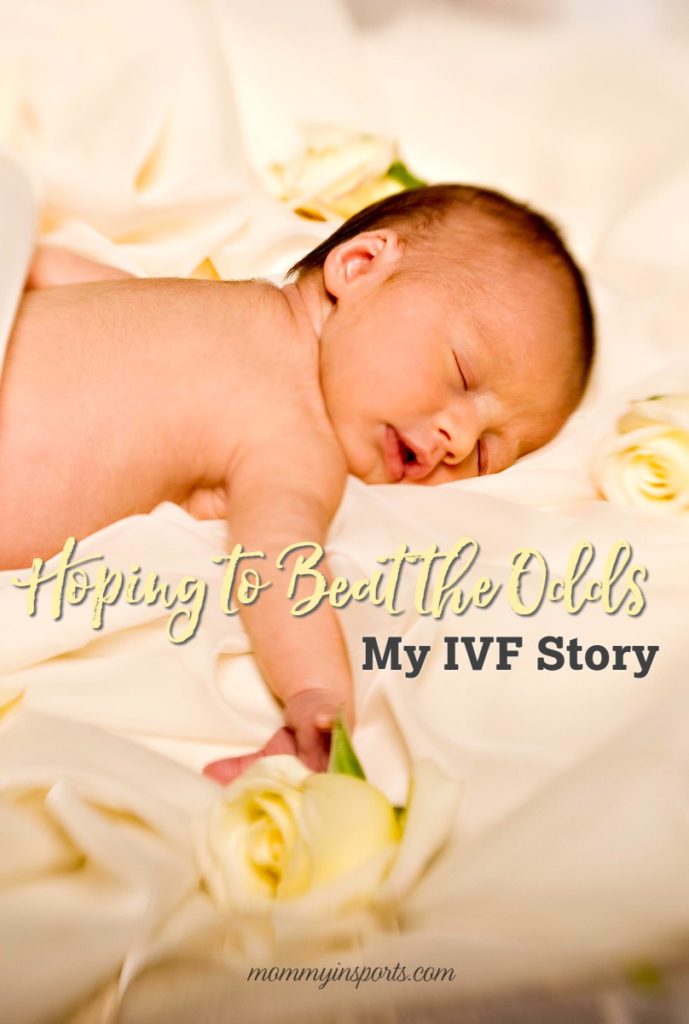 There was only one small problem…I was deathly afraid of needles.
Not the little acupuncture needles, those were thin and I hardly felt them. But there was something so foreboding about injecting myself numerous times a day. Maybe it was the fact that I passed out every single time I had to get blood drawn at the clinic's lab. At just the sight of the shimmering silver needle my palms would start to sweat, and I could hear my heartbeat in my ears grow louder and louder. Then when the needle would slowly pierce my skin my head would get lighter and lighter until everything in the world turned black. Even with my eyes wide open it was pitch black, yet still I could always hear their voices.
So when the day came to collect the medications and take the injection class to begin IVF at our fertility clinic, I took a deep breath and remembered what the outcome could possibly be; finally we could become parents. This was our last hope.
Sure the odds were stacked against us as they had been since I was merely 27 years old. But we never asked what the chances were that the procedure would work, we just clung on to hope as I tried to work through my fears.
I began re-reading my favorite books to help keep me positive, and started working on affirmations I could say every day during the injections. Luckily my husband wasn't the least bit squeamish about giving me the medications to stimulate follicle production. To further calm my fears about the needles he would ice my belly and thigh prior to get me nice and numb. Then he would remind me to read "The New Earth" by Eckhart Tolle which taught me that fear is just an emotion based on our thoughts. If we change our thoughts our feelings will follow.
Of course after a few days on the IVF protocol, my ovaries weren't quite as productive as they should have been so the doctor added more medication. I had just four follicles growing, the minimum required to take us to egg retrieval. But instead of fretting about only four eggs, we celebrated.
"Wow, we have four follicles!" Bob said, my supremely positive husband and cheerleader who always finds the silver lining in any situation. Then I journaled and said to myself over and over again, "I am happy and healthy, my eggs are growing inside me."
It took the full course of medication plus a couple of extra days of injections to get us to egg retrieval, and just two follicles looked like they were the perfect size. "'Your twins!" our nurse Gladys said as we waited five to six days for our two embryos to become blastocysts for implantation.
On the morning of day five, as instructed we slowly began to make our way down to the clinic in Miami for implantation when we received the phone call. "Only one embryo remains, one wasn't strong enough. We need to wait and see if it will blastocyze tomorrow."
I started shaking on the interstate crying silent tears. We slowly exited the highway and he turned the car around for home, both quiet as we contemplated if this was the end. Then he looked at me and smiled sheepishly, "We still have one good embryo." He shrugged but radiated hope and love, and I quietly nodded.
That day passed slowly. He worked and I rested….and read…and waited impatiently for the morning to come. The next day it was the same procedure. Since the clinic was 35 miles from home, and traffic in South Florida is brutal, we had to leave before the technicians arrived to work that morning to check our embryo. We didn't want the phone to ring, as that would mean the end, so we listened to sports talk radio – when we heard it.
The phone rang.
Bob the quietest and calmest man I know finally broke under the pressure. He screamed as loud as I've ever heard him yell, "No! Damn it NOOOO!"
But I looked at caller ID and realized it was my sister in law, who had been through IVF several times herself calling to wish us luck. "BITCH!!!" he yelled, "Why would she call us NOW?!"
We were obviously tense, scared, and completely unnerved. But somewhere deep inside we had to stay calm and present. I grabbed his hand and closed my eyes and prayed. I still had hope.
Shockingly, the phone never rang again. The rest of the morning was a blur as the staff whisked me from acupuncture to the procedure room where they inserted our lone embryo into my uterus. Then I was given additional medication to inject daily into my belly to try to keep my body from attacking and killing the embryo. On the horizon were more shots, more needles, and more waiting.
I hoped for the best and affirmed every day, "Our baby is healthy and growing inside me." We never took a pregnancy test and 10 days later we waited for the results in the waiting room. We saw our favorite nurse Leslie run from the lab to come and get us. She opened the door to the waiting room trying to contain her smile but we knew as we walked towards her. It had worked, and I was finally pregnant.
Our beautiful baby girl was born just 32 weeks later prematurely, and was named Lila Hope, because we never gave up hope that we'd be parents. Little did we know that her conception would be the easiest part of our parenting journey.
If you liked this story, please read "The Day God Spoke to Me at the Spa", the story of our second IVF baby. And Please follow along on Facebook for more parenting stories and humor!