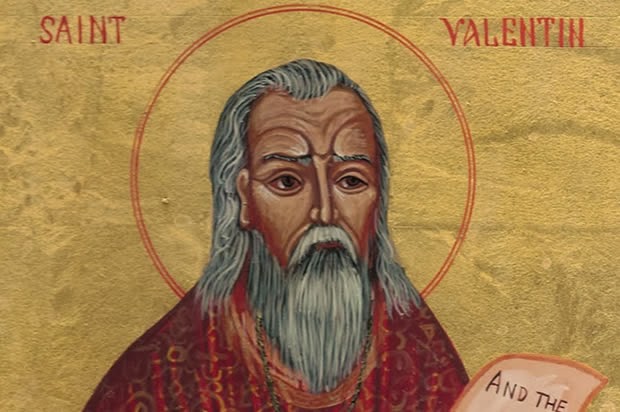 St. Valentine, who apparently lost his life for love.
A few weeks ago I saw tons of cute ideas for projects to do for Valentine's Day with my kids. I happily pinned away, and raided the Dollar Tree for hearts and pipe cleaners and glitter oh my! And we made this homemade playdough and some lovely cupcakes. But a few days ago, the constant love-fest started getting old… and the novelty of the holiday wore off. So I decided to research how Valentine's Day came to be.
I didn't have to go much further than google to find this video from the History Channel.
Basically, Valentine's Day has a bloody history dating back to the 3rd century A.D. According to Huffington Post Religion, Roman Emperor Claudius II outlawed marriage for his soldiers. He felt single men were better warriors than the married dudes. (Ah, ok buddy.) It is believed a priest named Valentine performed marriages for the couples in secret, and was later imprisoned, then beheaded because of this action. Nice huh?
So on this day we celebrate with chocolates, cards, gifts of love, fancy dinners, and loads of roses… all in honor of a Christian martyr who believed that marriage was a God given right. And died for it. Sweet huh? Actually, it is pretty cool that he held true to the sacrament of marriage and did this for the poor soldiers. But his fate was not so loving.
So will we be celebrating Valentine's Day? Well sort of…for the kids anyways! I did get up early to pop open a tube of cinnabons and shaped them like hearts for my hubby and kids.

And I bought the girls little heart robes (Emy says "wobe-y"), because they love to wear robes after their baths. But I skipped the hoopla of desserts and other traditional V-day treats. I'm over it. Well sort of…
Time to move on to the next holiday…green beer anyone?

How will you be spending Valentine's Day? Romantic rendezvous, or just another Friday night?