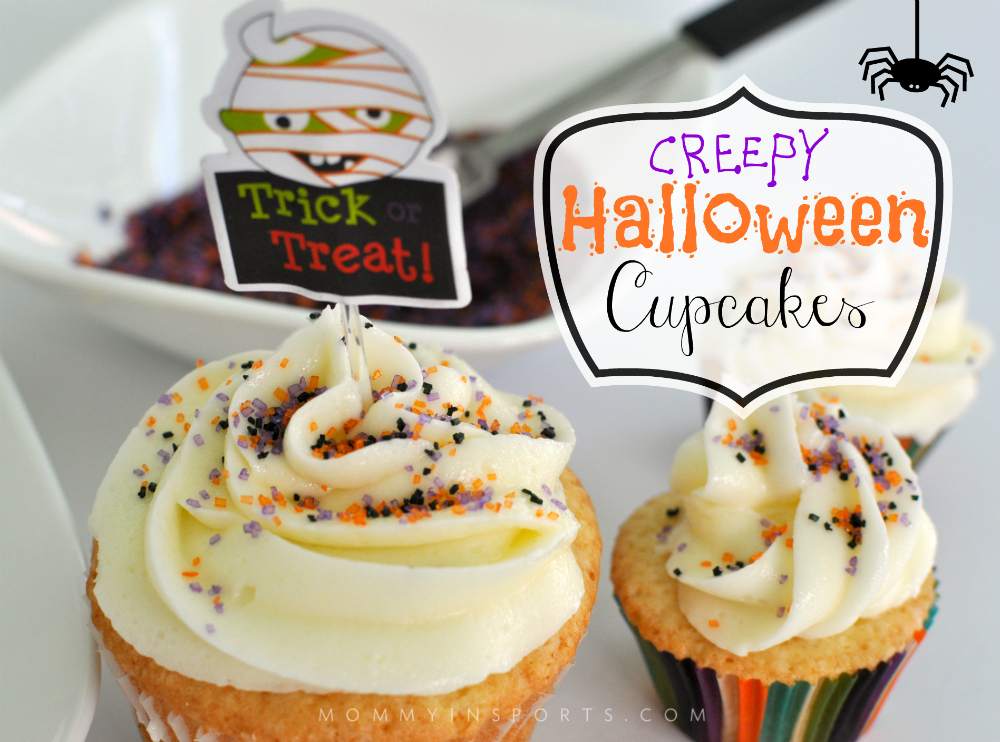 There are 18 million and one adorable Halloween recipes and ideas on Pinterest. You can make monster toes or eyes, caramel apples, and all sorts of creepy treats, but I always do what's easy and my kids favorite….Halloween cupcakes! You can dress them up with themed liners for any holiday, buy or make your own sprinkles, add a pick, and voila…creepy yet divine cupcakes! This time I tried something new, I made this recipe from Five Heart Home (love Samantha!) with a few modifications, and topped them with this wicked frosting from Misha's I wrote about here. The cake has sour cream, which I've never really baked with before. They were delicious and oh so fluffy!
Here are the liners I bought, cute little bats huh? I usually make full size and mini's when I bake, that way the kids aren't eating too much sugar! And the grown ups can indulge after they go to bed. (Sneaky buggers aren't we?)
And I mixed purple, orange and black sugar for the topping of these SPOOK-tacular Halloween cupcakes.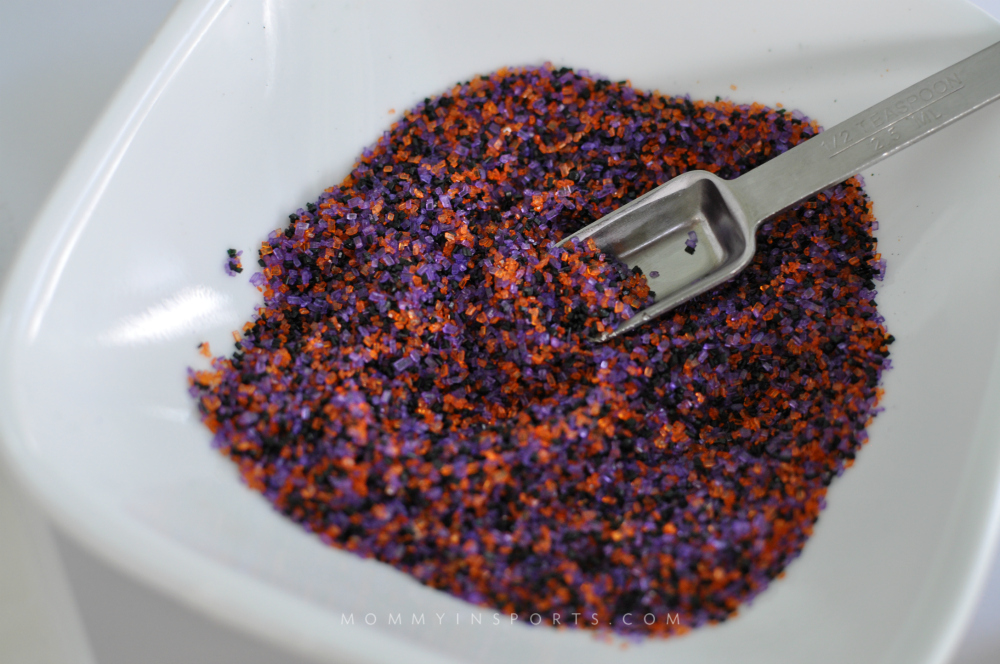 Honestly, they were heaven out of the oven without the frosting. I loved them the second day though, so I recommend baking them the night before you are going to devour them!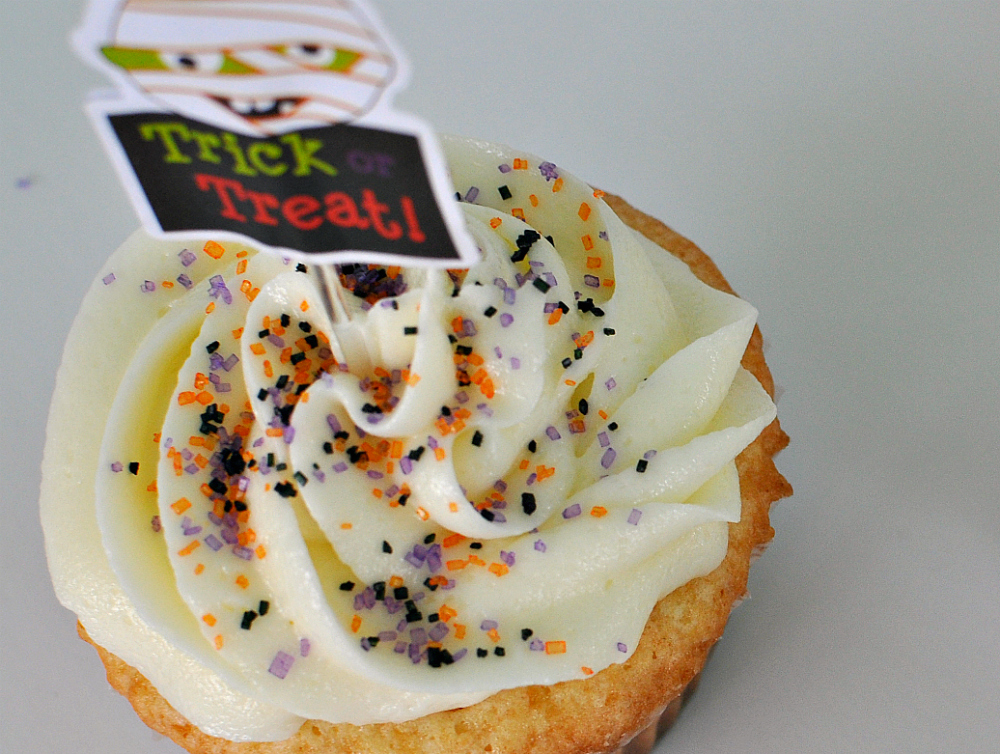 Did I mention how awesome this frosting is? Just four ingredients….recipe below for these easy and delish Halloween cupcakes!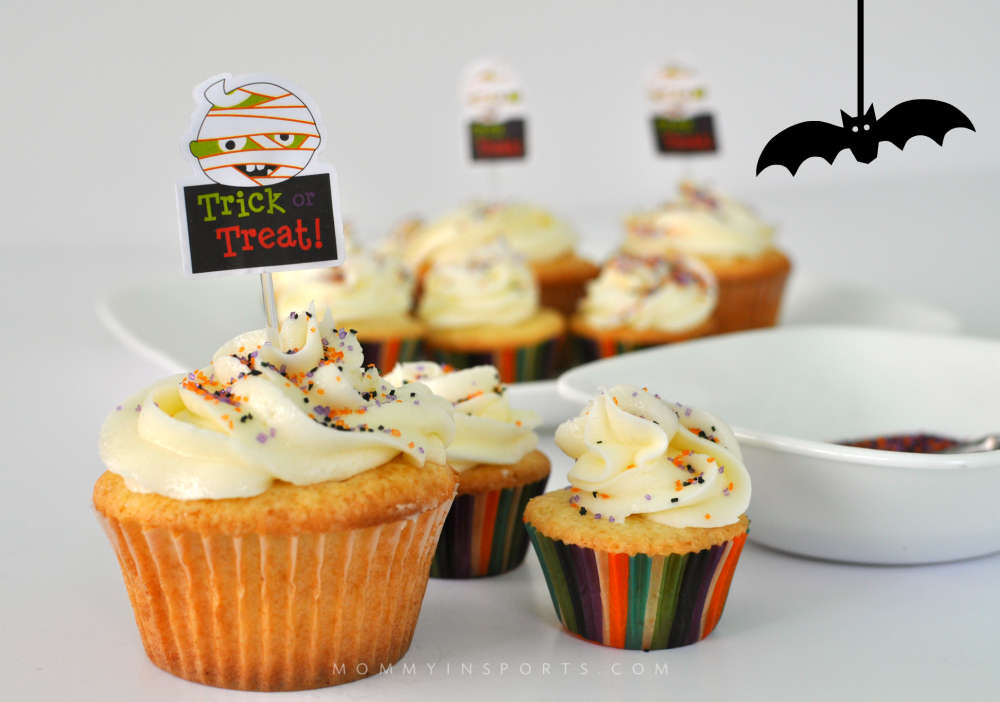 Oh and if you are wondering what my modifications were from this One Bowl Vanilla Cupcake recipe, here you go:
I subbed the butter for 1/2 vegetable oil, used lactose free sour cream, and used 1/4 cup water instead of milk.
Don't you just love this holiday?
Simple Buttercream Frosting
2014-09-30 13:27:51
3 ingredients make this sinful yet spook-tacular delicious frosting!
Nutrition Facts
Amount Per Serving
Calories 2887
Calories from Fat 1692
Trans Fat 7g
Polyunsaturated Fat 7g
Monounsaturated Fat 50g
Total Carbohydrates 301g
100%
Sugars 294g
Protein 3g
* Percent Daily Values are based on a 2,000 calorie diet. Your Daily Values may be higher or lower depending on your calorie needs.
Ingredients
2 sticks salted butter (I personally love it with 1 stick unsalted, and 1 salted)
2 1/2 cups powdered sugar
1-3 tbsp whipping cream
1 tsp high quality vanilla (Or clear vanilla to keep the frosting as white as possible!)
Instructions
Cream the butter and the sugar, and then add the vanilla whipping cream to your desired consistency!
Notes
If you don't like your frosting as sweet you can cut back the sugar to 1 1/2 to 2 cups. Enjoy!
Adapted from Misha's Cupcakes
Adapted from Misha's Cupcakes
Kristen Hewitt https://kristenhewitt.me/
Pin it for later!