I have never watched the Great Christmas Light Fight on ABC, but apparently it's popular. And one of the finalists, Mark Hyatt, lives quite close to us…so we decided to venture out tonight with our girls before bedtime to see what all the brouhaha was about. Little did we know we'd be stepping into an illuminated mini-theme park that would bring Clark Griswold to tears.
Yes, we had to trek almost a 1/2 mile on foot to see this spectacular site…with no stroller, and no shoes on my 2 year old. The police informed me that the street in front of the house was not zoned for parking, and the thousands of people visiting were preventing residents from getting in and out of their homes. I thought it was totally worth the walk holding a 27 pound toddler. My husband was just happy he didn't have to pay for admission.
When you enter the property you are greeted by a jolly old Santa Claus with a countdown sign, and a huge hedge blocking the view of the glow of what's to come…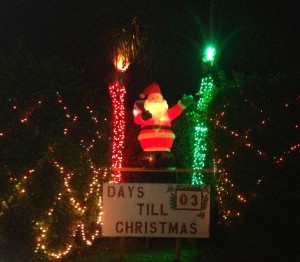 At the front gate, we were met by three men in "Team Hyatt" red t-shirts. The owner of the home, Mark Hyatt introduced himself and welcomed us in. I immediately whipped out my iphone and just had to interview the man that has been setting up this display for 28 years. Here are some of the highlights of our chat.
Me: (utterly amazed and in shock from all the lights) Ummm…How did this start?
Hyatt: It started with 10 strings of white lights and a sign that said "Happy Birthday Jesus" and a manger which you'll see on the other side of the display.
Me: How much do you think you've spent in decorations and lights since you began?
Hyatt: I'm asked that all the time, it's difficult to even think about it so what's the term? It's priceless.
Me: How many people do you think come through your display? Can you quantify it?
Hyatt: It depends on who you ask, maybe 10,000 a year.
Me: How long does this take you to set up?
Hyatt: Normally 2 months, but this year only 19 days during the competition on the television show.
Me: So the electricity bill is what in December every year?
Hyatt: Before I installed LED it was $2,500 a month, now just $900.
Me: Why? Why do you do this, it seems so elaborate?
Hyatt: I love Christmas, and bringing joy to so many people. I mean, look at this crowd!
Indeed there was a huge crowd of families, all walking the closed road to see the house popularized by a national reality television show. Here's a quick video walk through of the front of the display. Pardon my camera skills.
No popcorn though, sorry folks.
Here are a few photos I snapped quickly of the property. There were too many themes to capture them all, but this should give you a good idea of what's inside this homeowner attraction. If you decide to visit, bring a good camera!
I liked the gingerbread/sweet shop theme, reminded us of LalaLoopsy. Less is more in my book.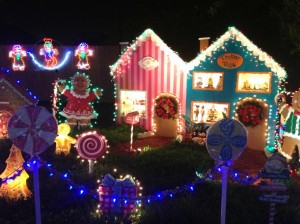 And the kids chillin' watching Rudolph next to Santa's Workshop…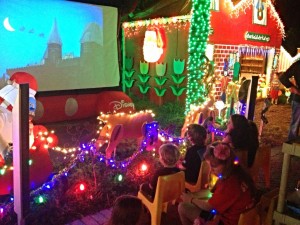 A close up inside Santa's Workshop.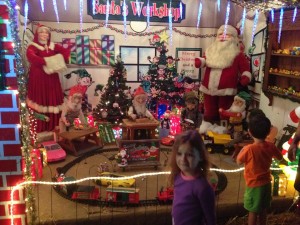 My daughter was scared of the moving Santa and Mrs. Claus.
View from inside the house facing the street. Penguin Village in the front, and a ferris wheel in the middle. I meant to ask him, where do you go to buy a ferris wheel like that…?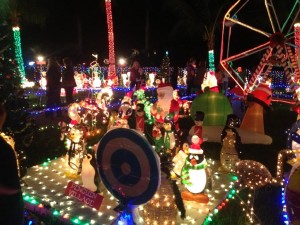 Front door complete with another life size dancing Santa…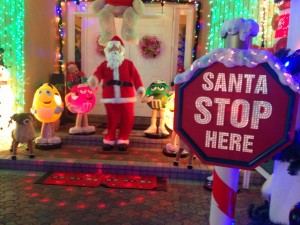 And a really large nativity display towards the back of the house with the sign that started it all, "Happy Birthday Jesus."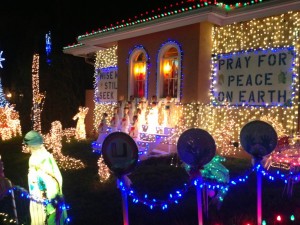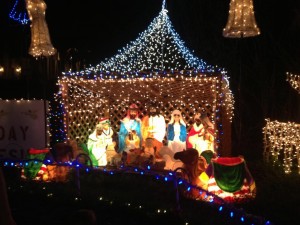 If you are a Christmas light enthusiast or have kids, then you really do need to check out this house off of Old Hiatus Rd in Plantation, FL. Living in South Florida, it's hard (for me at least) to get into the Christmas spirit when it's 85 degrees outside. The trip tonight though made me start to enjoy the holidays. Yes its eclectic, somewhat tacky, and a bit overdone…but that's what makes it so awesome!
Two thumbs up to Mark Hyatt for doing this on his own for nearly three decades. I have no idea who Mark's competition is on the show, but I wish him well in the finale tomorrow night on ABC. Tune in at 9pm if you want to see more of this house, on the "Great Christmas Light Fight."