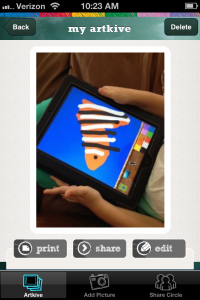 Lila's Nemo drawing "artKived"!
I was on twitter the other day when Adrienne Bosh (wife of HEAT star Chris Bosh) tweeted about one of her new favorite apps Artkive. We LOVE this app, so she inspired me to share the other ones that my kids use frequently. I know you are not supposed to introduce screen time until the age of 2 according to the American Association of Pediatrics–but sometimes mommy needs a shower! Lila started using the ipad in her 2's, and I quickly saw the value in learning tools.
Phonics and Pre-Reading

Letter School—Hands down the BEST (and the kids favorite) for learning to write lowercase & uppercase letters and numbers. Animated, fun sounds with 3 different levels. Great for boys and girls…this is my go to when we are in a jam…aka meltdown city! Brilliant because kids think it's a game, but what they don't realize is they're getting great writing repetition.
Dora's ABC–Another great writing app, but also has lots of letter games. Good for phonics and recognizing letter sounds. Obviously only good if your kid is into Dora, and if you can handle Dora's annoying voice. (just my opinion!)
Super Why–We LOVE this show on PBS, so naturally she loves to play this one. There are 4 different games for each character. They learn reading, spelling, phonics, and word families, and just have fun!
ABC Lite–Gotta like the free ones! Totally all about learning letter sounds and writing the letters.
BOB Books–Electronic version of the popular early reading books.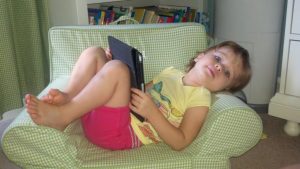 Lila age 2 chillin' with my ipad and learning letters!
Other Fun Learning Apps

Monkey Preschool Lunchbox–Only $1.99, and perfect if your kids like monkeys! The character makes the cutest sounds, dances, and teaches a wide range of subjects: colors, food, names, shapes, size, letter recognition, puzzles, and matching…like a concentration game. We started this at age 2. Still a fav.
Monkey Math–A follow up to Monkey Preschool, focuses on basic math skills: patterns, number recognition, addition, subtraction, shapes and even early connect the dots.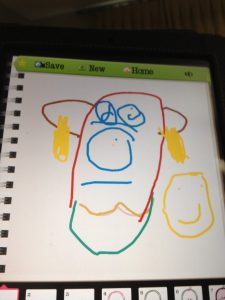 Everything Butt Art
Everything Butt Art–Fun for any budding artist. We do some sort of art project everyday, this is a GREAT one that teaches how to draw animals. You get 3 free animals, and then have to buy more. We're good with 3 for now!
Paint Sparkles–Another good freebie. Fun art/paint app that teaches color recognition too! Good for mall trips, long car rides, or doctors offices. Great for itty bitty ones too…they get a kick out of drawing.
The Monster at the End of this Book–Awesome interactive story for kids that never gets old, starring Grover from Sesame Street. Kids will do this one over and over and over and over! I think it's worth the $3.99 price tag…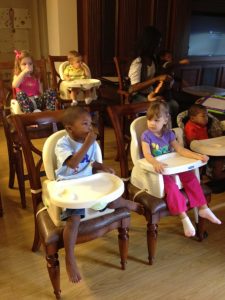 Lila, KJ & friends at home school preschool–miss those days!
There's a WHOLE world of early learning apps out there including Montessori Geography, and sight words (which are so important to early reading). I've just tried to limit the ipad use to times when we really, REALLY need a distraction. Thanks to my friend Tia Sims for introducing me to the world of home school preschool, and sharing some of these apps with me!