Well, it's here…New York Fashion week is in full swing. And while I'm definitely no fashionista, I thought it was time to pay homage to one of my favorite designers in Miami that I was introduced to this year. Since I have slim to zero knowledge of fashion or trends, when I need help with clothes, I rely on one of my best buds Heather Schatz. Who just happens to be the Senior Director of Communications for
Best Buddies
, and a former Producer of the CBS Early Show's lifestyle (including fashion) segments. So Heather was kind enough to write a guest post for me, about why we love Anya Ponorovskaya's amazing dresses!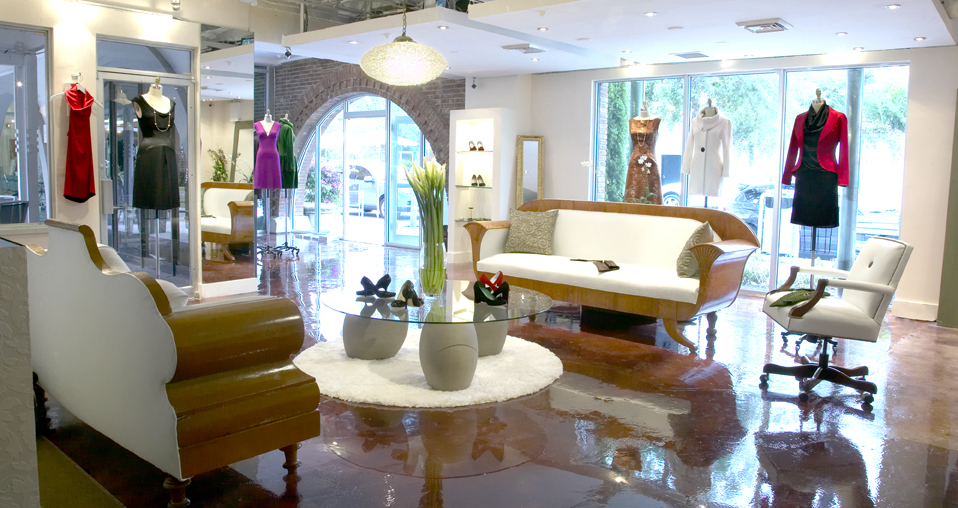 Anya Ponorovskaya's boutique in Miami's Design District
By: Heather Schatz
I'm not going to lie, I was born to shop! However, with two kids in preschool, I am not exactly rolling in dough these days. So, I usually just end up window shopping, or better yet, helping my friends and family members shop.

Needless to say, when Kristen asked me where to find some fabulous new clothes for her Miami HEAT broadcasts on Sun Sports that would help her look – and feel – fantastic, I knew exactly where to take her: Anya Ponorovskaya.

Anya Ponorovskaya is a chic shop nestled in Miami's Design District. The store, which is named for the line's New York City-based designer, Anya Ponorovskaya, features a finely-curated collection of her ultra-feminine apparel, shoes and bags, along with a handful of jewelry from local designers.

Mind you, when I say ultra-feminine, I don't mean in it in a girly way (not that there's anything wrong with tutus, ruffles and lots of pink – especially on my toddler), but rather in a very grown-up way. Ponorovskaya designs her clothes with a woman's body in mind. She makes it easy for you to find something designed to fit – and flatter – your body type, whatever that might be.
I'm particularly enamored with Ponorovskaya's simple, yet sophisticated dresses, which are available in a variety of cuts (some are even reversible!) and jewel-tone colors (as well as a few neutrals and prints). With their clean, unfussy silhouettes (which bring to mind styles from the 1940's), these timeless frocks are a wardrobe staple that can easily take you from the office to a night on the town. As an added bonus, they will also make you feel as sexy as Jessica Rabbit, but they will reveal a lot less skin than her slinky dress ever did!
Sophisticated and sexy – what more could any woman want? Especially a new mom like Kristen, who had to go back to work in front of an audience of thousands – that's why Anya Ponorovskaya came to mind immediately when she asked me for advice. Plus, it didn't hurt that the designer's creations meet all the requirements for what to wear on air (which is a whole other post in and of itself); perhaps that's why a number of other reporters favor them, as well.

Kristen wasn't always that into dresses, but once she saw Ponorovskaya's, she couldn't resist their charm. And, neither could some of her biggest fans.

If you are interested in these beautiful designs, please check out this website: aponorovskaya.com. Anya Ponorovskaya currently has three stores located in Manhattan, Brooklyn & Miami.
Anya Ponorovskaya
35 Northeast 40th Street – Miami, FL 33137
(305)-677-5008