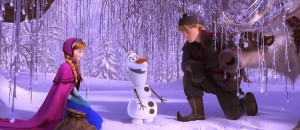 Pardon the pun, but its simply the truth. And I don't usually…well…ever gush about animated films. Disney's newest hit Frozen was absolutely mesmerizing, and might even require a repeat trip to the theater this weekend. After being subjected to countless cartoons and claymation fiascos on Nick Jr, Disney Jr, Baby First and Sprout for the past 4 1/2 years, I almost didn't go with my daughter and mom to see the movie this morning. But boy am I glad I did, because Frozen is flawless.
After seeing previews, television commercials, books, and toys in stores for the past month, I was already tired of the silly little snowman. But Lila was hooked, and wanted to see the reindeer and Olaf…desperately. We had no clue that there were not just one, but two princesses in the story. Disney did good though, because this isn't your typical damsel in distress princess flick.
The story is set in the fictional Scandinavian kingdom named Arendelle, and based on Hans Christian Andersen's tale "The Snow Queen". Two sisters Elsa and Anna are orphaned when their parents, the king and queen are lost at sea. Elsa was born with magical yet uncontrollable powers that can turn anything to ice in an instant. She accidentally hurts Anna as a child, and alienates herself from the the world for fear of hurting anyone ever again. On Elsa's coronation day though the sisters quarrel, and Elsa's anger turns the kingdom into a winter wonderland, leaving it frozen forever. Anna couldn't remember that Elsa had magical powers, and sets off on adventure to find and help her sister save Arendelle, and repair their relationship in the process.
This movie has it all, starting with absolutely stunning animation and scenery. At times I literally felt that I was inside the ice palace, and could feel the snow storms furry. Who knew snow could be so incredibly beautiful? Visually, I was blown away.
Frozen also has unconventional characters…well for Disney movies anyways. Yes there's a prince Hans, who seems to be utterly dreamy. There's the standard comical sidekick named Olaf, who is a snowman that dreams of summer. Yet no one has ever told him he will melt…poor guy! Kristoff is the ice salesman who helps Anna find Elsa living in North Mountain. And they couldn't have made the journey without Kristoff's pet reindeer Sven, whose non-verbal cues are hysterical. He's basically Maximus from Tangled, with antlers.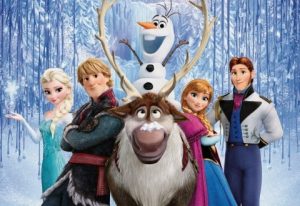 Frozen however is bound for Broadway, because even more exquisite than the visual imagery, are the original music and performances. The character of Elsa is voiced by Broadway star Idina Menzel (Wicked), and Anna is voiced by Kristen Bell. The songs are absolutely moving, literally leaving me in tears during "Do You Want to Build a Snowman". I could hear and feel Anna's pain of missing her parents and her sister. Menzel's "Let it Go" left my two year old dancing and bouncing in the aisle. While "For the First Time in Forever" was so captivating, that we just had to purchase it on iTunes this afternoon…and play it over and over again during dinner and bath time.
What I love most about Frozen though is just how truly different it is for a Disney Princess movie. There is no real evil character, just Elsa who cannot control her powers. And though there is a true act of love, its not your traditional boy meets girl, boy kisses girl story. There are many battles in this film, the biggest though waging inside of Elsa. She has to overcome her fear and just learn open her heart and love. So poignant. So refreshing. So beautifully written and directed. I was happy to see in the credits that Frozen was co-directed by Jennifer Lee, Disney Animation's first female director.
There are many more nuances in Frozen, but half the fun is finding them yourself, so I won't spoil it for you! Or the plot. I will say though that for a princess movie, this isn't your norm. The princesses are surprisingly normal, and sometimes awkward, despite their Barbie-like proportions. Hats off to Disney for giving us this extraordinary film. It was such a touching story, and in my opinion their best animated film ever. Lila and I give it two thumbs up, and will be sending Santa a letter asking for all the Frozen dolls…and stuffed animals…and figurines…and pajamas…and costumes….