In Game 1 of the Western Conference Finals, the league's MVP, Stephen Curry had a game-high 34 points which included an exciting halftime buzzer beater. After the game, his adorable toddler Riley accompanied Curry to the podium during his post game press conference. She told her daddy "be quiet" while on the mic, and played peek a boo under the press table.
It's rare we get to see these personal moments with athletes, especially since most try to shield and protect their children from the drama of social media. But this morning the world collectively sighed and thought "how sweet?!" as we watched and listened to the highlights. What a great dad and tender moment for us all to witness.
A picture truly is worth a thousand words pic.twitter.com/6tVYoWG85I

— Golden St. Warriors (@warriors) May 20, 2015
But unfortunately today there are those curmudgeons who felt that sweet little Riley was impeding their job and their deadlines, and even tweeted that children should no longer be allowed at press conferences.
My man @WindhorstESPN taking the most unpopular position ever, saying NBA might need to ban kids from podium so reporters can ask questions — Ramona Shelburne (@ramonashelburne) May 20, 2015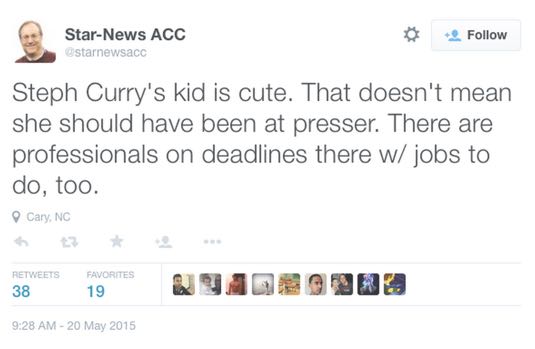 REALLY?! Two whole members of the media were actually upset about this perfect viral story that was handed to them on a silver platter? I can't even fathom such ridiculousness, and the debate that ensued was even more lame. No Riley isn't a 'menace' as Ric Bucher sarcastically tweeted, nor is this even a topic that needs to be discussed. Plenty of players in the past, who rarely see their kids during the season have brought their children to the podium. No media member is entitled enough to question them.
Brian T. Smith asked Curry about the backlash after his Game 1 press conference, here's the transcript of Curry's response.
In which Steph Curry tries to understand why people would criticize a father for bringing his daughter on stage. pic.twitter.com/kOE6uhTpfO

— Brian T. Smith (@ChronBrianSmith) May 20, 2015
In a world where professional athletes are bombarded by the media on social media, and every opinion show on the radio and television, it's nice to see the real side of a star. One that isn't a canned response like, "I just went out there and played hard." So can we all just relax and stop this phony outrage? And if you as a journalist were truly peeved, think before you react next time…I promise it's not that serious. Riley Curry is perfectly adorable, and I hope we see an encore performance after Game 2.
I think this tweet sums up how the majority of the world feels today.
If you had an issue with Steph Curry's daughter last night, you are anti-cuteness.

— Tim Reynolds (@ByTimReynolds) May 20, 2015
Looking for more sports and parenting content? Check out the 2 Minute Drills with Chris Bosh and Udonis Haslem!