Do you love Cookie Butter as much as we do? I was introduced to it last year when a Trader Joe's opened about 15 miles away from us. But this weekend something spectacular happened…another Trader Joe's opened it's doors just one mile away. Can you believe it?! Do you know what that means? Time to workout, because I love baking with Cookie Butter!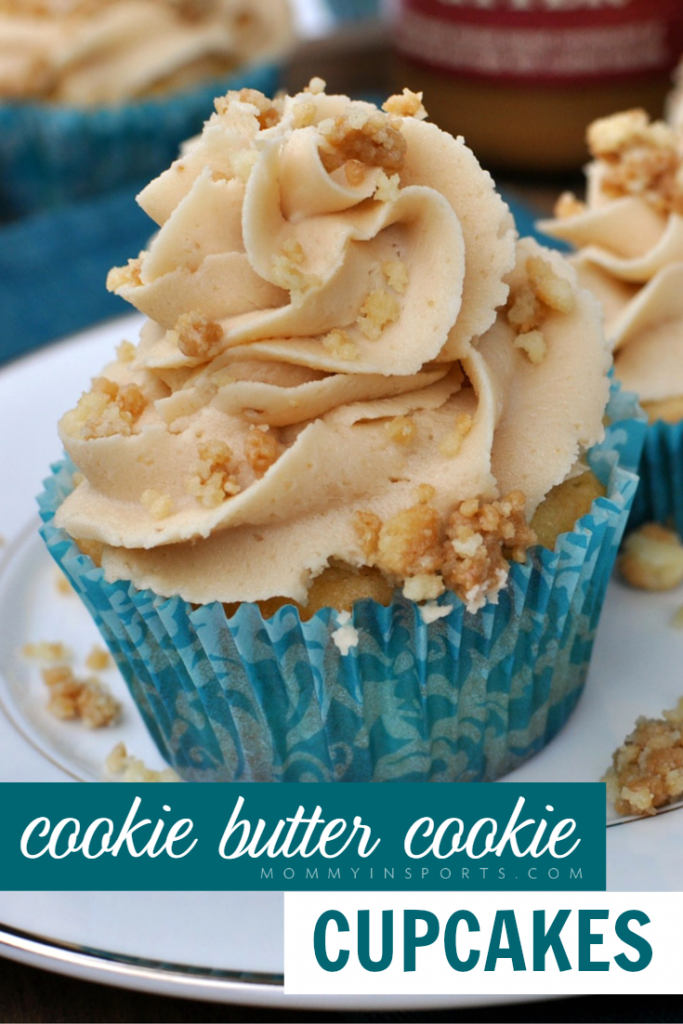 And believe it or not, they actually make Cookie Butter Cookies, which are literally the best cookie ever. Buttery shortbread sandwich cookies filled with decadent Cookie Butter…OMG! So I couldn't wait to crumble these babies up and get to work on baking some Cookie Butter Cookie Cupcakes!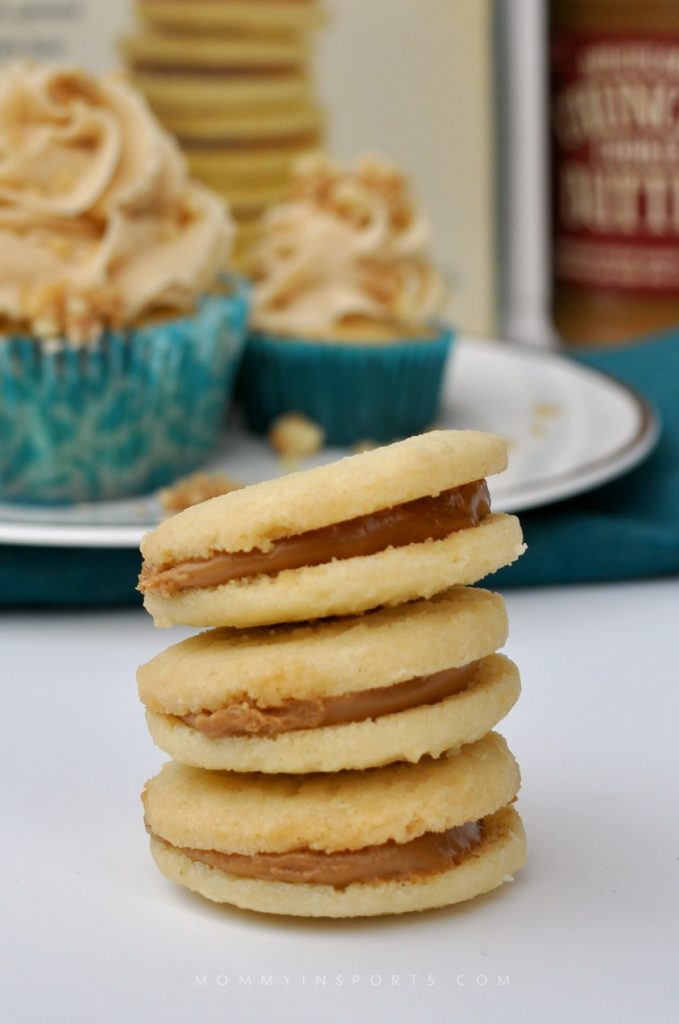 I decided since I loved the cookies so much I would crumble them up and put them into the batter. And it worked great! I smashed up about eight cookies and it was just enough crunch for our regular and mini sized cupcakes. (Note – I halved the cake batter recipe, so you may need more cookies!) You can do this with a boxed cake mix, or just add them to your favorite cake recipe. I love Taste of Home's Yellow Cake recipe, it's my go to! I've tried to add pudding, or come up with my own invention…but why mess with the best?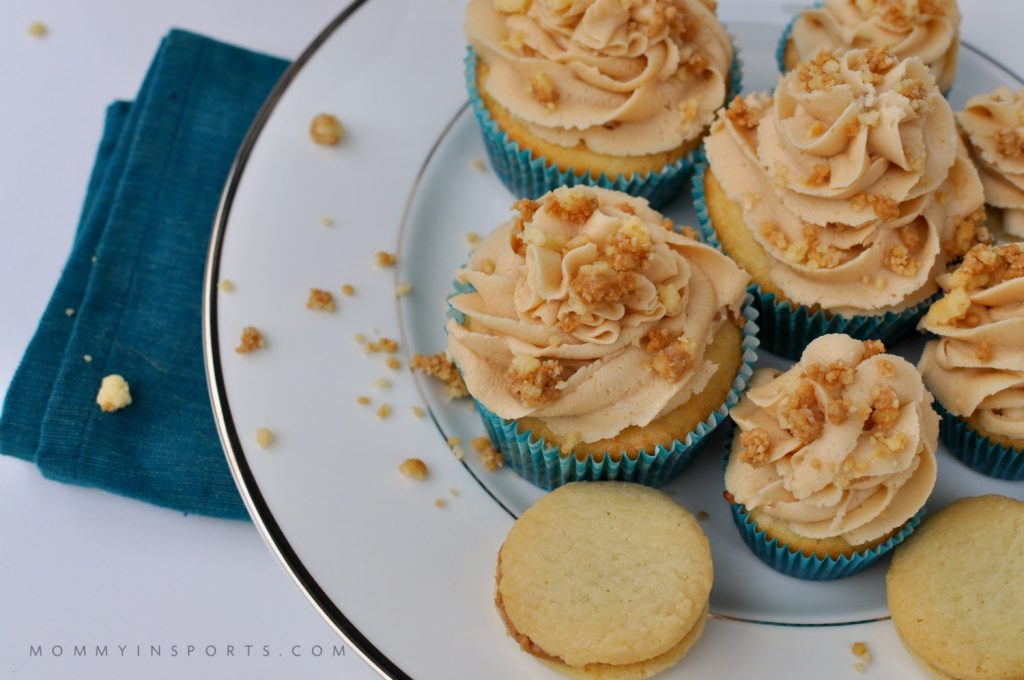 Next you need some killer buttercream to top of these perfect little vanilla cupcakes, so of course I had to add some Cookie Butter. You can put the crumbled cookies in your frosting too, but they tend to get stuck in your frosting tip. (Yes I made these twice, can't rush perfection!) So I chose to just sprinkle them on top!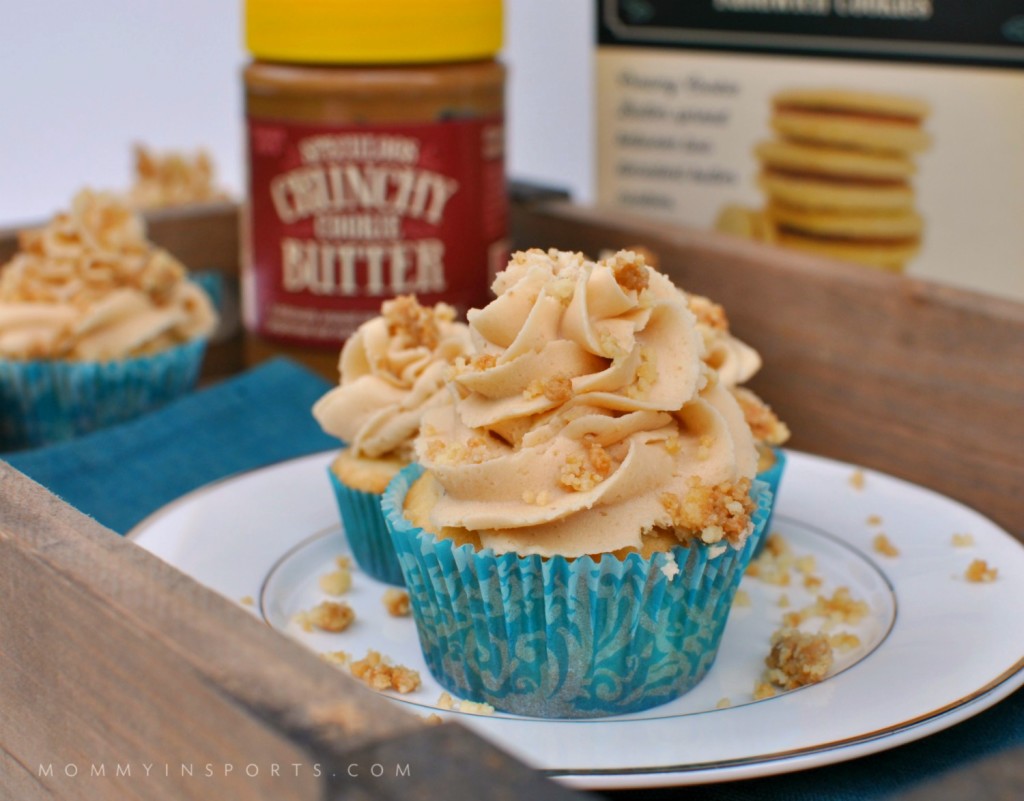 The result is the perfect little dessert, homemade cookie butter cookie cupcakes! The cake isn't too sweet and the amount of Cookie Butter is perfect in the frosting! Plus I love the crunch both inside the cake and on top. Not that I ate one…or three…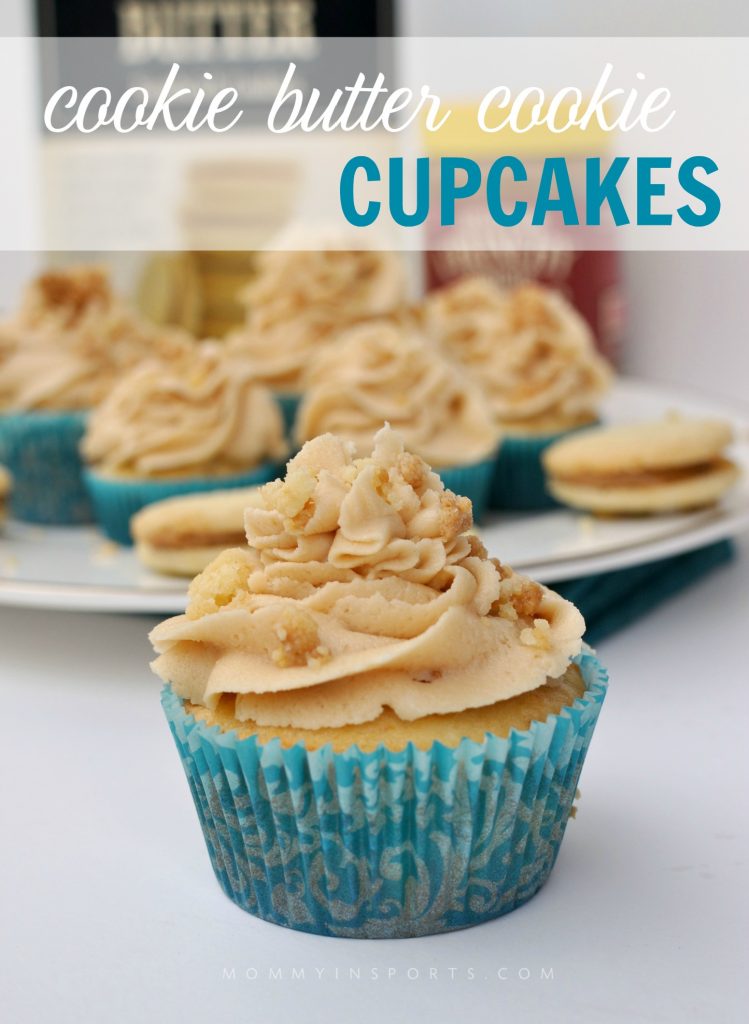 So without further ado, here's the recipe for the cookie butter frosting! Hope you enjoy this treat as much as we did!
Cookie Butter Cookie Cupcakes
2015-10-11 19:28:26
A delicious little cupcake that's perfect when you're in the mood for a treat. Use crushed Cookie Butter Cookies in the batter and on top as a little crunch!
Nutrition Facts
Amount Per Serving
Calories 6066
Calories from Fat 2857
Trans Fat 10g
Polyunsaturated Fat 46g
Monounsaturated Fat 88g
Total Carbohydrates 809g
270%
Sugars 764g
Protein 5g
* Percent Daily Values are based on a 2,000 calorie diet. Your Daily Values may be higher or lower depending on your calorie needs.
Ingredients
Cookie Butter Cookie Frosting
2 sticks butter - 1 salted & 1 unsalted
4 cups powdered sugar
6 crushed Cookie Butter Cookies
1/3 cup Cookie Butter
1 tsp vanilla
1-2 Tbsp milk or half and half depending on consistency
squeeze fresh lemon
Instructions
Cream butter and sugar together.
Then add Cookie Butter and vanilla.
Mix until combined and then add milk to achieve desired consistency.
Squeeze a slice of lemon into the frosting to give it a whippier texture.
Top with crumbled Cookie Butter Cookies!
Notes
The frosting will have a crumbly texture, so more liquid may be necessary.
Kristen Hewitt https://kristenhewitt.me/
You might want to buy two boxes of cookies by the way. Sigh! And no, Trader Joe's did not ask me to write this. I'm just obsessed these days!