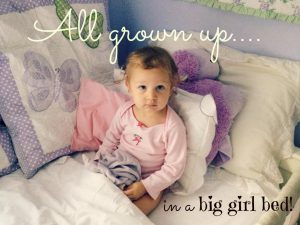 A monumental milestone has occurred in our home. Our little Emylia has grown into an almost two year old…and earned herself a big girl bed. This weekend we spent Saturday morning rearranging her room and moving in her big sister's daybed. She loved her new bed, and settled in perfectly for nap time and drifted right off to dreamland. At first I was overjoyed that she didn't try to climb out. She didn't cry, and she definitely didn't miss her crib. And while she peacefully slept, content in her new, big, comfy bed…I wept.
No, I'm not talking about shedding a few tears after seeing her wave 'bye bye" to her crib. This was pure, agonizing grief at the understanding that she's no longer a baby, and I'm not able to have another. Taking down her crib was a rite of passage, a so-long (so to speak) to the baby-era. And unfortunately hello to the terrible two's.
But how did we know she was ready? Several of our family members asked us why we did this, and didn't leave her safely confined to her crib. Well, as most parenting decisions, this was our personal preference….but clearly we had our reasons.
First and foremost, she is a very tall girl. At 23-months old Emy barely fits in a pack n' play when we travel, and doesn't really like to sleep in them. She was getting pretty big for her crib as well, and since we plan to travel this month where she'll have to sleep on air mattress, I wanted to get her acclimated to sleeping in a bed.
She's also very active, and has tried (unsuccessfully) to climb out of the crib when she wakes in the morning or after her nap. It was just a matter of time before she scaled the bars and escaped her crib. I've looked in the past at purchasing a crib tent…but did I really want to cage her in? Uh….no. She's already so independent, and I moved my first daughter around age 2 smoothly out of the crib when I found out I was pregnant again. I knew she could totally handle it….better than me apparently.
Most pediatricians, parenting experts, and websites say to leave your child in their crib as long it's safe. Babycenter.com has great information on why, when and how to actually make the transition. However several of my friends have had issues in moving their toddler before the age of two to a new big girl or boy bed. The most predominant issue is that the child likes to get out of the bed…loving and owning their new freedom. All night long.
How do you combat the climbing-out-of -the-bed game? Simple. Move them early. I've found that by moving your child out of a crib prior to their second birthday, they don't realize they actually CAN crawl in and out…yet. They have the cognitive awareness and understanding that they are now in a big girl/boy bed, but they haven't fully comprehended their new sleeping arrangement. Yet. (as a footnote, this is how MY girls reacted, not all children will be so snug as a bug in their new rugs!)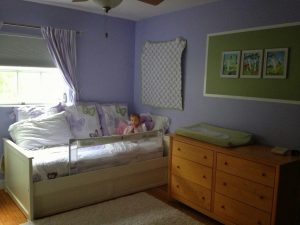 She looks so little in there!
Also, when you move them into their new bed, try using an extra long toddler rail, and place the bed along two walls. If you line the longest wall with pillows, and use the long toddler rail, they will still feel safe and won't be able to fall out. And NEVER let them crawl in out of the bed on their own…especially in the beginning. Lift them into and out of the bed, this way, they won't know about this new freedom. That comes later. Also, I find that using a regular twin bed instead of a toddler bed keeps them from trying to leave their sleeping haven. Even for my tall girls, a normal twin size is too high for them to easily climb into.
The other trick we used, (once our daughter figured out how to get in & out, in & out)…is the My Tot Clock. This little invention saved us with toddler #1, and Emylia will be receiving one on her 2nd birthday next month. (shhh, don't tell her!) You set the child's bed time, wake time, and nap times and durations. It turns dark blue for bedtime, and then bright yellow in the morning when they are allowed to leave their beds and rooms. This is especially helpful for kids who wake before the sun comes up. And when they get older and inevitably wake at 6am on a Saturday, you simply tell them to play quietly in their rooms until the clock turns yellow. It's simply genius. And it's worked like a charm!
As with most transitions, babies and toddlers are extremely adaptable and resilient. As long as you keep their routine and schedule consistent, moving your child can be seamless with a just a bit of planning. Just make sure you stock up on tissues…sniff sniff.