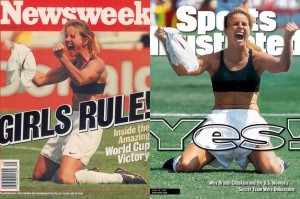 It's been 14 years since Brandi Chastain engrained herself in all of our memories forever. Who can forget that unbelievable shootout win versus China on July 10, 1999 in the World Cup Finals? Almost more amazing than the victory, was Chastain's exuberant celebration, baring her sports bra to the world, and literally becoming the iconic image from that moment in US Women's Soccer history. (Watch video of it here!)
Fast forward to 2013, and Chastain is still reliving those memories, plus many more personal ones thanks to YesVideo. Brandi is the first celebrity to be announced in YesVideo's 'Remember When' program, which lets you view never before seen video of favorite icons before they were famous. YesVideo turns old family tapes and films into online videos that you can watch on your computer, television, smartphone or tablet.
Chastain decided to try YesVideo because "it will be the greatest gift I can give to my son. I grew up in a non-digital age, and my parents passed away in their mid 60's. I found one VHS tape recently and just had it converted. It was me in the bathtub, and video of my dad at a birthday party. I wouldn't have this if it wasn't for YesVideo. We shouldn't underestimate these moments and make these memories for our kids."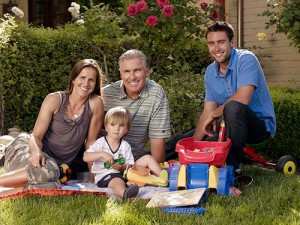 Yes, Brandi Chastain in addition to being a world famed soccer star, is also a mom. And she wanted to share those images with her second grade son, who never had to chance to watch her play in her hey day. I had the chance to speak one-on-one with the ultimate
mommy in sports
, about navigating her way through motherhood. It was pretty interesting to hear that she faces some of the same challenges and insecurities that most of us deal with everyday. Here are the highlights of our convo, and some great advice from a soccer legend!
On Balancing a Busy Career and Kids…
Brandi: Number one we all deserve time to ourselves and we have to find it where we can, and embrace it. It might be 5 minutes at a time, it could be 30 minutes. We have to see our own value and when we do, then we can give the best in other areas of our lives. If I don't get it I'm not as nice as I could be. I have to have that time or I'm not a good mom, partner or friend. It honestly keeps me sane.
On How to Meet Other Mom's at Your Child's School…
Brandi: I started a workout group at my sons school because I wanted to fit in. I wanted to be one of the moms that was chatting with the other moms. The first day of school I felt really nervous because I didn't know anyone's names. And I said to myself "you know what Brandi just do what you do best. You like to workout, you are good at team sports, go over to these ladies and ask if anyone wants to have a workout, join me after the drop off." And now I've got a good solid group of 25 ladies who now I can count on for anything. I have people that I can rely on, and it wouldn't have happened if I hadn't have taken that chance.
On the Importance of Staying Fit and Exercising with Your Kids…
Brandi: I cannot stress enough how important it is for kids to see. My youngest son didn't get to watch me play because my career was finished when he was born. I love to workout and I workout religiously, but I do it in front of him, and I do it with him and his friends. So there is a cute little song on one of the kids channels. "Grandpa is the silliest, Grandma is the yummiest, and Dad is the strongest." And he said "no mom you're the strongest!" That's important now on the playground and in the classroom. When he looks at his classmates he's not going to say "you're a girl you have to do that." He's going to think well girls can do what boys can do.
On the Most Important Lessons of Playing Sports…
Me:
My 4 year old recently asked me why only boys can play sports on television.
(Link to our dialogue here)
I asked Brandi what we can do to expose our daughters more to women's athletics, which are hard to come by on television. And how important it is to expose young girls as well as boys to sports…
Brandi: The bottom line is its really not about the sport specific, it's more about the lessons. I always say that in half the population we are giving lessons about teamwork, leadership, communication skills, time management, and decision making under pressure. These are all the things that I have learned through sports that you don't learn in other places. So if you want to give your daughter a chance, whether she can score 50 goals a year, or make a 3 point basket, is really not the issue. The issue is how does she handle herself in a team and under pressure? And will that help her when she becomes a female graduating from college and looking for that first job and she has to stand up for herself? And learn to make her voice heard? So its way beyond sports. The majority of girls and boys out there will not become professionals so it's not that simple its very deep.
Last But Not Least — What Ever Happened to the Infamous Sports Bra?!
Brandi: It used to be in drawer and I would wear it occasionally. Then I donated it to a museum in New York that went bankrupt last year. They put it in storage in New Jersey, and it took me a year to get back. So I finally put it in a frame!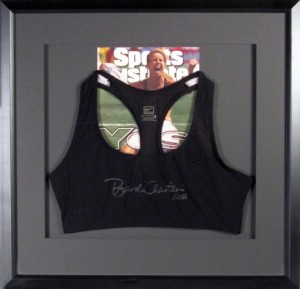 Brandi Chastain's Framed Famed Bra.
Thankfully…it's safe!
Big gracias to Brandi Chastain for taking so much time to chat with me. And as a thank you to mommy in SPORTS readers, YesVideo is giving away ten $30 gift cards. Do you have old video camera footage or home movies you can no longer view? Give it a whirl! I'm sending in my old compact VHS footage, can't wait to see what's on those tapes! Imagine debuting old home footage on your tablet during the holidays? Plus, it's totally safe and secure!
If you'd like to enter to win a $30 YesVideo card, enter below, and leave a comment on your favorite 'Remember When' sports memory. We will be randomly picking 10 winners. Don't forget to leave your email address so we can contact you to mail you your prize!