Ever wonder what happens behind the scenes during an NBA telecast? Here's a quick pictorial of a game day for me on FOX Sports Sun for the Miami HEAT.
Arrived to see Jonathan Zaslow's broadcast partner on 790, Tommy Tighe, making radio magic with former HEAT great PJ Brown. Brown was honored as part of the Miami HEAT's 25th Anniversary celebration this season.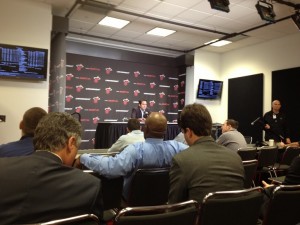 Next off to Spo's press conference at 5:45 with the boys. Quiet game in terms of national media last night. Directly afterwards at 6:00, Hawks Head Coach Larry Drew spoke to the media. There with the HEAT crew of Mike Inglis, Eric Reid, and John Crotty.
Afterwards, I head back to the lovely and spacious dressing room, AKA the bathroom in the studio offices to do final touches on hair. Glamorous huh? I usually blow it out at home, and curl it at the office. Of course the HEAT Courtside Reporter extraordinaire Jason Jackson was MORE than happy to share his makeup tips with me! Check them out on You Tube here:Then it's off to the court to get wired up for my live shot in the pregame show HEAT Live. This is an IFB (internal feedback) box that I plug into to hear the program audio of the show, and enables me to hear Jason, and the producer & director. I basically hear: "standby, you're in a 2 box, talk!"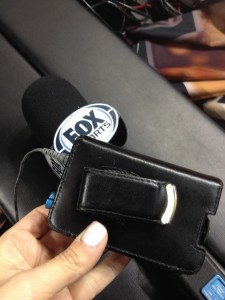 For the most part I can hear Jason pretty well when he tosses to me, but sometimes the PA Announcer talks, or the music gets louder, or the director is telling me something…so I just pretend to hear. It's pretty chaotic in your head to try to listen to someone in your ear AND talk at the same time. It's a skill I've perfected with two kids…never a quiet mind, or house!
Look who I ran into? Remember former Miss Florida and HEATv Host Julie Donaldson? She's now killin' it in DC for Comcast Sports Network. Miss Jules, so happy for her success! I took over for her on Sun Sports in the postseason back in 2006 when she moved up and out to NYC.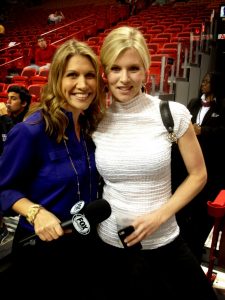 Ok–enough chit chat…we are live on the air, so Eric Reid gets his depth chart and notes together for his pregame segment. He's digging his new polka dot tie from China…so are we!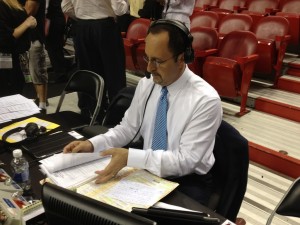 My view for the pregame show. Here I'm standing right by the visitors basket with the Hawks warming up behind me. Love the exuberance from Kelly Saco, our production assistant at Fox Sports, and a freelance writer for the Miami Herald. Former Syracuse softball standout, she rocks the light–and trust me, that thing is definitely not light. No pun intended.


And just a little touch up on the old lip gloss.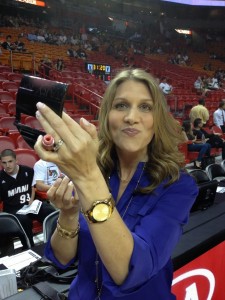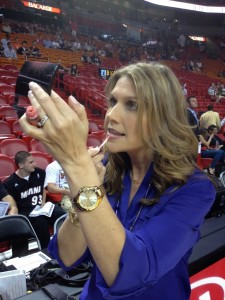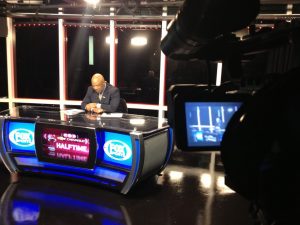 Jason Jackson doing his studio thing at halftime.
No halftime assistant coaches interview for me last night, as we had the 25th anniversary ceremony on the court with PJ Brown. So I sat in the cheap seats in the studio and heckled Jax!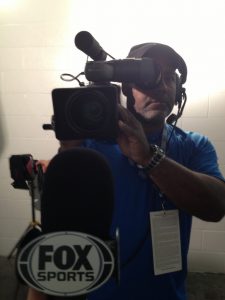 And last but not least, my awesome view in the post game show outside the visitors locker room. Terry Swann, the ever professional and talented camera op. Don't know how they do it with a heavy camera on their shoulders ALL NIGHT LONG. This is called a handheld camera, he's the guy that sits center court and gives you the mid court angle. Toughest camera assignment by far.
This is by far the best crew in the NBA, I feel very grateful to still have this job. What else would you guys like to see? Inside the TV truck? No…don't even ask me for locker room access! Will Manso and Crotty at the studio? Maybe I'll upload part 2 of Jason's makeup tips…we'll see! Maybe someday I'll do a Periscope from work!