Pinterest experiment butterfly snack bags, harder to make than it looks.
From the pictures, you might think…that's pretty cute! But let me tell you, making these snacks for Lila's 4 year old VPK class today was anything but easy. Well for me at least. I must completely lack normal adult gross motor skills…because I totally and completely suck at Pinterest.
When I saw it was Lila's snack day this week I thought, hmmmm maybe I can do what my Facebook friend Nadia did for her daughter. Here's what they looked like. I mean they are cute little butterfly snack bags, how hard can it be? I even messaged Nadia to see how long it took her…only 30 minutes. Ok, totally doable. Plus I won't get sucked into the Pinterest vortex looking for ideas online, and come out 4 hours later exhausted, overwhelmed and feeling totally inadequate as a mother. Because that's what Pinterest does to me.
And seriously, how hard can it be to paint some clothes pins, glue on some googly eyes and pipe cleaners, and clip on to a bag…right? Plus Lila loves art…she can totally do this without me.
Yep, that's what I thought. Until 30 seconds into the project Emy painted all over my brand new Vince shirt. Thanks babe! Pink too, my favorite. I have to say though Lila did a tremendous job painting them.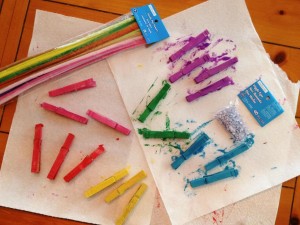 But being the perfectionist that I am, I waited for them to dry and painted the backs too. And the underneath part. Why? No clue. I seriously have issues. There goes the 30 minutes allotted for this "quick" snack project. Took longer than anticipated….obviously!
Next up it's the googly eyes. Lila will loves this! Uh, not so much. She was distracted, bored, and the eyes were too small…so I had to do it. After of course she dropped the bag of eyes and they spilled all over the floor…not once but twice.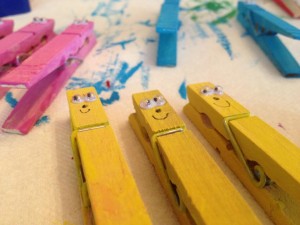 Minions?
Elapsed time: 1 hour. And counting.
Lila totally loved drawing the faces on them…for like 3 whole minutes! Next up was the pipe cleaners for the antennas. The kids did enjoy this part, cutting and twisting the pipe cleaners. And hitting each other with them. Unfortunately though, the Elmers Glue wasn't holding.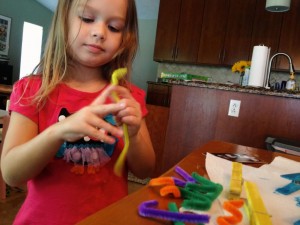 Maybe I should have actually read the instructions, but I'm so impatient who really has the time for that?! So I used the hot glue gun. Because hot glue guns are totally appropriate for small kids. And we came literally within an eighteenth of a millimeter of Emylia (21 months) almost burning her little toddler hand off. She's an octopus and can reach anything…anywhere…seriously like Inspector Gadget.
Elapsed time: 90 minutes.
The kids are now screaming for dinner, so I quickly hot glued the pipe cleaners on. Worked like a charm! As I was serving dinner though I thought…uh oh. What if the hot glue actually glued the clothes pin together. No…that couldn't possibly happen….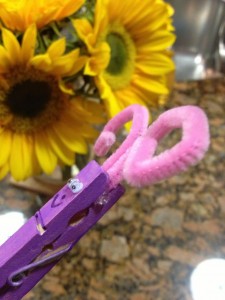 Oops! Glued the little guys together….
But it did. Only on a few though….and my hubby pried them open this morning. I have to say though, they worked out pretty well, looked cute, and my daughter and her class loved the snack. So much so that the kids all wanted to keep their butterfly clip. Was it worth the 2 hours off and on it took us to make them? Nope. Will I do it again? Maybe…when I forget about this project. But I did learn a few valuable lessons from my first big pinterest experiment:
1. Wear old clothes.
2. They're kids, who cares if they are perfect? (hard for this perfectionist to swallow…baby steps)
3. Remember art projects are fun, and messes happen. Just be prepared for the cleanup.
4. You are not a bad mom if you just buy Teddy Grahams on snack day.
5. I'm not the only one that sucks at Pinterest. Check out the pintester. This website makes me feel a WHOLE lot better…and she makes me laugh. A ton. Thanks for sharing your fails! And she's letting us join her movement.
Though I love perusing pinterest, and finding a bazillion creative ideas…I am simply not a pinterest mom. I just don't have the time or patience. And you know what? I'm totally ok with that.