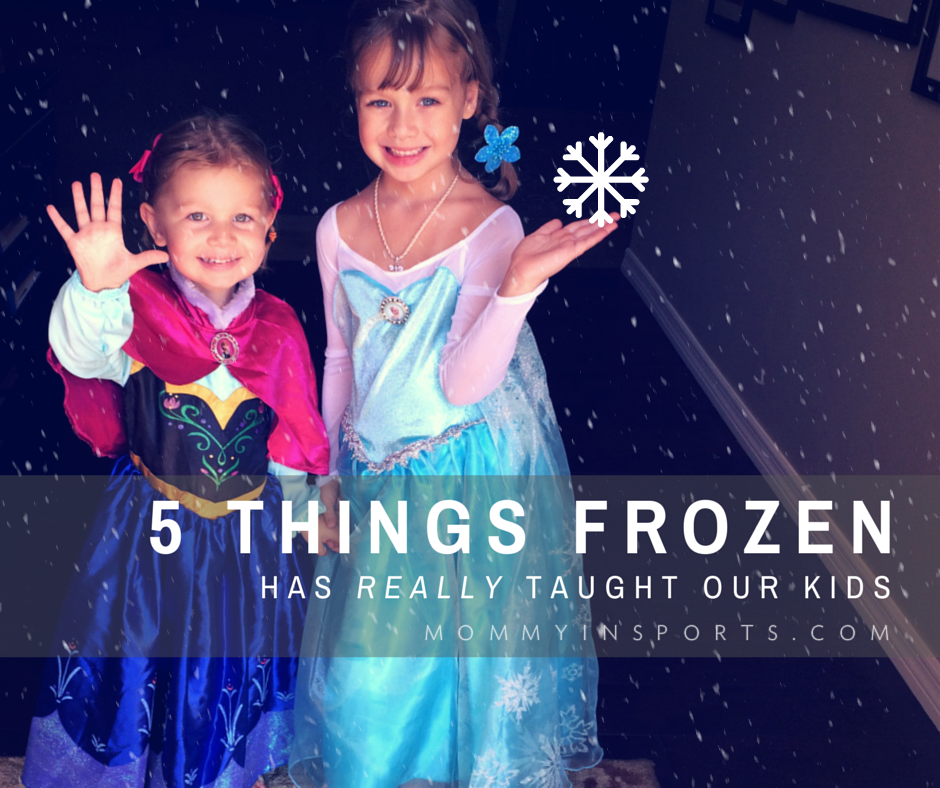 I was so excited this week…we had a 30 minute drive and I popped in Frozen and both girls groaned…"I'm tired of this movie!" (Hurray, no more Frozen!) Then I realized we are going to see Cinderella with the new Frozen short soon, and Frozen 2 was announced yesterday.
No parents, we can't avoid it, Disney's Frozen is here to stay.
Another round of merchandise is already lining the shelves at the Disney Store, and new songs are being composed. What will come in the next film? Will Kristoff and Anna will already be married, or will there be a wedding for Elsa after a big struggle? (Perhaps a fire king aka hot Latin lover?!) Or maybe Flynn and Rapunzel are added in like an homage to Marvel? Or does Olaf plummet to his fiery doom?
Whatever happens, we will be there, I'm sure dressed like princesses from head to toe. And after nearly a year and a half and watching the movie countless times – here are
5 things frozen has really taught our kids
1. How To Be Seductive – Check out this video…Lila was showing me how Elsa walks.
Thank you Elsa and Disney for teaching my daughter how to be a hooker seductress.
2. When Things Get Tough, Lock Yourself in Your Bedroom – Whenever there's a fight between siblings someone goes to their room and slams shuts their door. Then the other sits outside on the floor mimicking the "Do You Want to Build a Snowman" scene.
3. How to Flood My Bathroom – Every night it's ice power hell during bath time when they use their magical ice powers on each other. I try to encourage them to stop splashing, but they politely tell me, "It's ice mom, don't worry….it won't get you wet."
4. When Somebody is Mean Punch Him – That's right, one day after school Lila told me a boy was pinching her on the playground. I reminded her to ask him to stop and if he doesn't to tell a teacher. She replied, "No it's OK mom, when a boy is mean I'll just punch him so he falls in the lake." I think she meant the fjord…but you get the gist.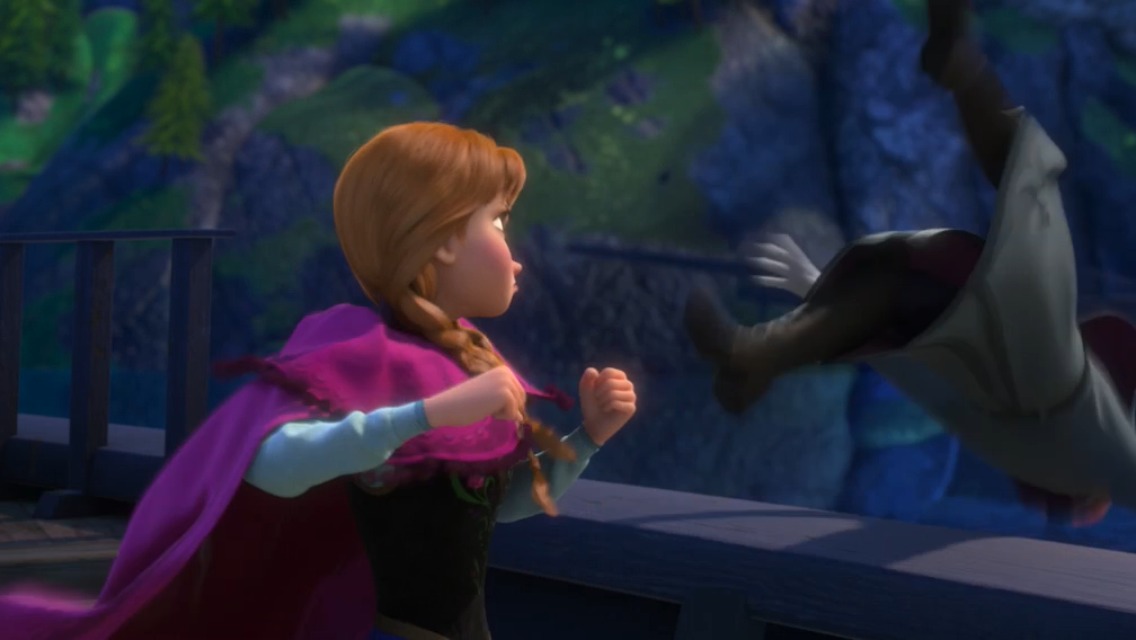 5. Let It Go – I love the meaning and sentiment behind this song. Be yourself, that perfect girl is gone…it's so uplifting right? I asked my six year old what it meant…she replied, "Like don't clean your room and stuff. Just let it go…messy." Awesome.
On a serious note, I always wanted a sister and do love the ending when Anna sacrifices herself, and Elsa learns to release her fear and accept love. There is a great sisterly bond in this movie developed by director Jennifer Lee (the first female Director in Disney history) and it has reinforced that message with our girls. I always tell them how lucky they are to have each other, and to always try to be kind, be caring, and be awesome.
And while we may be tired of the songs, they have helped develop music appreciation. Our daughters now love watching Idina Menzel in Wicked on You Tube and sing Gravity instead of Let it Go. (which is music to my ears!) And our eldest is obsessed with drawing the princesses, which has led to her drawing clothing. She now wants to be a fashion designer and a vet. I told her she could just design clothes for pets? We'll see..
I'm glad that if they choose to continue to watch princesses at least they are inspired by two stronger women. Though the movie has faults, and teeny tiny body types, at least the heroine's didn't rely on men to solve their problems. Just quirky magical snowmen…
Good luck with the next soundtrack! (Buy earplugs.) If you liked this check out mommy in SPORTS other popular Frozen posts!
Frozen Coloring Sheets: HEAT, Halloween & Christmas.
Disclaimer: Since peeps on the internet have been so judgey lately, I do not advocate punching, splashing or walking like a hooker. This is meant to be funny, and if it isn't I suck.