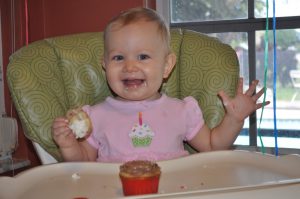 Emylia's 1st Birthday
It seemed like a good idea on paper; have a Sunday morning birthday party on a Miami Dolphins game day, the morning after we worked the Miami HEAT game. That way those with kids could stop in for brunch, then head home to watch the Fins vs. Pats, or put the kids down for naps, or both.
Then reality hit me around 3:00 am when I was still awake with the sick birthday girl.
Despite the fact that Emylia missd alot of her party due to a double ear infection, I think everyone else had a good time. So here's a quick synopsis of what we did to celebrate our miracle baby's girls first birthday. This party was done on a budget, and looks super crafty with just a small amount of preparation. And no, 3 hours sleep before the party was not enough…
Mickey Mouse was the theme, and thanks to Etsy.com for helping me find the super cute decorations. SweetEventsBoutique created the door hanger, banner for wall, high chair banner, and 2 dozen cupcake toppers. She was very flexible and very quick. And I lucked out with a Thanksgiving sale. Gobble gobble cha ching!
http://www.etsy.com/listing/110163914/mickey-mouse-party-packagehttp://www.etsy.com/listing/110163914/mickey-mouse-party-package
I also baked all my own sweets and cupcakes. I purchased these fondant cupcake toppers from YesMaamSweets on Etsy.com.http://www.etsy.com/listing/92237573/24-minniemickey-mouse-cupcake-fondant to decorate. But first I baked and baked and baked the Monday before the party, then froze the cupcakes. They still turned out delish!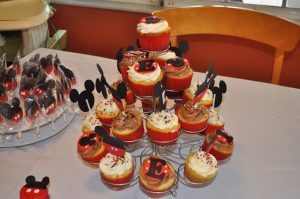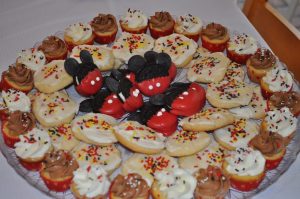 I made full size and mini cupcakes, and then for extra sugary godoness found this cute idea for the Mickey Mouse oreos. These went in the kids favor bags as well.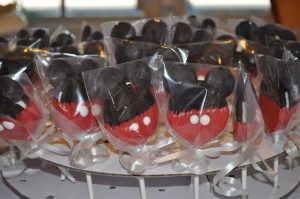 No party is complete without entertainment. Miss Sue held her awesome circle time party, and we had a bounce house for the older toddlers. Food was simple. PB & J cut out with a Mickey cookie cutter for kids, along with pigs in a blanket aka "Hot Diggity Dogs". For the grown ups we served bagels and lox, assorted pastries and cinnamon rolls, fruit, mini quiches, oj, coffee and mimosas.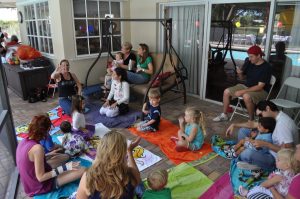 Miss Sue can be found at Ellen's Ultimate Workout in Davie, FL
My hats off to the Disney store who went above and beyond to help me with favors. The nice folks there gave me 30 small shopping bags to use as favor bags. They also gave me a roll of Mickey stickers they use to wraps packages. I threw in a pencil, a Mickey Mouse sticker, some Mickey Mouse gummies, and a Mickey oreo we made.
Thanks to everyone who celebrated with us! We feel very lucky to have two healthy little girls. And no, next time I will not throw a party the day after a game…but morning parties for kids rock!